Ashley Wallace: Acting out in class
Theater performance professor is a seasoned performer on-stage and in the classroom
While traversing the halls of the Knobview and the Ogle Center, if the sounds of laughter, playful yelling and elaborate accents are heard, the classroom of Visiting Assistant Professor of Theater Performance Ashley Wallace is the likely source.
Wallace began her teaching career at the University of Louisville during graduate school in 2011. She taught one to two theater classes a semester as part of her assistantship.
After she graduated in 2014, Wallace became an adjunct professor at both IU Southeast and the University of Louisville.
Her current title is "visiting" because she is filling in for Jim Hesselman in the theater department while he serves as dean of the School of Arts and Letters. Hesselman will serve as dean for seven years, making Wallace a long-term visiting professor.
Lights, Camera, Action
Interested in theater from a young age, Wallace started taking acting classes at the age of eight.
"I had this neighbor friend who I was really competitive with and I went to go see her in The Pied Piper in the third grade and I thought, 'If she can do it I can do it,'" Wallace said.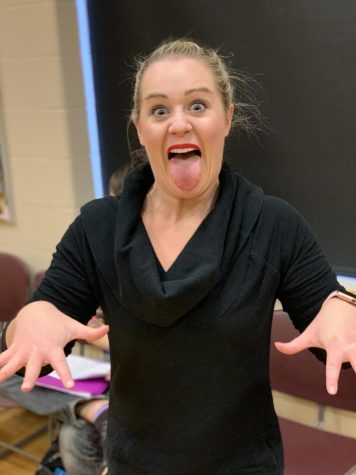 Wallace leads all of the performance classes in the theater department. One of her favorite courses to teach is Movement because she gets to act like a "weird circus freak."
However, she is no stranger to movement.
Aside from teaching at IU Southeast, Wallace also teaches and performs aerial silks over in Louisville at a circus gym.
"I've been performing on aerial silks for about seven or eight years and teaching it for about four years now."
In the future, Wallace would like to take her Movement class on a field trip to the circus gym she uses to teach aerial silks, trapeze and other aerial movement techniques.
Megan Johnson, senior theater major, said she has taken more of Wallace's classes than any of her other students.
"I have taken one or two of Ashley's classes almost every semester since I've been at IU Southeast," Johnson said.
Johnson takes great enjoyment in Wallace's courses and is disappointed that she was not able to take one this semester.
"Ashley is an amazing professor who truly cares about her students and their success," Johnson said.
Do it for the Kids
Wallace also enjoys teaching Theater For Children, a personal passion of hers. She even toured children's theater in the central New York area before attending graduate school.
The accomplishment Wallace is the most proud of since starting at IU Southeast is the growth of children's theater in the department.
"Last year we did Junie B Jones: Jingle Bells Batman Smells which sold out and this year we are doing Elephant and Piggies 'We are in a Play' and those houses sold out before the school year even started," Wallace said.
She also wants to expand the children's program further by presenting two shows a year instead of one. Wallace said she could bring in professional friends proficient in children's theater to give the students a taste of new directing styles.
It's Not Just Art, It's Science
Another way Wallace would like to see the program expanded is by allowing students to have more options in their degree path.
"
Ashley is an amazing professor who truly cares about her students and their success.
— Megan Johnson, theater senior
She said that could be done by adding a Bachelor of Science track to the theater degree program so that students could take science courses instead of a foreign language.
"Some of my students don't even take four semesters of acting and we expect them to take four semesters of language?"
Wallace is hopeful that these expansions to the department will happen and believes they are just on the horizon.