Professor Gloria Murray shares service-learning ideas during IUS Joy of Teaching series
Education professor goes in-depth about her teaching methods with faculty and students
Faculty and students were invited to hear Professor Gloria Murray give a presentation on Tuesday, Jan. 21 for IU Southeast's Joy of Teaching brown bag series. The Joy of Teaching series is an opportunity for faculty to meet, chat and share their joys of teaching with one another over lunch.
Murray is a professor and former dean of the School of Education at IU Southeast. She is also the interim director for the Office of Community Engagement.
The Office of Community Engagement used to be referred to as The Office of Service-Learning and Community Engagement. Murray said the name was changed because community engagement is an umbrella term which service-learning falls under.
What is Service Learning?
At the meeting, Murray's focus was discussing service-learning and how a professor is able to design a service-learning course.
"Service-learning combines course objectives with community service to provide a beneficial learning experience," Murray said.
Service-learning provides students opportunities to develop civic engagement skills. Students gain important experience working with diverse members of local communities.
Murray said service-learning prioritizes the importance of reciprocal relations. She added that it is important for professors to have students provide an oral or written reflection of their experience with service-learning.
Getting Started With Service-Learning
Murray said if professors are interested in conducting a service-learning course, then the expectations must be flexible with students' schedules and it needs to clearly state how many hours of community engagement are required.
"It is important for faculty members to build a relationship with the agency where the students will be engaging in service work," said Murray.
It takes time to build a service-learning course, according to Murray. It is recommended that professors visit https://compact.org/ to learn more and find examples of student-learning opportunities for the specific course study.
Recently, IU campuses adopted the online platform 'Collaboratory'. It can be found on one.iu.edu and its role is to help develop IU institutions' contributions to local communities through community engagement and public service.
Students and faculty who attended Murray's presentation received a Joy of Teaching tumbler.
If a faculty member or student has questions about service-learning, Dr. Murray's email address is glomurra@ius.edu.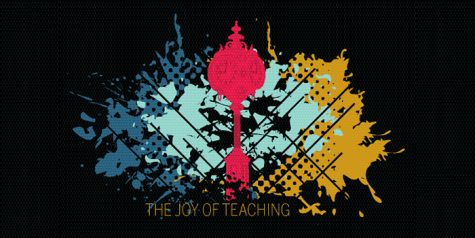 Future Installments
The Joy of Teaching series will continue throughout the spring semester. Events are planned both in March with Professor Margot Morgan and in April with Professor Sridhar Ramachandran.
Ramachandran said the series is inspirational and educational and he looks forward to sharing his ideas in April.
"The Joy of Teaching series provides [faculty] with an opportunity to learn from and listen to our colleagues on topics they are passionate about," he said.