Carnegie Center, City of New Albany complete new riverside skate park
New Albany flow park combines art, health, and memorializes local skater
The City of New Albany and The Carnegie Center for Art and History completed construction in December 2019 on the New Albany Flow Park, a creative collaboration built along the Ohio River.
Part public art exhibit, part recreational park, the $500,000 project replaces the outdated skate park between the amphitheater and the Sherman Minton Bridge.
Carnegie Center curator Daniel Pfalzgraf set sight on renovating the old park after being asked to 'shake up' the Carnegie Center's existing public arts project, a rotating 2-year exhibit requiring significant time and labor resources.
"We wanted to do something that created more engaging art experiences, using art that allowed people to play and participate in activating spaces," Pfalzgraf said.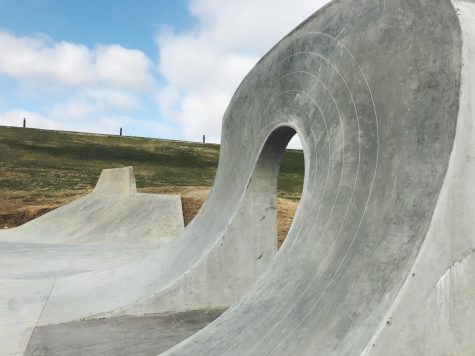 A lifelong skateboarder, Pfalzgraf decided to take his passion and incorporate it into the permanent project.
Finding a Home in New Albany
"I was walking around downtown New Albany looking for sites that could benefit from using art to reinvigorate the spaces and saw the old skatepark on the Riverfront in a pretty bad state. Rough surfaces, crumbling features — the perfect space for our first permanent public art project."
Pfalzgraf presented the idea to the City of New Albany in 2015.
"We found out later that we literally saved the park from getting demolished. It was scheduled to be razed just a couple weeks after our meeting with the mayor."
The new park also serves another purpose: a memorial to local skateboarder Matthew Brewer, who passed away in 2018 after being struck by a vehicle while skating home from the park.
"Matt was a huge supporter of the project and involved in it from the start. He was probably the only person who skated the old park daily. We felt anything we did to it would have to be approved by him."
For the construction of the park, Pfalzgraf cites Hunger Skateparks, an artist/skateboarding duo in Bloomington, Indiana, as a major reason they were able to create the amazing space.
"If we didn't have them in our backyard, our only other option was to work with companies in Florida or California, which would obviously increase costs dramatically."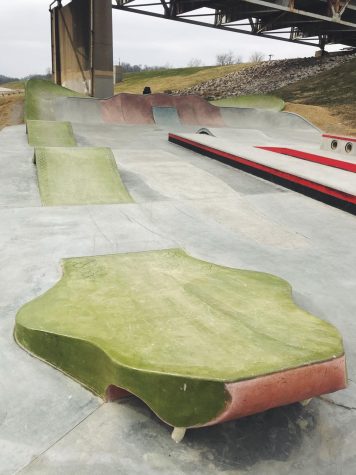 Design and Value
To pool design ideas, Pfalzgraf's team held several public brainstorm sessions. Throughout these, a local history theme appeared, now reflected in the focal point of the park: a skateable steamboat rising from the park's center.
Sellersburg skateboarder Isak Guernsey is thrilled to have a place to skateboard without feeling like a vandal.
"There are cool street spots around, but they have skate stops, these metal pieces that prevent skating," Guernsey said. "If not, then police just make you leave like you're criminals or something."
Guernsey said he believes that this new park will positively impact his community.
"We just want [a place] to have fun and stay out of trouble. Now, more kids might learn to skate."
Pfalzgraf believes that when it comes to exercise, skateboarding is a great alternative to traditional sports.
"The price point for skateboarding is a fraction of what it costs for participation in other organized sports, and you can do it on your own at any time."
Noah Hulsman, owner of Home Skate Shop in Louisville, agrees.
"It's great that the kids have a place to go that's safe," Hulsman said. "If cities want to keep kids off the streets, build more parks."
While involved in the initial design discussions, Home stepped away in 2018 to complete Breslin Skate Spot in Louisville.
"As the local skate shop we strive to keep kids skating. I didn't have a lot of skate parks growing up, so it's rad, the cities seeing the good things they bring."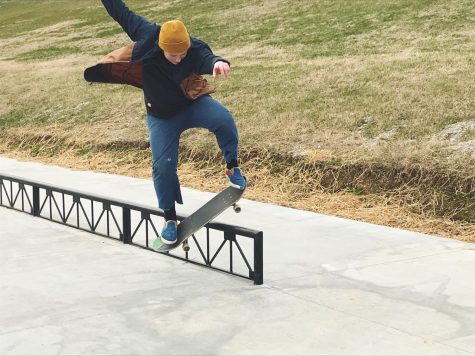 Hulsman said Home and Pfalzgraf have talks of 2020 skate contests at the Flow Park, including a Go Skateboarding Day.
Currently listed on Google as the "Matt Brewer Skate Park," Pfalzgraf clarified that this inaccuracy is not a bad thing.
"He influenced people growing up who skated and was an all-around beautiful person. Sometimes places are given colloquial names with special meaning for local communities, so if that's how people want to refer to it, that's okay. It's a community park."
Although the Flow Park opened in December, there will be final touches come spring, including permanent signage thanking sponsors and a public dedication to Brewer.