Sustainability Club rebrands as the GREENadiers
Student organization spent the fall semester on hiatus to rebrand and refocus
The spring semester means a new year and, for the GREENadiers, a fresh start after a semester hiatus. Formerly known as the Sustainability Club, the GREENadiers have an eventful semester planned with President Sidney Farmer and Vice President Lucia Rodriguez at the helm.
The club took a hiatus last fall to refocus, according to Farmer and Rodriguez. Farmer is double majoring in geosciences and sustainability. Rodriguez is a sustainability major and microbiology minor.
"We wanted to gather our thoughts and get things going in a strong direction," Farmer said.
Their main focus this semester is to get everyone involved and have all opinions and ideas be heard.
Rodriguez said when designing new logo options, they took inspiration from other schools. They wanted to incorporate both the Indiana State leaf and Gus the grenadier.
"We got permission to use him and change his color," Rodriguez said.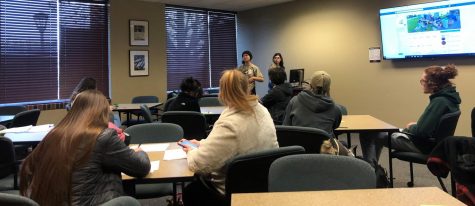 15 students gathered in UC 121 for the first GREENadiers meeting of the semester, held on Wednesday, Jan. 22. The club will meet in UC 121 every fourth Wednesday of the month from 12:20-1.
Rodriguez provided oranges for those in attendance, letting them know if they left the peel she would compost them. Farmer and Rodriguez then introduced themselves and stated the mission of the club.
"We want to make a difference and make the campus more sustainable and also the community," Rodriguez said.
Faculty Advisor Melanie Hughes and Sustainability Council Chair Robin Frederick were in attendance as well. Frederick founded the original Sustainability Club four years ago.
"I am happy to see that there are other people that are just as passionate about sustainability as I am and want to continue to sustain us and move forward and engage more students," Robin said.
Upcoming Events
Farmer and Rodriguez said park clean ups and suitability fairs have been successful in the past, and they plan to continue those events. The GREENadiers' first park cleanup will be at the Falls of the Ohio on March 29.
Green Drinks, an event held by the Louisville Sustainability Council, will be every third Wednesday of the month — the first will be on Feb. 19, 6-8 p.m. Saturday Socials will be every Saturday after the Wednesday meetings. The first is scheduled for March 1 from 5-7 p.m. at Pints and Union in New Albany.
Seeking Sponsorship
The GREENadiers is not currently an IUS-sponsored club, but Hughes is working on getting the club sponsored. To be officially recognized, the organization must meet requirements such as having a certain amount of volunteer hours.
"The park clean up will count for hours," Hughes said. "We need to show a presence."
The GREENadiers planned its meetings during the school week and socials on Saturdays so more people have more opportunities to get involved.
Students and faculty can join the email list and follow the club's Facebook (IUS Sustainability Council & Club) and Instagram(iusoutheast_sustainability_). There they can find information on upcoming events and the monthly newsletter.
"Educate yourself and look things up," Rodriguez said. "As a club we're hoping to encourage people to do simple stuff like using reusable water bottles to reduce waste."
"If you want to make a difference, that's what we're here trying to do," Farmer said. "Come, make a difference with us. It seems difficult to make a difference without being part of a group."