Former major leaguer Dave Collins brings over a decade of baseball wisdom to IU Southeast
Coach Collins helps Grenadiers deal with mental aspect of baseball
Dave Collins still remembered the first time he walked into a big league clubhouse in 1975, just having recently been called up from Triple-A Salt Lake City. One of the players he saw was a pitcher who wore number 30 for the California Angels, a future hall-of-famer by the name of Nolan Ryan. That was when he knew that he had made it to the major leagues.
"One of the guys I looked up to so much as a kid was Nolan Ryan, and here's Nolan Ryan in the same locker room with me," Collins said. "So it was hard for me to picture me being in the same locker room with him."
The Angels were the first of eight teams that Collins played for over a 16-year playing career. During that time, the switch-hitting outfielder posted a career line of .272/.338/.351, hitting 32 home runs with 373 RBI and 395 stolen bases.
After his playing career concluded, Collins coached at all levels from high school to the Major Leagues, his latest stop being the bench coach for the IUS baseball team.
Early Years
His love of the game goes back to his early days growing up in the Black Hills of Rapid City, South Dakota, which wasn't always easy to play because of weather — primarily snow and cold.
"Early in the fall, sometimes, it starts to snow, and we wouldn't see the grass again until late spring," Collins said. "The weather wasn't conducive to play outside, so we didn't have high school baseball."
To compensate for the lack of high school baseball, Collins honed his skills playing at the American Legion's Post 22 baseball team, led by legendary legion ball coach Dave Ploof. He also competed in track during the spring, setting the state record in the 100-meter dash his senior year with a time of 9.6 seconds. His speed earned him nicknames including "Rapid City Rabbit."
Collins then made the transition from the cold Black Hills to the warmth of Arizona, specifically Mesa Community College for the 1971 season, where he helped lead the Hokams to their second of three consecutive NJCAA World Series championships.
Professional Career
After spending a year at Mesa CC, Collins was the sixth overall pick in the secondary phase of the 1972 MLB Draft by the California Angels, signing a contract worth $20,000. He spent three years in the Angels minor league system, though it took him some time to adjust to playing professionally.
"
If I can help kids deal with the mental part of the game, because that's the switch that usually unlocks your talent, or it locks your talent up in a lot of cases, it's meaningful to me because I love the game.
— Dave Collins, IUS Men's Baseball Bench Coach
"It was really the first time I really struggled because I'd always been in a situation growing up where I was one of the better players," Collins admitted. "That was a mental block for me, being surrounded by players that were as good and some a lot better than me."
He soon put it together in his third year of minor league ball, warranting a call-up to the Angels. He played in Anaheim for two seasons before being beset by a rare occurrence in baseball; an expansion draft. He was the 14th pick in that draft, being selected by the Seattle Mariners for the 1977 season.
On Opening Day in the Kingdome against his former team, Collins became the first player to take an at-bat in franchise history. It took until the series finale two days later for the Mariners to score their first ever run, which also came courtesy of Collins.
After just one year with Seattle, Collins was traded to the Cincinnati Reds, where he said he spent some of the best years of his career, including in 1980 when he stole 79 bases. He also made his only postseason appearance of the 1979 NLCS against the Pittsburgh Pirates.
During this time, he got to be around some of the greatest players in Reds' history such as Pete Rose and Johnny Bench, the leaders of the mid-70s' Big Red Machine.
"I got along great with them and I have tremendous respect for their talent and as people," Collins said. "They were such a classy group of guys led by Sparky Anderson, who was a phenomenal manager. If I hadn't been traded to the Cincinnati Reds, I don't think I'd have had a 16-year career."
After the 1981 season, Collins, a first-time free agent, accomplished yet another lifelong dream when he signed a three-year deal with his favorite team growing up, the New York Yankees. He got a chance to play in the same outfield that his boyhood idol, Mickey Mantle, once patrolled before him.
"It was a dream come true for me, because I was a Yankee fan as a kid and Mickey Mantle was my favorite player," Collins said. "The first day of Spring Training, Mickey Mantle was a guest instructor helping the outfielders and I happen to be an outfielder so I couldn't believe it."
The following off-season, Collins was traded to the Toronto Blue Jays, where he spent the last two years of his contract. He still holds the Blue Jays' single-season record with 60 stolen bases during the 1984 season.
After spending a year each with Oakland and Detroit, as well as three more seasons with the Reds, Collins concluded his career in 1990 with the St. Louis Cardinals after spending his final years serving more as a pinch-hitter, no longer producing to the standards of an everyday player.
"What made [retiring] easier for me was Joe Torre, he asked me at the end of the year if I wanted to become a Major League scout or coach with the team," Collins said. "That was an easy decision for me to be able to work with a guy like Joe Torre and be able to stay in the game."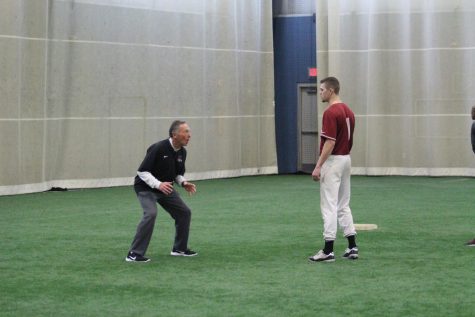 Life After The Majors
After retiring from the big leagues, Collins has stayed in the game in a number of capacites, starting as a coach for the Cardinals under then-manager Joe Torre. He ended up coaching for a number of MLB organizations, as well as spending time as a high school coach in the mid-90s. He also managed the minor league Inland Empire 66ers in 2007.
In 2018, he was an assistant coach for Miami University-Hamilton, the school that his stepson, current Grenadier freshman Connor Kelly was originally planning to attend. After a visit to IU Southeast, both Collins and Kelly decided to join the Grenadiers, where both have already fit in very well.
"He embodies one of our core values, which is servant leadership," Head Coach Ben Reel said of Collins. "Dave is an extremely humble and passionate person, just his presence, experience, mentorship, it's been extremely beneficial."
As a coach, Collins has been able to stay connected with the next generation, allowing him to help the players under him be able to deal with the most critical component of the game; the mental aspect.
"That's what I struggled with and learned from the most," Collins said. "If I can help kids deal with the mental part of the game, because that's the switch that usually unlocks your talent, or it locks your talent up in a lot of cases, it's meaningful to me because I love the game."
One of the players whose career and life that Collins has influenced the most, even before he came to IUS, was that of his stepson.
"It's been a blessing in the eight years that I've met him," Kelly said. "He's taught me so much about the mental game and I've really absorbed all of his knowledge and that's what helped me get here."