TRONsystem laser tag returns to IU Southeast with a bang
The event was co-sponsored by the Campus Activities Board and Kappa Sigma
More than 40 IUS students came to the Hoosier Room to play rounds of laser tag in a new and improved TRONsystem arena. The TRONsystem CUBE laser tag event was held in the Hoosier Room in University Center North on Monday, Feb. 24. from 3 to 7 p.m.
Kappa Sigma helped TjohnE Productions set up the TRONsystem laser tag arena, also known as "The Cube."
Students eagerly began signing up for participation in the event right at 3 p.m.
Miranda Morris, the public relations representative for CAB, let students know that the first game would begin once they had 12 players signed up.
Let the Games Begin
Before the laser tag games began, the TjohnE producers helped students get the gear on, explained how to use the equipment and also explained the rules of the game.
The first game began at about 3:15 p.m. The TjohnE producers, John Tanis and Shane Underdah, decided to start the first two rounds with just nine players as a free-for-all game where the highest score won and no teams were required.
The second round of games began at 3:40 p.m. with eight students. The students were split into two teams of four players.
Each game lasted six minutes and the highest-scoring team won.
Laura Rodriguez, a senior psychology and Spanish double major, has played laser tag at IU Southeast in the past. 
She was one of the first players at the event and said this year was fun and different with the addition of "The Cube" arena.
Rodriguez, an event planner for CAB, planned to play more games of laser tag when she was done working the event. 
After entering the laser tag arena, students found a spot and prepared for the game to start. Loud energetic music began and shortly after a voice-over announced the start of the game.
Students ran and hid behind inflatable pillars and obstacles while also shooting at the opposite team. 
"During past years the event was just a series of blow-ups," Morris said. "'The Cube' is new and totally dark with flashing lights and music blaring."
What the Event Provides for Students
The CAB has brought TjohnE productions to host laser tag at IU Southeast in the past. The organization tries to bring back events that students think are fun and also have had a great turnout.
"It is one of the events that we have that brings in all different kinds of students," Morris said. "Whenever students are playing, they are with 12 people, not just all with their friends. Laser tag is not only a chance for students to meet new people but a physical activity that creates a healthy competition."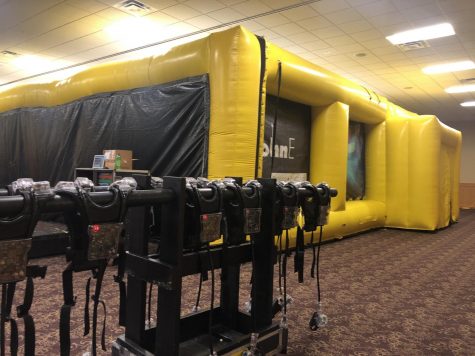 Multiple Games and Attendance
Students played as many rounds as they wanted to for free.
Morris said the event was funded by student activities fees.  
Niaza Mcelroy, a freshman psychology major, said she had not played laser tag at IU Southeast before but enjoyed playing multiple rounds at the event. 
According to TjohnE Productions, she was also a high scorer. 
"I had a lot of fun," Mcelroy said.
With over an hour of the event left, CAB had already seen around 40 students. Many students played multiple rounds throughout the day. 
According to Emily Tolly, sophomore business management and human resource double major and president of CAB, the laser tag event was a success.
"I think it's just been going really smoothly," she said. "We are getting people as they are coming out of classes. We got to co-sponsor with Kappa Sigma and have good attendance and support from them, so it's just been good." 
CAB Events and Co-sponsors
All CAB events are open to any IU Southeast organizations to co-sponsor. "This event that we're putting on today is co-sponsored by Kappa Sigma," Morris said.  
Co-sponsors help with promoting the event, running information tables, directing traffic to the event room setting up the event and taking the event down.
The IUS CAB hosts a variety of events throughout the semester. Students can follow CAB on social media and check Grenadier Central to find out more about upcoming events.