IUS hosts annual Indiana Latinx Leadership Conference
The yearly education and networking conference was held at IU Southeast for the first time in its 21-year history
IU Southeast held the 21st annual Indiana Latinx Leadership Conference on Saturday, Feb. 29, marking the first time the event has ever been held at IUS. The theme of this year's event was "Dreaming Out Loud: Unifying the Future." The event aimed to bring together Latinx high school and college students from all over the state to educate and network.
The conference began with a presentation by keynote speaker Kat Lazo, host of the YouTube series The Kat Call, which addresses issues in the Latinx community. 
"My goal is to make sure everyone leaves here more uncomfortable," she said. 
Lazo described her upbringing in New York City and joining the media company Mitu, along with having several people in her life who were undocumented citizens. 
She talked much about ways non-white people are at a disadvantage in the United States and elsewhere, and played a series of clips from social media showing white people telling Hispanics to "go back to where you came from," and "speak English in America," along with part of President Trump's infamous "they're not sending us their best" speech. 
Lazo also mentioned that color-based discrimination exists even within the Latinx community. 
"When you're accustomed to privilege, equality feels like oppression," she said. 
Addressing criticisms that discussing skin color would further divide people, Lazo responded, "We're already divided. Having a conversation wasn't going to divide us more." She ended by urging those with privilege to use it to promote equality in society.
After Lazo's presentation, the workshops began, consisting of lectures throughout Knobview Hall. 
Various topics included "Conociminento: Becoming Latinx," "Latinx in Healthcare: Why You're Important," "Embracing Joteria: Building Affirming Queer Spaces," and "DREAMERS: A Story," among others. 
One workshop, "Combating the Climate Crisis," dealt with the issue of climate change and how it directly affects the Latinx community. Zachary Giuffre, a member of Indiana's Citizens Climate Lobby, gave the presentation. 
"Scientists do have an agenda: educating the public," he said. He mentioned that while Earth's climate has changed in the past, the current rate of change is unpresented compared to any time in history, with each year hotter than the last. 
He ended his talk by describing ways individual people can fight climate change, such as reducing food waste, installing rooftop solar panels, using green apps and possibly joining the CCL. "We may not have much money, but we do have logic," he said.
In addition to workshops, the conference heavily featured music from the Latinx community. In the Hoosier Room, the band A-Corde performed a variety of Cuban and tropical music, all in Spanish, while attendees ate lunch and danced. 
Later in the day, a high school Mariachi band from Chicago, Mariachi Herencia de Mexico, performed in the Ogle Center.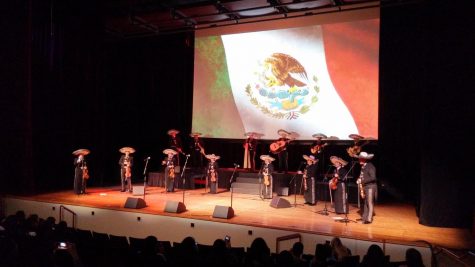 "I had the randomest of ideas, to start a mariachi education group," Cesar Maldonado, the group's instructor, said while talking about how the group got started. 
He described how he wanted to preserve the tradition of mariachi music and pass that tradition on to the audience. 
The group performed several songs, energetic and romantic, and even a cover of music from the 1978 film "Grease." The students on stage ended by thanking the audience for listening and gave tribute to their parents for coming to America for a better life. 
"Now you have a story to tell. You've heard a mariachi version of 'Grease,'" Maldonado said.