Beer expert Roger Baylor speaks about the history of beer in New Albany during IUS visit
The Floyd County native also talked about the brewing process and prohibition
Roger Baylor and his knowledge of beer were on full display during his visit to IU Southeast on Thursday, Feb. 27. Baylor discussed the history of beer in New Albany and the surrounding Kentuckiana area during the event.
Baylor has been in the beer business for decades. He recently departed from New Albanian Brewing Company after 25 years. He said he likes to refer to himself as "The Beer Guy" due to his vast knowledge and experience in the beer industry.
The event, presented by The Institute for Local and Oral History, was free for all IUS students, staff and faculty. It allowed them to learn about the history of beer in the area as well as how prohibition affected the local breweries.
The History of Beer
Elizabeth Gritter, director of the Institute for Local and Oral History, kicked off the event. An associate professor of history at IU Southeast, Gritter gave a quick thanks to the crowd for coming before introducing Baylor, who was greeted with a round of applause.
Baylor began with a quote from Homer Simpson, the famous dad on the popular television show "The Simpsons," which was met with a laugh from the crowd.
"We begin with the eminent philosopher Homer Simpson's definition of this," Baylor said. "What he said was that alcohol…is the cause of and solution to all of life's problems."
Baylor then went on to discuss the basic ingredients in beer, which are barley, hops, water and yeast. He mentioned the importance of yeast and how it was not until the invention of the microscope that humans truly understood its capabilities.
He mentioned brewing has been going on for thousands of years but was never completely figured out until a few hundred years ago. He spoke about the importance of barley, then touched on details about the fermentation process.
Hoppy Along the Ohio
Baylor then talked about the differences between ales and lagers and how it is traced back to Central Europe and Germany. He then began to discuss how people ended up in New Albany.
"The Ohio River was the original interstate highway back in the early days of the nation," Baylor said. "That's where the boats came from. The Ohio River was completely navigable all along, except for one place, which is where we live: Louisville."
Baylor explained that Louisville became a settlement destination because of the ports that were located there. He explained that many of the people who landed in Louisville desired alcoholic beverages, though they received more hard ciders than beers. Baylor noted that many drank alcohol then because the water was polluted and alcohol was a sort of "disinfectant."
Baylor said brewing in New Albany began in the early 1800s.
"The first recorded instance of somebody in New Albany having a brewery…was in 1840," Baylor said. "New Albany was founded in 1813 and there was probably somebody making beer [before 1840]…it just didn't pop up on the radar."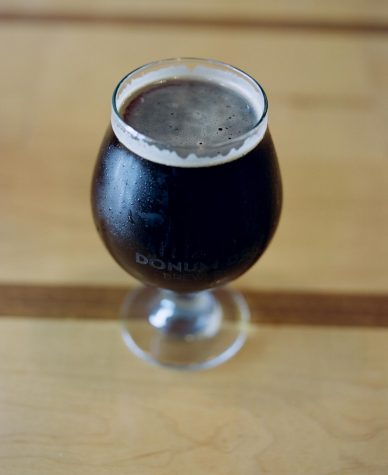 Prohibition Causes Brewery Transition
Discussed next was why the Germans, Irish and Scottish immigrated to America and how that brought the lager process to America. The Germans set up shop in the surrounding areas, creating places such as Germantown in Louisville.
Baylor said one of the first brewers in New Albany was a man named Paul Reising. Reising owned a brewery in downtown New Albany from the 1860s until World War I. Baylor then went on to discuss other old breweries and mentioned where they were located in relation to present day businesses.
He then told a story about a man who created his own brewery called Southern Indiana Brewing Company. The man invested heavily in drilling a well because he needed a water source, but when the project failed, the man went into his office and committed suicide. Baylor told this story to demonstrate how the brewing business was around the turn of the 20th century.
On the topic of prohibition, Baylor said it led to practically every single brewery in the area going under. It was nearly two decades after the last brewery closed in the area before another one resurfaced, according to Baylor. In the late 1970s, breweries began to pop up on the West Coast, sparking a slow resurgence.
"When I got out of high school, there were like 100 breweries left and a handful of those were recent startups," Baylor said. "The rest of them were ones that came from prohibition. And from that hundred we said earlier, there's now 7500, close to 8000."
Baylor ended the presentation by mentioning his business and how it came to be.
"We bought our equipment from a startup who went out of business in Salem called Tucker," Baylor said. "We put the equipment in storage in about the year 2000. And then in 2002, we had it installed, built onto our building down the street here and we were making beer. We were the first brewery in New Albany to make beer in 67 years since 1935."
Last Call
Though he was short on time, Baylor still fielded questions from the audience. The first question was asked by Yu Shen, professor of history and international studies.
"Is [craft beer] still going strong?" Shen asked.
"The rate of growth has slowed," Baylor said. "A few years ago the craft brewers were growing 15 percent, 16 percent, stuff that any student of business history knows is unsustainable. You can't continue to grow that fast."
After fielding another question about craft beer and one on speakeasies in New Albany, Baylor received a compliment from Aaron Setterdahl, associate professor of chemistry. He used the platform to also promote his summer beer chemistry class.
"Roger, I want to thank you," Setterdahl said. "Your New Albanian has inspired me to become a homebrewer…I also teach chemistry here. So if you have an interest in the science behind brewing, come check it out."
Baylor thanked Setterdahl for the kind words and then thanked the attendees, who gave Baylor one final round of applause as the event concluded.