IUS Volleyball set to open unique 2020 season
Grenadiers looking to build off strong 2019 campaign despite threat of COVID-19 and uncertainties regarding postseason
Half of a year has passed since IU Southeast fielded an athletic team amid the onslaught of the COVID-19 pandemic. It's been even longer since Grenadier volleyball competed in a match, having last been defeated in five sets by West Virginia Tech in the opening round of last year's River States Conference tournament.
As life and society have begun to get back to some semblance of normalcy, the Grenadiers are raring to get this season underway, despite changes to their season in response to the pandemic.
On July 28th, the NAIA Council of Presidents voted to postpone almost all fall sports championship tournaments to the spring of 2021. According to the IUS Athletics website, the Grenadiers' season begins on September 17th and ends on November 7th, which is then followed by the RSC tournament.
"Should the conference presidents decide to move our season to the spring, my hope is that things will be safer in the spring and we can still have a great season," Head Coach Eric Brian said. "I personally want to see what we can safely do in the fall and use spring as a back-up season for postponed matches [if necessary]."
The Grenadiers finished the 2019 season with a 24-7 record (13-3 RSC), another step forward after finishing 26-8 in 2018. Both records are the program's best since 2005 when the Grenadiers went 33-8. With a solid balance of returning upperclassmen and a large, versatile freshmen class, the Grenadiers were picked to finish second in the RSC Coaches Preseason Poll.
Our biggest opponent will undoubtedly be the Coronavirus. Keeping players safe is our number one priority – Eric Brian, Women's Volleyball coach
Returning Core:
Even with the looming threat of COVID-19, as well as the loss of All-American Honorable Mention Alyssa Cosgrove to graduation, the Grenadiers return almost every player from last year's roster. Leading that group is a trio of seniors in defensive specialist and 2018 RSC Defender of the Year Kenna Burman, middle blocker Alexis Bassett, and setter Hannah Sipe, all of whom joined Cosgrove on the All-Conference First Team last season.
"They are three of the best players in the conference and arguably the best at their relative positions," Brian said of his seniors.
The numbers support Brian's claims as Burman finished her junior campaign with 5.8 digs per set and 635 total, which ranked second and fifth in the RSC respectively. Sipe recorded 1013 assists, averaging nine per set, both good for fourth in the RSC.  Bassett had the third-highest hitting percentage in the conference, .352, which was also the ninth highest in the NAIA. Her kills (285) and kills per set (2.6) both ranked 13th in the RSC.
Complementing the seniors are a quartet of juniors led by 6'2 middle blocker Jennie Malone, who led the Grenadiers with 64 total blocks and 0.57 blocks per set, both ranking 13th in the RSC. Joining Malone are setter and defensive specialist Lexis Fisher, outside hitter Delaney Nichols, and middle blocker Makendri Fisher.
Rounding out the returnees is defensive specialist Santina Schembra, the program's lone sophomore.
New Blood:
Competing alongside the old guard are seven freshmen, preparing for their first season at the collegiate level under the strange circumstances of 2020. The group represents Brian's largest freshman class since taking over in 2013, as well as possibly his most versatile, as most have experience at every rotation.
"The freshman class is fantastic," Brian said. "Probably my best recruiting class since my current seniors, only there's more of them and they represent every position on the court. Every single one is good enough to compete for playing time and will contribute greatly to our success."
Leading that freshman class are setter Brady Eisenback and right side hitter Izzy Stallard, both of whom enter the collegiate level with championship experience. Eisenback, a product of Kentucky volleyball powerhouse Mercy Academy, led the Jaguars to their third consecutive state championship appearance last year before being swept by Assumption.
Stallard, an Avon high school product, helped the Orioles to back-to-back Class 4-A state finals, winning the Class 4-A state title in 2017, followed by a runner-up finish in 2018.
"It's been a different adjustment [to the collegiate level] due to these circumstances," Eisenback said of the upcoming season. "It's a weird transition, but I'm glad that we still get to have a season."
The Grenadiers also get help on the outside with hitters in Emilee Organ (North Knox) and Hannah Miller (Bloomington South), as well as another middle blocker in Abigail Vogel (Jennings County). Rounding out the deep freshman class are defensive specialist Kaylee Newsom (Louisville Eastern) and setter McKenzie Wright (Jonathan Adler, OH).
The large group of newcomers makes for a deep Grenadier squad looking to build off two excellent seasons. Much of the depth does come from the freshman class, which will be seen as a weakness to start the season.
"It's strange, but the greatest weakness will end up becoming our greatest strength," Brian said.  "Initially, this will make us vulnerable as we work with all the new players as they all get acclimated to our systems and get familiar with each other.  As those growing pains fade, this youth, depth, and versatility will be great in the long run."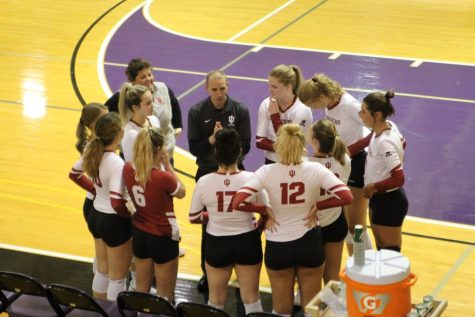 Navigating A Strange Season Amidst Challenges Old and New:
Another new system many of the Grenadiers will have to acclimate to is a season that will be closely monitored due to the lingering threat of COVID-19. In a fan travel advisory released on the RSC's website, IU Southeast will be one of five schools to not allow any spectators into their respective home arenas for volleyball, joining Carlow, IU East, Point Park, and West Virginia Tech.
"The depletion of a fan base during home games may seem odd in the beginning as we're used to having the support of our friends, family, and fellow athletes," Bassett said of the unique circumstances regarding spectators. "I don't believe it should affect our performance substantially. After all, we don't have a fan base when we scrimmage each other during practice. We're hopeful that the time will come again when we can have fans in the stands."
Not only did the Grenadiers have to worry about no fans in attendance, but their season was also potentially jeopardized after someone affiliated with the team tested positive for COVID-19, leading to the entire team being placed in a two-week quarantine period back in August.
Alongside these new challenges will be old obstacles, the biggest being IU Kokomo, picked in the preseason poll to finish atop the conference. Led by defending RSC Defender of the Year Macee Rudy, the Cougars finished the season 27-14 (13-3 RSC), capturing their fourth RSC championship in the last five years, along with their fifth consecutive NAIA National Championship appearance.
One of the Cougars 13 victories in conference play came at the Grenadiers expense on October 15, 2019, sweeping their rivals in Kokomo. The Grenadiers got revenge on November 2, needing four sets to defeat their state rival, ending a seven-game losing streak against the Cougars.
"Beyond [COVID-19], we'll have to contend with the usual suspects across the net, such as IU Kokomo," Brian said.  The Cougars are our Achilles heel, but our victory over them last year is a sign that we can get the job done."
Brescia will be another major force in the conference after a historic 2019, going 28-9 (15-1 RSC) en route to their first regular-season title in program history. The Bearcats were picked to finish third in the conference standings.
Other contenders in the RSC include West Virginia Tech, who defeated both the Grenadiers and Bearcats in the RSC tournament before being swept by IU Kokomo in the title game. IU East, Point Park, and Asbury all are also noted as teams who put pressure on the other teams in the conference.
While Rio Grande, Midway, and Ohio Christian all finished towards the bottom of the standings last year, the latter two missing the playoffs, Brian chose not to underestimate these teams, who will all be fielding improved rosters in 2020.
"West Virginia Tech had a great season last year and knocked us out of the tournament in a tight five-set match to end our 2019 run, so they should not be overlooked," Brian said. "Rio Grande and Midway have also been getting better and better over the last few years and Ohio Christian had one of its best teams that I've seen [last year]."
Even with what will be another tough field of competition, the Grenadiers' biggest and most fearsome opponent won't be seen opposing them on a volleyball court.
"Our biggest opponent will undoubtedly be the Coronavirus. Keeping players safe is our number one priority," Brain said. "As such, we are likely to have to pull players from practices and competition. "I think it realistic to believe that COVID aside, even allergies, stomach bugs, and other conditions are likely to produce symptoms that will require us to pull players out to make sure we are keeping players safe. This will surely cause us to have to use various line-ups and strategies along the way."
The Grenadiers kick off their season tomorrow, September 17, when they host RSC newcomer Oakland City University to open conference play in an empty Activities Building. Those wishing to live stream the match can watch it on https://portal.stretchinternet.com/ius/