Ogle Center and theatre department transition to new model for COVID-19
Due to COVID-19 guidelines, the Ogle Center and IUS theatre department underwent serious changes
Though COVID-19 seems to have drained the life from most of the buildings on campus, the Ogle Center still has a quiet thrum of energy beneath the surface as the theatre department continues as normally as possible, teaching both acting and technical theatre to classes of twelve students or less.
Professor Ashley Wallace, who oversees the acting wing of the IUS theatre department, has continued to teach small classes for both beginning and advanced actors using the Robinson Theater, which has undergone some serious changes in response to the virus.
"We meet once a week in the Robinson Theater, but each student has a taped out circle to stay in, personal chairs that they move in and out of the space, and there is a performance platform that creates distance from the rest of the class," Wallace said.
She said students are required to wear masks at all times during classes and that their ensemble games and improv activities have been modified to accommodate physical distancing requirements.
While Wallace's classes originally met in the performance rehearsal room on the ground floor of the Ogle Center, the space was deemed too small and confined to safely house acting students during COVID-19. This meant a change of venue to the Robinson Theater, which allows for up to twelve six-foot acting areas as well as a small platform for performances and a lectern for Wallace to teach from, all while maintaining physical distancing and mask requirements.
"My initial reaction was 'Nope. Can't be done,'" Wallace said. "But we as theater artists are always creative, working on the fly and solving problems. Although we didn't get to do all of the projects as initially intended, I do think that my students were given opportunities to grow and create and overall I was impressed with the brilliant self-taped scenes and solo movement pieces that they produced."
From Musical Theater to Operating Theater
This teaching style, while conceptualized for acting, has also been revolutionary for other performance and practicum based classes, from piano lessons, to woodwind courses and even to more scientific curriculum, like nursing.
"You'll see [in the Stem Concert Hall] we've created another flexible space," said Ogle Center Technical Director Charles Nasby. "The nursing students have utilized the Stem Concert Hall to teach their classes, Mondays and Friday mornings. Tuesdays and Thursdays, [it's] piano lessons as well as woodwinds and on Wednesdays it's piano class. So, throughout the week, the Stem Concert Hall has been converted into a classroom space for a multitude of people from all over campus."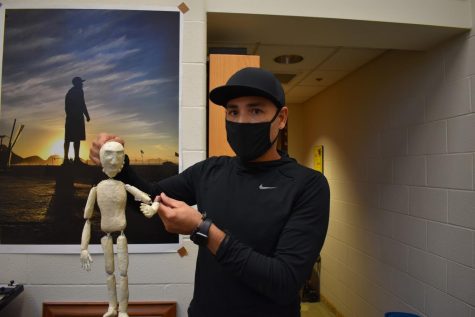 Ogle Center Shifts Focus
While COVID-19 brought more than its fair share of unwanted changes, the way in which the Ogle Center shifted towards a more student-centric approach has not gone unnoticed, or unappreciated, by the staff and students that this shift might give more of the spotlight.
"We're all in this together and what I really love is Jim Hesselman's leadership, the new "trickle down" in changes that are happening in the Ogle Center," Nasby said. "It's obviously going to be more student-centered with the lack of ability to bring stuff in, so I think the direction the Ogle Center's going, I hope it aligns with my vision as well."
Not only has the Ogle Center been moved to favor more campus-produced content, but the spaces throughout the building are being made much more inclusive to other departments beyond the performing arts.
"Parting is Such Sweet Sorrow"
Much like its home in the Ogle Center, COVID-19 has brought serious changes to the theatre department, making it tough for both theatre professors and students to feel comfortable in their "new normal."
"As far as the virus is concerned, I believe we are doing all that we can to mitigate exposure while still allowing our actors to work and create theater together," Wallace said. "…but I sure do miss silly improv games, smiling faces and live audiences. There is nothing like the ephemeral nature of live theater, and I look forward to the day that we can get back to in-person rehearsals, live performance, and the joy that comes with sharing the space with my theater community."
Students are also feeling the crunch, as many acting students who felt much more at home in the socially connected web of both their department and the campus' student body begin to feel isolated and worn.
"For me, it's been kinda fine, because… being isolated I don't mind too much, but a lot of people in the theatre department are social people, so I know a lot of them have been struggling, or been more upset or down in the dumps," said communications theatre senior and Rasmussen Scholarship recipient Charles Lauffner.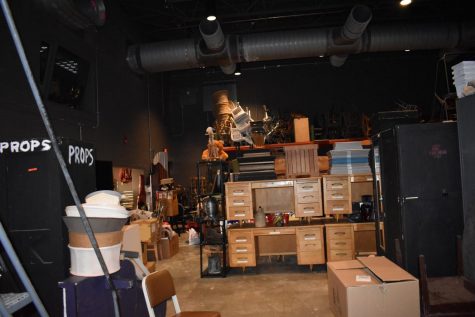 However, those students still being allowed to work through the duration are thankful for the continued experience and community.
"The people in the show and in this tech class are the ones who are getting the most social interaction because we actually get to come to campus," Lauffner said. "Maybe that's one reason I don't feel as upset because I'm coming here. I know it's been hard for people because a lot of people came here to come to on-campus classes, so they just prefer that mode, but now we're being forced to do online because we don't want anything to happen with COVID."
However, the theatre department is still striving to let students do their on-campus work and to allow them both socialization and practical education.
"We're rehearsing every night, we're having production meetings after the show, you know, Rebekkah is designing the bedrooms of students who are in the production," Nasby said. " So we're still doing the theater thing, with a different barrier."
Nasby has even used the change in the other Ogle Center venues to create opportunities for technical theatre students to accrue real-world experience by acting as technical experts for the classes and professors utilizing the various performance spaces.
"I've already had theatre students in the Stem Concert Hall, working with me on setting up projection screens, working backstage in the Stiefler," Nasby said. "So [the students] have already been all over the Ogle Center."
A New, "Sustainable," Theatre Department
While the COVID-19 pandemic has, in the opinion of Lauffner, slowed down the hectic energy of the theatre department, it surely has not stopped their innovation or progress.
"[It's] a lot more isolated," Lauffner said. "Even though the show is about to start filming, it's all kind of window dressing stuff or like making sure people get certain things figured out costume-wise and or background, as compared to 'hey we gotta build this platform that's gonna go up up on the stage and make sure it's painted like a brick wall.' So that's a little bit different."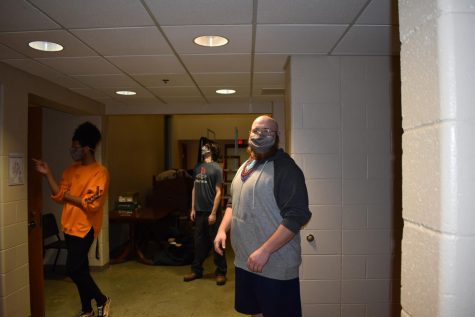 In order to both fill the downtime of lost shows and improve the theatre department's sustainability and off-campus design capabilities, Nasby and his students have been working constantly to organize and catalogue the IUS theatre black box and storage room, making sure every prop and set piece can be quickly found through an electronic database and used to design sets from the comfort of home.
"So, what we're doing, in this moment, is breaking down everything," Nasby said. "Going into the black box. We've gutted it, taken pictures of everything, so [that] if I type in '1957' on a computer, everything that's 1957, or in the '50s, couches, props, [will pop up]."
The theater has also taken steps to pioneer an entirely new way to do shows, utilizing Zoom, camera footage, and careful editing to make a hopefully seamless performance that viewers can stream from home.
"A lot of it is Zoom, but there's also certain sections like when Tybalt kills Mercutio and then Romeo kills Tybalt, that's actually going to be shot on campus," Lauffner said. "That one will be shot in person and then edited and thrown into it. So there are certain shots that will still be shot on campus, while still [being] COVID compliant."