Softball looks to build off historic shortened season in 2021
Grenadiers return almost entire roster from last year's 19-2-1 campaign, including all nine starters and top two starting pitchers
The Historic Year That Almost Was
A year removed from an improbable run at the River States Conference Tournament championship and a trip to the NAIA Opening Round, the IU Southeast Softball team looked primed to take the program to the next level.
With a young roster consisting of 15 freshmen and a solid core of upperclassmen, the Grenadiers stormed out of the gate to a 19-2-1 record, the best start in the program's 14-year history. By mid-March, the Grenadiers' scorching start, as well as ranking highly in numerous offensive and pitching statistics, began to garner votes in the NAIA Top 25
The historic start soon came to a drastic halt as the COVID-19 pandemic began to take hold all over the country, resulting in the NAIA canceling the remainder of all spring competition. The shutdown spelled the end of what could have been a season for the ages in the relatively short history of IUS Softball.
"First and foremost, we had to do what was safe and healthiest for all of our student-athletes," Head Coach Joe Witten said. "However, during the games that we were able to play, I believe the ladies were just scratching the surface of their potential and beginning to play with complete team harmony."
When competition ceased as of March 16, the Grenadier offense led all of NAIA with 17 Triples, second in Triples per Game (0.773), and sixth in Doubles (44) among other high rankings. Now, after waiting almost 11 months, the Grenadiers are ready to retake the field and build off the historic season that almost was, having been ranked #24 in the NAIA Preseason Top 25.
New Season, Same Stars
One advantage the Grenadiers held a year ago was that they had no seniors nearing the end of their collegiate careers, resulting in the majority of their upperclassmen returning, including every starter. Upon spring sports being canceled a year ago, the NAIA decided not to charge any spring athlete a year of participation for the 2020 season. It is currently unknown if any Grenadier upperclassmen plan to take advantage of the extra season of eligibility.
"I don't know of any as most of my players are ahead of graduating on or before their four years that a typical student uses," Witten said.
Leading the way for the Grenadiers are a core of seniors (technical juniors due to the NAIA eligibility waiver), most of whom were key contributors to the Grenadiers' ascendance to the RSC Tournament Championship in 2019. Among them are Designated Player Maggie Lubbehusen and Outfielder Ashtyn Sharp, both of whom led the Grenadiers with 21 Hits, and batted .406 and .389 respectively.
Alongside Lubbehusen and Sharp will be First Baseman Kelsey Warman, who made her Grenadier debut in 2020 after redshirting the year prior due to RSC transfer rules. The Cincinnati Christian transfer hit a solid .340/.444/.642 with a team-high three home runs and 14 RBI, anchoring first bases after the departure of four-year starter Sydney Seager.
Shortstop Kaitlyn Flowers had a strong 2020 after batting .349/.356/.512 while Madeline Probus slashed .317/.383/.537. Returning from the sophomore class include the speedy Catcher/Outfielder Reecie Gilliam, Second Baseman Lindsey Nelson, and Outfielder Miranda Miller.
"The player most impacting for us is the one waiting on the bench, next up to play," Witten said. "Our belief is that everyone has a great impact. Each day they all need to be ready when called upon."
One of the biggest notes from the 2020 Grenadiers was the massive number of freshmen they carried on the roster. Out of the 15 freshmen they fielded a year ago, all but one were fresh out of high school. None had a bigger impact offensively than Third Baseman Ellie Jackman, who started her collegiate career batting .341/.383/.636 with two home runs and 13 RBI. She will again lead a class that also includes Ysa Fox, Natalie Schapker, and Dallas Henderson.
In the circle, the Grenadiers will once again be led by a pair of strong right-handed arms in junior Hannah Ogg and freshman Brooklyn Gibbs, both of whom were dominant in the shortened 2020 season. Ogg and Gibbs were among the top pitchers in the RSC, ranking highly in numerous statistics, including ranking second and third in ERA (1.46 and 1.73) respectively. Other pitching options available to Witten include junior Kasey Pearson, as well as freshmen Morgan Jenks and Gabby Mahoney.
"I believe that our team can accomplish many things this year especially because we have not lost many people from last year's team," Lubbehusen said. "Having some games under our belt from last year gives our team more confidence and we know what to expect."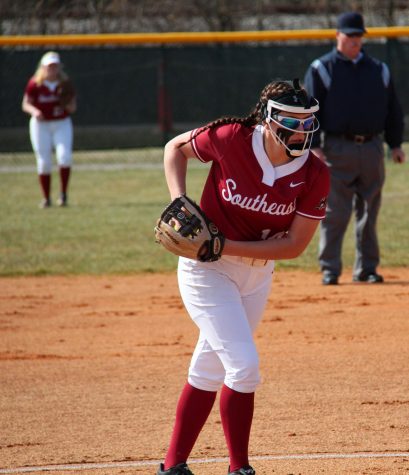 New Faces
The Grenadiers also enjoy the luxury of bringing in a new freshman class to add to their already deep roster. The 2021 true freshman class is only a third of the size of its 2020 predecessor but includes quality depth pieces looking for a shot at the college game.
Leading this group of newcomers is twins Erin and Katie Templeman, who come to the Grenadiers from Butler High School in Louisville. As sophomores in 2018, they helped lead the Bearettes on a deep playoff run, eventually finishing third in the Kentucky High School Athletic Association (KHSAA) State Tournament.
"It's definitely taken some time to get used to [transition from high school to college], but being surrounded by my teammates who are in different grade levels has been really helpful," Erin Templeman said. "They have guided me through the first semester but I feel more comfortable now moving into the second semester."
Joining the Templemans across the river is Outfielder Ginger Funk from Seneca High School. Indiana products joining the Grenadiers this season include Utility Player Haley Smith from Cloverdale High School and Catcher/Shortstop Macie Zink from Forest Park High School.
"[They] are picking up on good leadership from our returning players and improving at a fast rate," Witten said. "We expect them to contribute immediately."
Challenges New and Old
As the defending RSC Tournament champions, the Grenadiers come into 2021 with not just a chip on their shoulders, but a target on their backs. The COVID-19 shutdown occurred before the Grenadiers could begin RSC play in 2020, their first matchup having been scheduled for March 27, when they were to host Carlow for a doubleheader.
Leading the group of challengers for the Grenadiers' title is Rio Grande, who had won four consecutive RSC Tournament titles before the Grenadiers' historic upset in 2019. The RedStorm went 12-12 in 2020 but had played 11 contests against foes that were ranked in the NAIA Top 25. The RedStorm finished closely behind the Grenadiers in the RSC Coaches Preseason Poll, being picked to finish second in the standings while also garnering the remaining three of 10 possible first-place votes.
"Rio Grande has won the most titles other than us since I have been here," Witten said of the RedStorm. "They always come [to our matchups] highly skilled and trained."
Other teams that placed highly in the RSC Preseason Poll include Point Park (third), Midway (fourth), and West Virginia Tech (fifth). Asbury, who was picked to finish seventh in the standings, appears to be a dark horse contender. The Eagles went 8-6 a year ago, but return one of the top pitchers in the conference in Ally Moore, who led the RSC with a 1.00 ERA.
"The league has never been better as the addition to Oakland City and St. Mary's of the Woods in the near future only makes the challenges more demanding but exciting for all," Witten said.
The biggest challenger to a successful season is not one of the aforementioned teams, however. Despite multiple vaccines being distributed across the country, the COVID-19 pandemic is still as prominent now as it was last March. While adjustments were needed, the Grenadiers have been able to practice while also adhering to CDC guidelines.
"We created a bullpen area for players to help with distancing last year, so it won't be difficult as our field has extra-long dugout areas to maintain distance and we have the largest field in our conference to spread out," Witten said. "With around two dozen people in and around the dugout, I don't see it as a major issue. We did it safely in the fall and everyone is cooperative."
Despite the challenges, both new and old, that stand in their way this year, the Grenadiers are confident that they can take their program to the next level.
We want to pick up where we left off [last year]," Ogg said.  "During these last couple of weeks we have been working hard to make sure that we are prepared for [these games]."
The Grenadiers are set to begin their campaign on Friday, Feb. 12, when they travel to Alice Lloyd College for a nonconference doubleheader. First pitch is scheduled for noon.