The sweet side of a sour pandemic
A New Albany business owner lost her job because of the COVID-19 pandemic last year, so she fought to make her sugary dream a reality
Stevie, the owner and founder of the New Albany Sugar Shoppe, lost her job of ten years for the second time last April.
The first time, which was during the 2008 recession, kept her out of work for months. This time COVID-19 changed her mindset. Stevie decided that she would not be returning to corporate America.
COVID-19 has taken a toll on hundreds of thousands of Hoosiers across Indiana that are just like Stevie. According to the Carsey School of Public Policy, from February to December 2020 about 104,700 Hoosiers lost their jobs. 
However, Stevie would not be waiting for another job to come. This time she would be taking matters into her own hands.
After searching for so long about what to do next during the COVID-19 pandemic, Stevie stumbled upon some old candy recipes from her grandmother in the attic. 
Stevie always loved going to the farmer's market, so she decided to recreate some of the candy from those old recipes with a few of her own personal touches and then open up a candy shop there.
The candy sold in a flash. Stevie could not keep up with all of the attention her little shop was getting at the farmer's market. Her house was filled with candy, so her husband asked her to find somewhere to store all of it. 
Stevie planned on just storing candy at the facility she found, but instead she decided to open it up to the public and turn it into her own candy store.
"We opened Halloween weekend for a soft opening," Stevie said. "There was nothing soft about it."
The soft opening was a massive success. Dozens of people lined up outside in the cold to see the store and taste Stevie's candy. While they waited, they were served hot cocoa since only six people could be in the store at a time due to COVID-19 restrictions.
Stevie took out nearly $75,000 of her 401k to open the store, which was a majority of her own savings.
"I want to grow further, I want to go further," she said. "Taking on a business is a huge risk, but it also gives me the chance to bet on myself."
Couldn't Cook Up the Candy Alone
Stevie realized she could not do everything on her own, so she called her son. Hayden Clark, a recent college graduate who majored in business, was living in Japan at the time, but he had also recently lost his job due to the pandemic. He decided to go back to the United States to help his mom with the shop. 
Until he had to go back to Japan in late January, Clark loved working at his mom's candy shop.
"There aren't a lot of jobs that let you sell candy and build Legos," he said. 
Clark has enjoyed being back in Japan with his family, but he will be returning to the shop in March.
Clark has not been able to acquire any Japanese candy yet due to being quarantined after traveling, but he said he will be looking for collectible items, traditional treats and weird eats to bring back to the U.S. next month.
Stevie also has help from her friends and family while running the shop. Her husband and daughter drop by when they can to help stock shelves and run the cash register. 
One of her friends, April Boss, has also been a major part of the operation thanks to her artistic abilities.
Sweet Sketches and Sugary Skulls
Boss, a tattoo artist who works at Tattoo Envy in Louisville, has been a huge help for the New Albany Sugar Shoppe. Boss is Stevie's tattoo artist and a long-time friend of hers. 
"She's one of those people that has your back at all times and just wants the best for you," Boss said.
Stevie told Boss exactly what she wanted for the branding of the shop. The logo is the main focus and crown jewel of the New Albany Sugar Shoppe's brand. The skull with colorful candy inside that is included in the logo speaks to Stevie's heritage and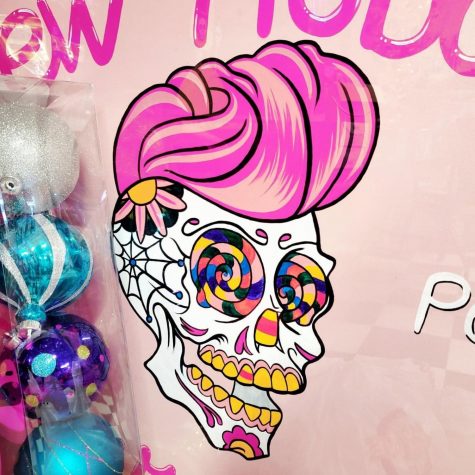 culture. 
Stevie is from the south, so all of the candy that is uniquely created and distributed by Stevie has a southern Texas and Louisiana flair. Making sure that her southern roots shone through in Indiana was important to Stevie when she was launching the New Albany Sugar Shoppe.
In her opinion, the weirdest candy Stevie makes is the "I Love Elvis," a tribute to the iconic country singer Elvis Presley which consists of peanut butter, banana and semi-sweet dark chocolate as an ode to his famous peanut butter and banana sandwiches.
Making the candy has been the most important part of the process for Stevie. She enjoys making and eating pecan pralines the most out of any other candy at her shop since the candy's recipe is a special one from her grandmother that she put her own personal spin on.
"There have been multiple blessings in opening this candy store, " Stevie said. "It has been incredible."
The New Albany Sugar Shoppe is located at 56 Pearl St. in New Albany. The shop is open Wednesday through Sunday. On Wednesday through Friday the shop is open from 12 p.m. to 7 p.m., on Saturdays they are open from 11 a.m. to 6 p.m. and on Sundays they are open from 12 p.m. to 4 p.m.