Student-written play produced on main stage for first time in decade
Charles Lauffer's play "Bittersweet Hard Candy" is to be produced on the Robinson Stage this spring
The scene shop is relatively packed. Ten or more people are rotating in and out, working on everything from carpentry to hot gluing glitter on fake flowers. There's glitter everywhere, and while the fall is slowly cooling off, it's still getting hot in the cluttered space.
By the end of the day, only a few people are left screwing flowers and two-by-fours onto the IUS Theater Harvest Homecoming float. It's usually the same handful of people, a few tech students needing hours, at least one of the theatre professors, and, when he has the time, theater senior Charles Lauffer.
"I trust Charlie," said theater professor Ashley Wallace. "I think that's like the biggest thing about him, is that whether he's in my classroom or he is on stage, I know he's there, listening, eager, ready to do whatever it is that needs to be done."
Charles Lauffer, Playwright
Whether he's building floats, hanging like a sloth from a ballet bar or just working in a classroom setting, there's something about Lauffer that his professors and theater collaborators pick up on and seem to enjoy.
"In [my] Modern Plays [class], he would be making crazy faces at me, faces that only I could see," said theater professor Ramona Morris. "We were either freezing or overheated in that classroom, so his humor was a welcome distraction. Now, with the pandemic, I really miss seeing him and laughing."
However, despite his exceptional performance and sense of humor, not many would think of Lauffer as a playwright.
"I don't know that I knew his ability to write, because there's not a whole lot of writing in my class and he was always rather quiet," Wallace said. "I think now that it all kind of makes sense. He's quite the intellectual but doesn't always come out in conversation. I think that putting it down on paper is really beneficial to him and I think it's come across in his play."
Lauffer himself only recently decided to go into the literary side of theater after a recent classroom experience allowed him to take a stab at writing a script. 
"Being a playwright has always sounded fun but I never considered it until I got into a playwriting class taught by Ramona Morris," Lauffer said. "This play was the final project I wrote for my playwriting class and I ended up submitting it for a fellowship and was awarded money to produce it."
The Play's the Thing
Lauffer's play, titled "Bittersweet Hard Candy," tells the story of a young ne'er-do-well who, as punishment for his misdeeds, ends up forced to work in a candy shop. However, as the end of his sentence nears, the owners of the shop conspire to frame him for a crime in order to keep him there. Like Lauffer's first play, a ten-minute script about a dancing cicada that challenges a man's lifestyle choices, "Bittersweet Hard Candy" is an absurdist comedy with deeper philosophical underpinnings.
"I think the main inspiration for this play was Albert Camus' "The Myth of Sisyphus" coupled with working at UPS," Lauffer said. "One of my friends who I met at UPS also ended up working at a candy store and I think hanging out with him at the store also helped solidify the setting and plot." 
The play, which has been in production since its creation in 2019, started as an assignment for Morris and evolved from a one-act script into the full-length production students will see this spring.
"His classmates and I were transfixed, listening to him read the play," Morris said. "I knew early on that he needed to get it on the stage."
While the COVID-19 pandemic has stalled production and changed some facets of the final product, such as Lauffer deciding to allow Wallace to direct the show rather than directing it himself, Lauffer is more than excited about the end result.
"While directing might be a fun thing to try, I'd rather leave my work in the hands of someone with experience who will bring my show to life better than I could," Lauffer said.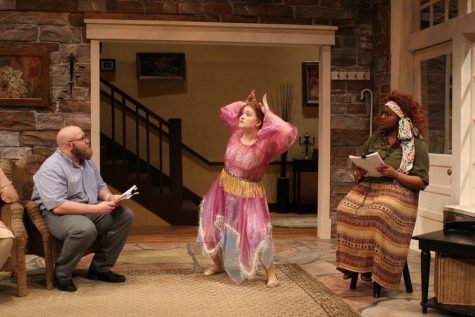 Student Spotlight
Wallace echoed Lauffer's excitement not only because of her love of the source material's humor and small-cast charm but also because it is the only student-written play that has been produced in her tenure at IUS.
"I've been here for seven years and we've not had a student-written play be produced and put on stage that I am aware of. I can't think of any in the past decade, thinking back on the seasons," Wallace said. "We've had some student-produced shows, but they were already established playwrights."
She went on to say that this production was a great use of the student fellowship program at IUS and that she wishes that it was taken advantage of more often.
"It's a great way for students to get their work out there and also get a little hand-up from the university so that it's a nice professional avenue that you can put on your resume," Wallace said.
Towards the Future
Wallace said she hopes that more students take Lauffer's lead and use the IUS stage as a building block for their writing aspirations.
"We have Ramona's playwriting class, which is a great avenue for building material," Wallace said. "My hope is, in the future, to be able to, if we can't produce them fully, to at least produce them in audio form."
Wallace is currently applying for a fellowship herself to adapt some stock plays for audio production with student actors. She hopes to use this to pioneer a new format of production for IUS theater as well as adding new opportunities for acting and theater students to get experience in their field.
"I am actually applying for a fellowship right now to work with some students this summer and be able to produce audiobook style formats of some public domain plays so that, hopefully, next time Ramona has a playwriting class we can end the semester out by recording readings of those," Wallace said.
As for "Bittersweet Hard Candy," auditions have already concluded and the first read-through for the cast is set for Feb. 10. According to Lauffer, the play will be live and viewable to the public as of late March or early April.
"I'm really looking forward to seeing the set be put together and to have the chance to see my play live," Lauffer said.