Young tennis squads prep for run at RSC titles
Men's and Women's Tennis both look to make noise in RSC despite fielding young teams
When the COVID-19 pandemic first wreaked havoc across the nation in March 2020, the NAIA soon decided to cancel the spring sports season. Alongside the historic 2020 campaigns of the baseball and softball program, both of the IU Southeast Tennis teams also suffered a premature end to what looked to be promising seasons.
Coming into 2021, the Grenadiers will have some question marks in how they will organize their lineups due to a lack of upperclassmen. Between the two squads, only one senior will take the court this season. While such roster construction normally signifies a year of rebuilding, the abundance of talented youth on both rosters could serve as a precursor to a surprise year for either squad, as well as perhaps a deep run at a River States Conference title in the near future.
"Of course, with COVID ending our season early, we were very frustrated," Head Coach Joe Epkey said. "We're moving forward the best we can and trying to reload the teams to make sure we can continue competing for championships."
De Witt twins, Littlefield to lead freshman-only women's tennis team
Before the shutdown, Epkey's women's squad did not look too impressive on paper, finishing the 2019-2020 season with a 4-6 record. While looking to improve upon last season, the Grenadiers will have to do it without a pair of standouts in Lauren Winchell and Camille Greenwell. Despite being juniors a year ago, Winchell and Greenwell were lost to early graduation, leaving the Grenadiers without any players with significant experience at the collegiate level.
"The women's team was in good shape to compete for a conference championship [this season]," Epkey said. "We had a great recruiting class come in this year, but unfortunately lost two players to early graduation in Greenwell and Winchell, who would have made us a top 25 team for sure if they hadn't graduated early."
Leading that recruiting class are the sisters of Audree and Adalyn De Witt from Hamilton Southeastern High School, who have already shown great promise during the fall season. Starting with the RSC Fall Invitational, the De Witts captured the top flight in women's doubles in their first taste of conference play. Individually, Audrey lost only three total games as part of a dominating run to win the top flight in singles competition. Adalyn had a chance to face her sister in the finals before bowing out in the semifinals to IU Kokomo in a third-set tiebreaker.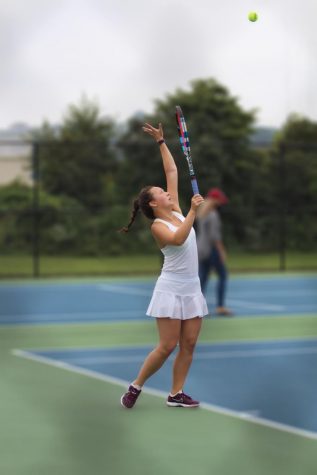 After helping the Grenadiers place first or second in nine of 11 total flights at the Fall Invitational, the De Witts turned their attention to the ITA Midwest Regional at Indiana Wesleyan to begin the month of October. Alongside a semifinal finish in doubles, Audrey reached the semifinals in singles play before finally falling to Indiana Wesleyan. Adalyn won her opening round matchup before bowing out against Grace College in the round of 32.
"I tend to have high personal performance expectations of myself and find my toughest matches to be the ones where my performance doesn't meet my expectations," Audrey De Witt said of her ITA performance. "These experiences are often reflected as a loss on my record, but also represent my opportunity to realize where Coach Epkey and I can work to improve."
Alongside the De Witts, Epkey will have a strong third starter in Anna Littlefield out of duPont Manuel High School in Louisville. Littlefield brings extensive postseason experience from her days at Manuel, becoming 7th Region doubles champion in 2019 following runner-up finishes in 2017 and 2018. Littlefield was runner-up in B flight singles at the RSC Fall Invitational, defeating Oakland City and IU Kokomo before falling to Asbury.
Rounding out the decorated true freshman class is Katie Weimer of Floyd Central High School. Weimer helped lead the Lady Highlanders to three consecutive Hoosier Hills Conference and sectional titles in 2017-19 and named to the All-District Team and HHC Second Team in 2019.
Rounding out the very young Grenadiers are a trio of "freshmen," technically sophomores if not for last spring's premature shutdown, of Kate Heuchan, Emma Ellis, and Sarah Vanisenberg. All three will vie for significant time on the court despite not getting a true spring season under their belts.
"I think our team just clicked. We have a lot of team chemistry, and we're all super competitive, which makes it all fun," Heuchan said. "Since COVID, none of us have had the opportunity to really play competitively, so we are all anxious to get our season going to prove what we know how to do."
While the young Grenadiers have loads of potential, the program will once again have to contend with a tough RSC field. Leading the way in the conference once again will be rival Asbury, who is expected to dominate the RSC once more. Before the shortened 2020 campaign, the Eagles won the RSC Tournament in four consecutive years from 2016-2019.
"I believe our team can definitely make a loud noise in the RSC," Adalyn De Witt said. "We realize this is a difficult conference [than a year ago], but if we continue the work we have already started, I am confident our teamwork and effort will pay off."
Men's tennis squad surrounds lone senior with young talent
The IUS Men's Tennis squad enjoyed considerable success in the 2019-2020 season before the shutdown, finishing the year with an 8-5 record. One of those victories came against seemingly improbable odds as the Grenadiers defeated #16 Campbellsville 4-3 in their home opener.
"Last season, our men's team was the deepest we had been in my eight years here," Epkey said. "With the seniors we had, who finished runner-up to Asbury each of their first 3 seasons, we were finally in a position to be able to win the tournament, but unfortunately didn't get that opportunity.
To maintain such a competitive edge against top-ranked opponents may be difficult for the Grenadiers this season, as they field a roster made up almost entirely of underclassmen. The one exception to this is Brock Winchell, the lone senior for either IUS tennis program this season.
Despite being a senior a year ago, Winchell returns to the Grenadiers courtesy of NAIA legislation passed when the shutdown began, ruling that any athlete who competed during the 2020 spring season would not be charged a season of competition. Winchell is the only member of a four-man senior class to return from a year ago, as Sam Venter and brothers Garrett and Dalton Fensler were all lost to graduation.
"I was never able to win a conference championship, so that's my goal this year, maybe get [RSC] Player of the Year [as well]," Winchell said. "[The freshmen] know how good our conference is, and they have been putting in the work to try and get that championship later in the season."
Joining Winchell from last year's roster includes sophomore Jerid Inman and the freshman trio of Drew Bishop and the brothers Cade and Sebastian Burman. Bishop and the Burmans especially look to build off what little experience they could gain from the shortened 2020 campaign.
"Staying competitive during the off-season was a bit tough with all the COVID rules," Sebastian Burman said. "Cade and I tried to play as much as we could, but it was challenging [since] even the USTA shut down competitive play. As things opened up more, we were able to play outdoor and indoor more."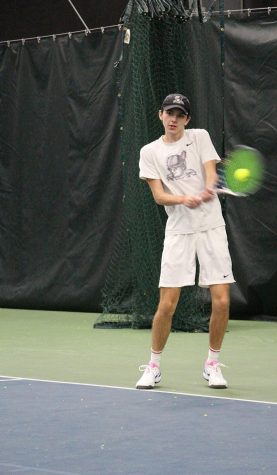 Adding to the Grenadiers' youth movement is a trio of true freshmen Connor Mason of Floyd Central, Micheal Wright of Lebanon High School, and Caleb Harris. Mason and Wright bring with them decorated resumes from their high school days.
Mason led the Highlanders to the Final Four of the IHSAA Boy's Tennis state tournament in 2018 and was an Indiana All-State and HHC First-Team selection in 2018 and 2019. He was also named the Highlanders' MVP in 2017 and 2019 and was a Senior All-Star and All-District honoree.
As a freshman at Lebanon, Wright established himself early in his career by advancing to the IHSAA Regional finals in 2017. He is also the Tigers' all-time wins leader, a two-time All-State selection (2018-19), and a three-time All-District honoree (2017-19).
Unlike Mason and Wright, Harris is a relative unknown with a unique background as he transitions to the collegiate scene. Not only was Harris homeschooled for most of his life, but he also did not start playing tennis until his junior year of high school, developing his skillset by grinding through many tournaments sanctioned by the United States Tennis Association (USTA).
"Believe it or not, I didn't grow up playing tennis whatsoever," Harris said. "It wasn't always the easiest thing to do, but I think homeschooling in my high school years prepared me and gave me the time and flexibility I needed to develop my game to what it is today."
Even with a young group filled with potential, the Grenadiers will have yet another tough mountain to climb regarding RSC play. Expected to be at the top of the mountain once more is Asbury, who won the RSC Tournament five times in seven years between 2013 and 2019. Despite losing three-time RSC Player of the Year Joshua Turnquest, the Eagles are once again receiving votes in the NAIA Preseason Poll.
"IU East, Oakland City, Midway, and other teams in [the] conference are now adding more and more strong international players so it will be much more challenging year in and year out," Epkey said. "We have to outwork and out coach other teams to continue having a chance to win conference championships."
The Men's team already begun the spring campaign on Feb. 12, suffering a sweep at the hands of Bellarmine. Both Grenadier squads open the home portion of their schedules on Saturday, Feb. 27, when they host Georgetown College beginning at 1 p.m.