"Bittersweet Hard Candy" prepares to sweeten up the IUS Theater Department's season
Snow hangs heavy on the air outside and the IUS campus is shut down almost entirely. A lonely stack of manuscripts sits in the lower entranceway to the Ogle Center, and while some were taken by students intrepid enough to brave the snow, there were still a few sitting in the silent theater building when the first rehearsal for "Bittersweet Hard Candy" began last week.
After a week of delays and closings due to the recent polar vortex, professor Ashley Wallace found herself leading a virtual first reading of a show that, ironically enough, will be the first in-person theater performance since the outbreak of the COVID-19 pandemic in Indiana.
"I am pretty confident we aren't too far behind," Wallace said. "This is a one-act play, so we should have some wiggle room."
Despite the virtual start to rehearsals, Wallace and the students under her direction seem more than ready to finally act in person again, as well as create the various costumes and props needed to run a stage show. 
While IUS did produce a version of "Romeo and Juliet" for online streaming last year, the show mostly used actors' own clothing and belongings to create at-home sets and impromptu costumes rather than the usual hand-crafted and student-produced projects. Those in the technical side of IUS theater weren't completely dormant, but they certainly weren't running at full capacity.
However, with "Bittersweet Hard Candy" being produced live on campus, technically-driven theater students like costume designer and theater senior Alex Conn are getting another chance to shine.
"The idea behind the costumes is that Drew, the main character, is stuck there, he doesn't want to be there," Conn said. "He doesn't put personality into his uniform, whereas Bubba and Louie are more comfortable in their uniforms because that's the personality they're accepting."
Beyond the costumes and props are the actors who, by and large, have been unable to practice their craft or do what they love for nearly a year now, if not longer.
Theater junior Hamilton Craig has been unable to perform on stage since the last IUS main stage production, "Vanya and Sonia and Masha and Spike," last spring. However, while he is more than happy enough to just perform on stage again, he is also extremely pleased to be working alongside student playwright Charles Lauffer, a senior majoring in theater.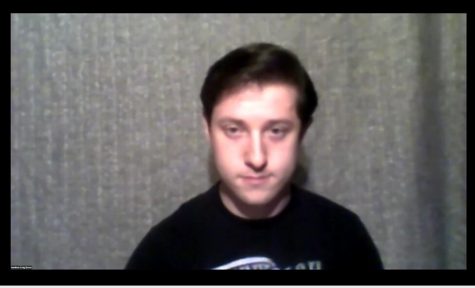 "Having the chance to work directly with the playwright is a gift for all actors aboard," Craig said. "Rarely do we ever find ourselves working alongside the mastermind in any production, and it gives us the opportunity to fill in the blanks."
Samuel Moore, a junior majoring in English writing, has been without a theatrical outlet since TheatreWorks of Southern Indiana's "Peter and the Starcatcher" in 2019. He had a show of his own canceled last year and he feels extremely grateful to work alongside his fellow cast members and Lauffer.
"I'm lucky and fortunate to be able to do what I love right now," Moore said. "I haven't been able to perform for an audience in almost two years, which feels like [an] eternity."
He and Craig both feel like the upcoming performance will be a solid outing for IUS Theater, with laughs and smiles abounding from the "smart," "well-written" and most of all "funny" show that Lauffer has brought to the table. However, the thing they agree on most is that working with Lauffer is both a unique and rewarding process for them as performers.
Lauffer, a performer himself, tended to be quiet and thoughtful throughout the first reading, mostly making very approving comments about the actors who were bringing his writing to life. He also offered his personal phone number to the actors after the rehearsal, telling them to text him if they had any questions or comments on the play.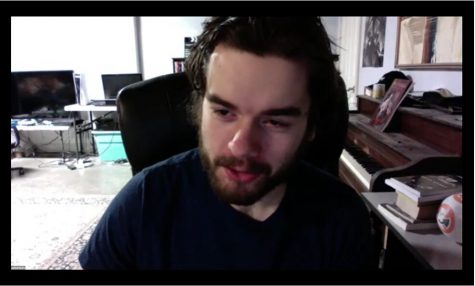 "I've seen Charles perform onstage, and it's always been a delight, so getting the opportunity to work with him is a pleasure," said Moore. "I really like being able to get feedback on how I portray my characters, so having the actual writer of the show there for questions and support allows me to have a more immersive experience. It's helped me out tremendously in not only bringing the director's vision to life but keeping true to the material provided."
Now that the production process is finally on track, the production team and actors have another five to six weeks of production to work through before finally seeing their work to fruition. More than anything, they just hope the audience is as excited as they are.
"It's been a rough time for everyone, but there's always a light at the end of the tunnel," said Moore.