Baseball opens conference play with sweep of Rio Grande
#11 Grenadiers sweep RedStorm in three-game weekend series to begin RSC action
After going 2-7 in a week highlighted by a four-game sweep at Huntington University's hands, the IU Southeast Baseball team had to prove that such an unfortunate cold streak was merely an aberration. The #11 Grenadiers started the new week on a much better note on Tuesday, March 2, when they defeated Lindsey Wilson 15-9. With a slightly better record of 6-10, the Grenadiers returned to Koetter Sports Complex to begin River States Conference play against the University of Rio Grande.
The three-game weekend series began with a nine-inning affair on Friday, March 5, when the Grenadiers pushed back multiple late RedStorm scoring opportunities, holding on to win 4-3. The next day, the series concluded with a doubleheader, which the Grenadiers swept by scores of 10-6 and 5-3 to complete the series sweep to begin the conference portion of their schedule.
"I think overall, we were just more competitive," Head Coach Ben Reel said. "It was cool to see our guys emotionally invested because the weekend before [against Huntington], I felt like the competitiveness was very faint, like it was almost fake. I really saw them show their true colors this weekend."
Weathering the late storm
The RedStorm kicked off the series when Kent Reeser reached on a bunt single before advancing to second on a Clayton Surrell groundout to the pitcher's mound. Jesse Watson then found space up the middle as his single brought Reeser home to give the RedStorm an early 1-0 lead.
The second started to the first as Juan Familia reached on a bunt single before advancing to second on a Thomas Gutierrez sacrifice bunt. II-Zadod Gabriel reached on a bunt single of his own, but a missed catch by first baseman Austin Wise allowed Familia to score, doubling the RedStorm advantage to 2-0.
The Grenadiers answered back in the bottom half when Marco Romero singled to center field, followed by a Jake Scott double. Wise made up for his earlier miscue by plating Romero on a sacrifice fly. After Tyler Mills reached on a bunt single, Clay Woeste kept the inning alive with a two-out single to score Scott, tying the contest. After Santrel Farmer drew a two-out walk, Matt Monahan dealt the game's biggest blow with a two-run double to right. The hit would've scored three had Farmer not been tagged out at home to end the inning.
That was all the offense needed for freshman starter Cade Reynolds, who allowed only one earned run over six strong innings. The right-hander did allow a third run to score in the top of the sixth after Clayton Surrell reached on a misplayed grounder by Woeste. Surrell stole second base and advanced to third on a balk before scoring on a Trey Carter RBI groundout.
Southpaw Trevor Reynolds relieved his cousin starting in the seventh but ran into some trouble in the eighth when Caden Cluxton led off with a double, followed by a bunt single by Reeser. Despite throwing out Reeser trying to steal second, Watson hit a one-out fly ball to left. The play had the looks of a game-tying sacrifice fly had it not been for Scott, who fired a near-perfect throw to catcher Brody Tanksley to gun down the tying run, keeping the Grenadier advantage at 4-3.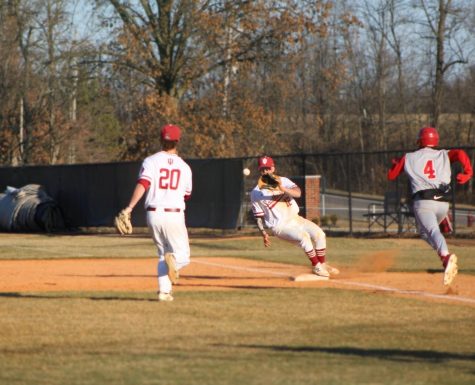 "I could tell off the bat that the ball was going to be in a spot where I could possibly get a throw off," Scott said of the game-saving play. "Fortunately, it was on target, and Brody made a good tag; it was just an overall good play."
The RedStorm again threatened in the top of the ninth when Darius Jordan and Josh Wolfe reached on consecutive one-out singles. Trevor Reynolds responded by striking out Billy Cooper and forcing Familia to ground out to shortstop, allowing the Grenadiers to hold onto a slim 4-3, earning their first conference victory of the year.
Cade Reynolds earned the victory after allowing three runs, only one of which was earned, on seven hits with a walk and four strikeouts, earning his first collegiate victory. Trevor Reynolds followed by allowing only four hits and striking out three over three shutout frames to earn his first save of the year.
"I think there's a video of me chucking my glove from Scott's throw, I was pretty excited," Trevor Reynolds said. "Cade did well for his first college win as well, so congrats to him."
How Sweep It Is
After squeaking by the RedStorm in the series opener, the Grenadiers returned to action on Saturday, March 6, to conclude the series with a doubleheader, beginning with a nine-inning contest.
As the RedStorm had done the night before, the Grenadiers fired the opening salvo in the first when Woeste knocked a leadoff double before advancing to third on a wild pitch. After Farmer drew a walk, Monahan singled to right to plate Woeste. Tanksley followed with a sacrifice fly to score Farmer to give the Grenadiers an early 2-0 lead.
The Grenadiers followed their fast first inning with a four-run attack in the second. Wise led off the inning with a single and stolen base, followed by Mills drawing a walk. A single by Woeste loaded the bases for Farmer, who drew a walk to score Wise. With one-out, Tanksley struck next with a single to left to drive in Woeste and Farmer to knock out RedStorm starter Zach Kendall. Reliever Trey White started his day by walking Romero to load the bases before Scott hit a sacrifice fly to plate Monahan.
The two squads exchanged runs in the fourth when Surrell walked and advanced to third on a Watson double, all before coming home on Jordan's RBI groundout to second. The Grenadiers responded when Romero reached on a fielder's choice and stole second, coming home on a single from Ben Berenda to extend the Grenadier advantage to 7-1.
The RedStorm broke through against Grenadier southpaw Hunter Kloke in the top of the fifth, beginning when Guiterrez led off with a walk followed by a Gabriel bunt single. After a Cluxton sacrifice bunt, Reeser plated Guiterrez on a sacrifice fly while Surrell scored Gabriel on an RBI single. Watson reached on a Woeste error before Albert Bobadilla added to the assault with an RBI single of his own. Surrell scored while Watson advanced to third, but the latter trotted home after Tanksley threw the ball into the outfield. Jordan capped off the fifth inning rally with an RBI single to score Bobadilla, cutting the Grenadier lead to 7-6.
"I think that gives us something to hold on to moving forward like 'hey, we got work to do,'" Reel said. "We have a long way to go; this is nowhere near the finished product."
Despite the rally, the Grenadiers responded in the bottom half when Woeste hit a one-out triple, positioning himself to come home thanks to Farmer's sacrifice fly. Monahan and Tanksley then reached base after being hit by reliever Billy Nowakowski. Romero made Nowakowski pay by lacing a single to right to score Monahan, pushing the Grenadier edge to 9-6.
Farmer was not satisfied with a three-run lead, kicking off the bottom of the seventh with a single before stealing. Monahan then reached base on a misplayed grounder against Surrell, allowing Farmer to cross the plate, giving the Grenadiers a more comfortable 10-6 advantage.
After allowing six runs, four of which were earned, through five innings, Kloke was lifted for freshman Lane Oesterling. The right-hander was dominant in relief, allowing only three hits over four shutout innings to seal the day game's victory.
"A lot of things had been going wrong for us, but we knew things are going to start falling our way sooner or later," Tanksley said. "We just dug deep and tried to stay as loose as we can because we've been playing tight, so we're just trying to come out and have fun."
In the nightcap, the RedStorm struck first in the top of the second when Watson left off with a single before being bunted to second. Familia then knocked a single to center to bring Watson home, giving the RedStorm an early 1-0 advantage.
The RedStorm lead only lasted until the bottom of the third when Woeste knocked a leadoff single before being bunted to second by Farmer. A wild pitch allowed Woeste to advance to third before Monahan brought him home on a game-tying RBI single. Tanksley followed with a double to deep right-center, deep enough to drive home Monahan and give the Grenadiers a 2-1 lead.
The Grenadiers expanded their advantage with three runs across the next two innings, starting off in the fourth when Berenda led off with a single. Courtesy runner John Ullom followed by stealing second before coming home on a Mills RBI single to left. After stealing second himself, Mills rushed home on Famer's RBI single to center.
In the fifth, Tanksley led off with a single before Romero knocked a double to left-center. With one out, Berenda pushed the Grenadier advantage to 5-1 after plating Tanksley on a sacrifice fly to right.
That was all the offense needed for right-hander Drew Hensley, who allowed only one run on four hits over five innings, striking out five.
"Everything was working for me while putting a lot of trust in my defense," Hensley said. "They did a good job behind me making great plays to let me proceed through the game."
While Jared Jones worked a 1-2-3 sixth inning, Brenden Bube had difficulty closing out the seventh. The right-hander gave up back-to-back singles to Carter and Familia before a wild pitch put both runners in scoring position. Austin Kendall brought Familia home on an RBI groundout to second, followed by an RBI single from Cooper, cutting the Grenadier lead to 5-3.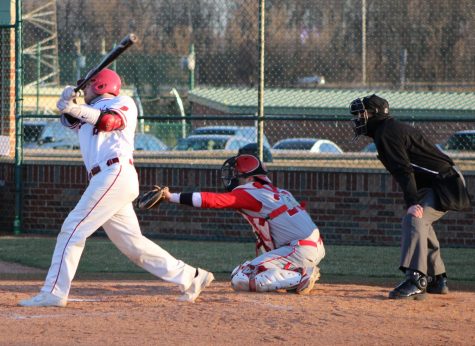 That's all the RedStorm could muster despite a two-out single from Cluxton, but the contest concluded after Cooper advanced to second, rounding too far off the base. Woeste took advantage of the miscue to tag out Cooper, completing the sweep to begin conference play.
"Last week, we made a lot of baserunning mistakes, but we hardly had any this weekend," Reel said. "[Rio] ended the series on a baserunning mistake we made a week ago, so we've improved in those areas."
The Grenadiers were once again aggressive on the basepaths during the series, stealing a combined 12 bases through the three games. Both sides were close offensively, with the RedStorm barely outhitting the Grenadiers 29-28 throughout the series.
While the Grenadiers were much improved offensively, they did commit four errors in the series, alongside multiple defensive communication issues throughout. Reel attributed the mishaps to limited practice time on the field to start the year.
"We saw some deficiencies be exposed by a lack of practice since we've only practiced out in the field twice the entire spring," Reel said. "We've had flyball communication issues, as well as in the last inning with Brayden Hazelwood, a rookie, and Wise, who's learning a new position at first base, miscommunicating. We need to work on that."
With the sweep, the Grenadiers (9-10, 3-0 RSC) finished the week 4-0, a much better result than the week before. Reel noted that playing fewer games over the past week may have been a factor in the Grenadiers' improved play against the week before.
"Maybe because it was a conference series and we had something to focus on, but overall, we were just more competitive," Reel said. "We played nine games in a week against teams that are or will be a ranked opponent, which is more than most teams play in a year."
The Grenadiers return to action on Monday, March 8, when they travel to face #8 University of the Cumberlands (Ky.) before returning home to host Lindsey Wilson on Wednesday, March 10. The following weekend will be the Grenadiers' first true test in RSC play when they host rival IU Kokomo, currently receiving votes for the NAIA Top 25. The three-game weekend series begins on Friday, March 12, at 5 p.m.