Women's Tennis gets blown away by Asbury
Audrey De Witt records lone singles victory as Grenadiers fall 6-1, extending losing streak against Eagles
Despite starting the spring season 1-3, the IU Southeast Women's Tennis squad hit their stride when they began River States Conference play earlier this month. Beginning with a narrow 4-3 victory over IU Kokomo, the Grenadiers followed 7-0 wins against Brescia and Oakland City. The strong two-week period ended with a 4-1 victory over Midway, pushing the Grenadiers to 4-0 to begin conference play.
That perfect record was on the line come Saturday, March 27, when the Grenadiers hosted RSC powerhouse Asbury. The young Grenadiers came into the match looking to lift the burden placed on them by their predecessors, as the Grenadiers had not defeated the Eagles since October 10, 2015.
Despite a few bright patches at both doubles and singles, the streak grew once again as the Eagles easily dispatched the Grenadiers 6-1.
"It's been a while since we beat [Asbury]," Head Coach Joe Epkey said. "We've been focused on our attitude and effort, and that's what I asked of them going in because we knew it was going to be a tough match."
Both the Eagles and Grenadiers exchanged blows at the top two doubles flights, starting when Audrey and Adalyn De Witt easily handled Grace Gorby and Giovana Kelm 6-2. The Eagles quickly countered at #2 doubles when Alexandra Lerma and Kendall Jablonowski pushed Katie Weimer and Anna Littlefield aside 6-1.
That left the doubles point at #3 doubles, where Kate Heuchan and Sarah Vanisenberg were locked in a tight battle with Allie Sutton and Luciana Iriarte. The tight match eventually resulted in a tiebreaker, which did little to shift the tide in either direction at first. Sutton and Iriarte eventually rallied to take the decisive set 9-7.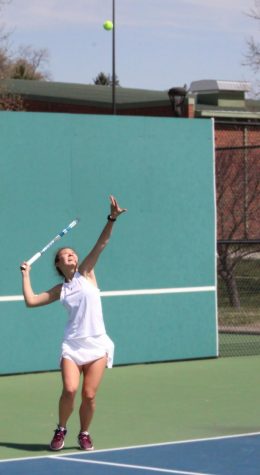 "There were some games that were easy at 40-Love, then there were some games where we fought all the way to the deuce point, so it was back-and-forth the entire time," Vanisenberg said. "We definitely could've had [the match] but there were just some tiny mistakes that we made at the end."
Transitioning to singles action, Audrey De Witt took it upon herself to put the Grenadiers back into the match. She dominated the first set at #1 singles, breaking out to a quick 5-0 advantage before Kelm was forced to retire due to injury, giving De Witt the individual match.
De Witt's efforts mattered little as the Eagles swept across the remaining singles courts, starting with Jablonowski defeating Adalyn De Witt at #2 singles 6-2, 6-2, followed by Lerma dispatching Littlefield at #3 singles 6-3, 6-2.
Weimer tried to force a comeback at #4 singles after dropping the first set 6-2 but ultimately dropped the second set to Iriarte 7-5. Heuchan and Ellis posed little of a challenge at the bottom two singles flights, falling to Gorby and Isabella Gutierrez 6-1, 6-2, and 6-0, 6-0, respectively.
"It's really just simple execution because I feel we have the right game plan and we're setting up our points well," Epkey said. "Our percentage on execution towards the end of a point isn't as high as it needs to be, so that's an area where I think we can really get better over the next month."
Despite the loss, the Grenadiers showed resolve in the face of the RSC's perennial powerhouse, typified by the wire-to-wire contest at #3 doubles. With a roster comprised entirely of freshmen, the young Grenadiers can only improve from this point, especially considering a potential postseason rematch against the Eagles is not out of the question at next month's RSC Tournament.
"We bring a lot to the conference, and this is just a step in the right direction," Audrey De Witt said.
The Grenadiers return to action on Friday, April 2, when they travel north to confront IU South Bend beginning at 1 p.m.