Softball sweeps Oakland City to remain undefeated in RSC play
Gibbs makes highly anticipated return from injury, combines with Ogg for no-hitter to cap off four-game season sweep of Oaks
After sweeping Brescia to begin River States Conference play, the IU Southeast Softball team felt confident as they began a key portion of their schedule. Fueled in part by the recent return of junior infielder Maggie Lubbehusen from a broken foot, the Grenadier offense was closer to returning to full power.
Having the additional bat off the bench certainly helped as the Grenadiers traveled to face RSC rival Oakland City on Friday, April 2. In the first of two doubleheaders the division rivals were scheduled to play against one another, the Grenadiers used multi-RBI performances from junior outfielder Kaitlyn Flowers, sophomore outfielder Miranda Miller, and sophomore second baseman Lindsey Nelson to take the day game 10-1 in six innings. Three Grenadier pitchers combined to shut out the Oaks 5-0 to complete the sweep in the nightcap.
One of those pitchers was freshman right-hander Brooklyn Gibbs, who returned to the pitcher's circle over a month after tearing the Ulnar Collateral Ligament (UCL) in her left thumb. Being used exclusively out of the bullpen in the first twin-billing, Gibbs worked 2.1 shutout innings, striking out three while walking two.
"If you have a ship in distress, you're looking for a lighthouse, and Brooklyn was our lighthouse," Head Coach Joe Witten said. "She's that one person we've always leaned on before her injury because she's so talented in so many ways."
Having moved to 6-0 in conference play, the Grenadiers returned to Koetter Sports Complex on Tuesday, April 6, to conclude the four-game season series with the Oaks.
The Grenadiers started the scoring in the day game when freshman third baseman Ellie Jackman and freshman designated player Dallas Henderson ripped back-to-back two-out doubles in the first inning. That lone run was merely the calm before the storm against Oaks' starter Ashton Steinbrenner as the Grenadiers started the second with a leadoff single from junior first baseman Kelsey Warman and a double from Nelson. Freshman catcher Erin Templeman added to Steinbrenner's early dismay as she sent a 1-1 pitch over the centerfield wall for her first collegiate home run.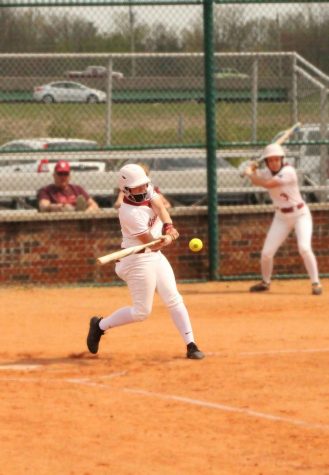 Members of the Oaks' coaching staff attempted to overturn the home run on claims that Templeman set foot out of the batter's box during her swing. Instead, their efforts were met with assistant coach Ryan Schuler being ejected from the ballgame once the dispute intensified. The Oaks' misfortunes only grew as a line drive by freshman shortstop Macie Zink hit Steinbrenner, eventually resulting in her being moved to being the Oaks' designated player.
Oaks' lefty Samantha Johnson initially could not stop the Grenadier offense, allowing a Jackman RBI single and a sacrifice fly from Flowers to push the Grenadier lead to 6-0. The Grenadiers only kept their foot on the gas pedal in the third as they loaded the bases. Jackman and Flowers each laced two-run singles with two outs, pushing the lead to 10-1.
That was more than enough run support for junior right-hander Hannah Ogg, who made her third consecutive start against the Oaks. Ogg (18-7) allowed only one earned run in the third, which served as the only blemish to a strong four-inning performance. Freshman right-hander Morgan Jenks took over for Ogg in the fifth, needing only 13 pitches to retire the side despite giving up a two-out double.
"I struggled a little bit in the fourth inning, but my pitching staff had my back and they came in the fifth inning and picked me up, Ogg said. "The big lead made it easier and makes it better because we can get more people into the game, everyone else can get more experienced so we can utilize everyone at the end of the season."
For the first time since facing off against #5 Marian on March 3, Witten handed the ball to Gibbs to start the nightcap of the twin billing. She got early run support when freshman outfielder Katie Templeman led off the bottom of the first with a triple. Henderson followed by lofting a fly ball to right-field, giving Templeman more than enough room to score on the sacrifice fly.
That lone run preceded what became a pitcher's duel between Gibbs and Oaks' starter Kenzie Tooley. Fresh off throwing 1.1 shutout innings in the day game, Tooley prevented further damage by allowing only two hits over the four frames following the Henderson sac fly. Gibbs was just as dominant, only allowing three baserunners via walks over five shutout innings.
With little margin for error, the Grenadiers broke through against Tooley in the bottom of the sixth, starting with more clutch hitting for Jackman on a one-out RBI double. Warman added an RBI double of her own with two outs, extending the Grenadier lead to 3-0.
"I knew we needed to score a run to get a little bit of insurance going into the last inning because we've been doing so well in our conference games with winning every time," Jackman said. "I just that on anything close, I had to hit it because I had two strikes on me."
Ogg took over for Gibbs (5-1) in the fifth despite the latter's dominant pitching, yet Witten erred to the side of caution given Gibbs' recent return to the circle. Ogg faced no opposition through the final two frames, recording the final six outs to earn her second save of the year.
Gibbs' start may have been personally gratifying, but it also came with historical ramifications. Thanks to Ogg's two flawless frames to end the contest, the two right-handers notched a combined no-hitter to cap off the series. The performance came almost five years to the day of the program's previous no-hitter when Caroline Cato twirled a five-inning no-no as part of a 13-0 victory over Alice Lloyd on April 14, 2016.
"I came into this game wanting to work on some things, threw a new pitch, so I wasn't really trying to do too much," Gibbs said. "I'm really proud of myself and really happy to be back on the field with my team."
For the series, Gibbs twirled 7.1 hitless innings, walking five and striking out eight. Since returning, part of Gibbs' success has been the implementation of a new pitch to her repertoire, the drop ball, a pitch that drops to the ground shortly before reaching the plate. Gibbs previously had the pitch in her repertoire as late as her senior year at Mt. Vernon High School.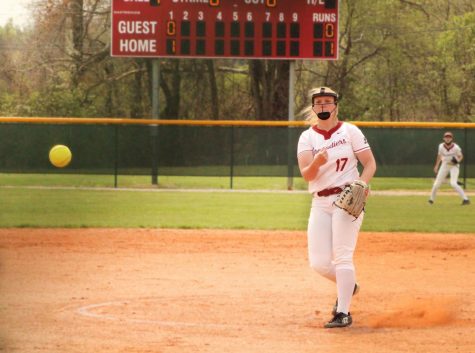 Ogg once again showed dominance and durability in the circle, allowing only two runs and striking out 17 batters over 14 innings. With Gibbs' return to the circle, the Grenadier pitching staff expects to be at full strength by season's end.
"I love that we have a full and healthy pitching staff again," Ogg said of Gibbs' return. "It boosts your confidence knowing that you have four other pitchers behind you and have your back no matter what."
Despite Gibbs' return to the circle, it will still be at least a couple of weeks before she can once again swing a bat. While not completely at full power, Witten is content with taking things one step at a time with his second ace.
"I know Brooklyn wanted the complete-game shutout, but it's a long season and I was thrilled to death with five innings of shutout ball," Witten said. We don't want to have her at less than one hundred percent because we just want her to be feeling right. This was a nice stepping stone [for her]."
The Grenadiers hope to keep their undefeated streak going on Friday, April 9, when they travel to Ohio Christian for another RSC doubleheader. First pitch is scheduled for 2 p.m.