Domine's Deutschland: How an IUS adjunct professor makes German classes his own
A glance into how the professor uses his love of food and German culture to teach his students
When students return to Crestview Hall this fall, they might walk past a classroom filled with the sounds of German music and the smells of classic German cuisine. If they peek inside the door, they might see Professor David Domine at the front of the classroom preparing to pass out slices of Apfelkuchen, a type of German cake made with apples, to eager students.
Domine has been teaching for 20 years and is currently an adjunct professor in the German department at IUS.
A Man of Many Talents
"I'm the kind of person who would probably go crazy if I had a nine to five job," he said. "With teaching, I've got an hour or two in the classroom, and then I have some time when I can do something else, and I have another hour or two in the classroom. So it's a schedule that kind of fits my lifestyle and allows me to still be productive without confining me to that nine to five kind of timeframe."
In addition to being a professor, Domine is also an author, an avid traveler, a cook, a food reviewer and an owner of his own travel company, Louisville Historic Tours, that is known for its ghost tours in Old Louisville every fall. He is also an expert on true crime and local history that has been featured on various television shows like Dead Files, Ghost Hunters, The First 48, Deadly Sins and Hell House.
"If I had another career, I don't know if I'd be able to do all of that," he said. "So I teach. But I think my overarching title is writer and being a writer allows me to combine my interests. And teaching allows me to kind of share some of those interests."
By sharing those interests, Domine is able to make the experiences of his students more enriching.
"I like establishing a rapport with students," he said. "And I like trying to make my classes different, you know, I try to include a lot of culture."
Adding in the focus on the country's culture and other unique aspects of the German language has made Domine a popular professor among students taking German courses. When students take his courses, they tend to stick around for multiple semesters.
"What I love is when students take a beginning class with me, and then they keep up and before long, I've had them for four semesters, six semesters," he said. "I really like when I see that when a student turns out to love the language and they keep with it as much as they can."
And not only are the students learning from Domine, he learns from his students as well. One example is when he has the students complete four culture projects a semester, two independently and two with a group. He said that he sometimes learns things through those projects that he was not aware of before.
"A lot of the things that I incorporate are things that I've learned through students," he said. "And I think if you make the students aware that not only are they learning from you, you're learning from them. I think it kind of makes it a mutually beneficial symbiotic atmosphere in the classroom, I think that's important."
Dining the Deutschland Way
Domine focuses on culture in his German courses, but he focuses even more on one specific part of German culture: the cuisine. Domine is a professor that knows the way to a student's brain is through their stomach.
"The excitement that is generated by the food makes the students more eager to learn," he said. "And that's what I like to see. When I made that connection, I saw students' eyes lighting up when I brought food in the classroom. And I realized, well, I need to do this more, because it really helps them learn."
Domine mentioned that he realized about five or six years ago that bringing in German food helped his class learn more effectively. He said bringing in food allows students to have a learning experience that stimulates multiple senses, like taste and smell, that may normally be overlooked in the context of learning about the culture of the language students are learning about.
"And it's finally in recent years, I've realized that food is a great vehicle for teaching," he said. "When we were face-to-face, once a week I'd make something German and bring it in and share it with the students." 
Domine tends to bring in a variety of foods for his students to try, including savory things like homemade pretzels, German sandwiches, and Käsespätzle, something his classes have lovingly referred to as "German mac and cheese," and sweet things like pear cake, apple cake and Austrian chocolate cake.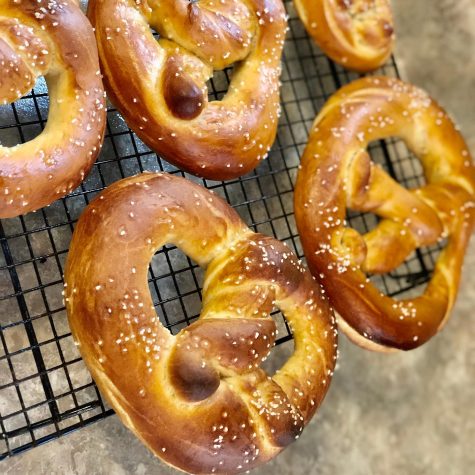 "I love when I can make that connection with food," he said. "When I see students trying something new, and in the process, they learn something about the language, but it's not the typical classroom setting."
Domine also mentioned that he makes sure his classes learn something new each time that he brings in food. After giving them a short lesson about the food he brings in, he has them practice some of their food-related vocabulary words as he passes out the dish.
"I just see when I incorporate food the students tend to try a little harder, because I just don't bring the food and pass it out and let students try them," he said. "Whatever it is I'm bringing in, I make them say, 'please,' and 'thank you,' as I'm passing things out and I have someone serve things. And so, the food, whatever it is, becomes a conduit for some kind of activity."
When asked about why he enjoys cooking so much, Domine had an answer that could easily be applied to the classroom.
"I just love food, and preparing food is kind of an art form," he said. "I also love food because it's representative of a culture and that kind of ties in with traveling." 
Former German students Cole Hendrix and Stephanie Schy both positively recall the dishes their professor brought in for their classes.
"I fondly remember him bringing homemade German treats periodically," Schy said. "He's an amazing chef."
Hendrix even mentioned that Domine's dishes are what he misses the most from in-person German class since the COVID-19 pandemic started.
"The best memories I have from my time in Professor Domine's class have been the many times he has brought in food that he has made for the class," Hendrix said. "He's a phenomenal cook."
Domine's future German students can rest assured knowing that he said he plans to continue cooking for his classes when students return to campus in the fall.
"It just seems if you have that face-to-face connection and if I'm able to bring food and stuff that really adds something to the classroom," he said. "So I'm looking forward to being back in the classroom just so I can see people, be in the same room as them and then enhance the learning experience with things like food and movies."