How students can find alternative housing options near campus
These three apartment complexes allow for students to live off-campus but still close enough for comfort
As more students return to campus, there is a possibility that residence housing could fill quickly. For those who would like a backup to residence housing or want to skip the residence housing experience altogether. There are multiple apartments located within a mile of IUS. 
However, looking for apartments is tedious, sometimes frustrating and hard to do while preparing for a new semester of college. For those who want to skip the hassle, here are three of the top apartments located near IUS. 
1) The Annex
The Annex of New Albany is the only off-campus housing alternative on this list that offers discounts for students as well as being the only complex offering one-bedroom apartments. Its location at 4100 Prestwick Square, New Albany, is only a three-minute drive to campus and is near to many student hangout spots and local supermarkets. It is also a short drive away from Clarksville and downtown New Albany for when you would like a night out on the town or a trip to the mall. 
At $755 per month for a one-bedroom apartment, the Annex has the cheapest rent of the complexes mentioned on this list. However, unlike the other apartments, The Annex requires tenants to be responsible for their own water and sewage utilities, which prospective tenants should gauge against the discounted rent. 
For those that would like to live with roommates, two bedroom apartments range from $435 to $489 per room, per month. 
The Annex is pet friendly and offers other amenities such as a resident clubhouse, 24-hour fitness center, individual housing contracts, microwave, refrigerator/freezer, oven range and a laundry facility. Application fees are currently being waived for students. If you are interested in the apartments at The Annex, you can call 812-944-4422 or text 812-548-6887 for more information.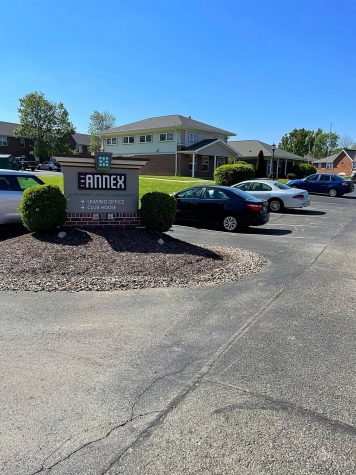 2) The Commons
The first two-bedroom option on this list, The Commons Apartments, is located at 812 & 814 Hausfeldt Lane, New Albany. The Commons is also centrally located to campus and essential areas of New Albany and is only a one-minute drive further from campus than The Annex of New Albany. 
As far as looks go, The Commons stands out with its bright orange exterior accents and its unique architecture. For a trendy exterior with a bohemian feel, The Commons is hard to beat.
The Commons is also the first complex on this list to include utilities such as water, trash and sewer. Depending on your water usage, especially for things like showers, laundry or dishes, this may save you money in the long run.
 At $1,050, for two-bed and two-bath, you and your roommate can enjoy a spacious 970 sq. ft apartment for $525 a month. 
The Commons is also pet friendly which means students with a furry friend have nothing to fear here as cats and dogs are allowed in the apartments for an additional $35 a month. Other amenities include air conditioning, cable, microwave and washer and dryer hookups. 
With the second cheapest application fees on this list, The Commons charge $35 for interested parties. For more information or a possible viewing students can call 812-903-9079.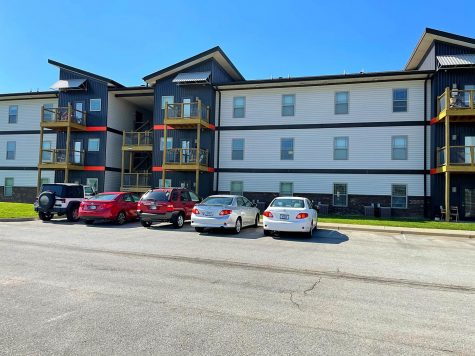 3) Stonecrest Apartments
The last complex on this list, Stonecrest Apartments, is also the closest complex to IUS. Its location,  4719 Grant Line Rd, New Albany is actually close enough for a short walk or bike commute to campus.
Similar to The Commons,  Stonecrest Apartments are perfect for students who would like to live with a roommate. It offers two options, including either a 932 sq. ft or a 1,032 sq ft. two-bedroom, two-bath apartment. Prices range from $1,050 to $1,125. With a roommate, rent comes to $525 or $562.50 a month.
Compared to the other complexes, Stonecrest Apartments provide the best coverage of utilities. Water, sewer, trash and basic cable are included in monthly rent.  Also, you do not have to worry about shopping for kitchen appliances because kitchens are fully equipped.
Dogs and cats are allowed and pet fees are an additional $50 a month for one pet.  Of the apartments on this list, Stonecrest Apartments has the highest application fee, at a cost of $100, so make sure to only apply if it truly interests you. For more information, call 502-473-6950.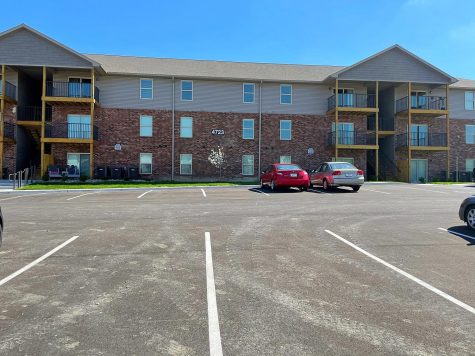 While these three apartment buildings are not the only offerings in the area, they are the closest commute to campus. If commute time is less of a hassle, there are many other options in the area, all with their own merits. However, if you want to be close to the revitalized campus life at IUS, these apartments may be for you.