A 20-year journey to graduate
How one IUS student beat the odds to get her undergraduate degree
After LaCosta Fike graduated high school, she did what most young people do: She went to college. 
But by the end of her first semester, Fike's mom had to drive her back home after she failed all of her courses and ultimately quit.
Over the next two decades, Fike would go back to school on and off, including at Indiana University Southeast, to finally earn a college degree.
But like many older students trying to finish college, life's obstacles got in the way–like working full time, raising a family and finding a major.
"I was all over the place," Fike said. "I had to refocus and decide, 'What is it that I want to achieve?'"
Students at IUS range from fresh out of high school all the way to their golden years. Fike, who finally earned her bachelor's degree in business communications from IUS in 2020, was just one of many non-traditional students at IUS. 
According to the IUS fall 2021 census, 32% of all students at IUS are considered non-traditional, or over the age of 24. 
Fike is now going for her master's degree. As with her studies in the past, Fike said she wants to finish her college career on her terms.
Building relationships through comradery 
Fike came to IUS after transferring from Ivy Tech Community College in 2016. She spent two years there to earn an associate's degree in applied science. She also obtained her business administration certificate.
One of the professors Fike had when she came to IUS was J.R. Ramsey. He said he took notice of her hardworking attitude.
"The thing I liked about LaCosta the most was that she was always engaged," Ramsey said. "She was always ready to contribute to discussions."
Ramsey also said that Fike, a part-time student, took her studies more seriously than just getting the grade. He said that she was more concentrated on taking in the information and using it effectively. 
The changing digital times
During her last year of her undergraduate degree at IUS, the COVID-19 pandemic struck. Fike said she tried her best to deal with the situation but she ultimately struggled to gain her footing in the new online learning environment.
Fike said she was used to going to school in-person so "having to go and do more things online was a bit challenging for me."
This is not the first time Fike has dealt with adversity in her studies. She said she also had trouble trying to find her major.
However, after getting the job at a local senior living community, that changed.
The balancing act
Fike averages 18-hour days between school and work. 
She gets up at 6 a.m. and heads to Westminster Village Kentuckiana where she works an 11- to 13-hour shift. She said that as soon as she gets home, she gets right to her schoolwork until midnight.
Jan Stotts, a driver for Westminster Village and one of Fike's coworkers, said that she also believes Fike is a hard worker.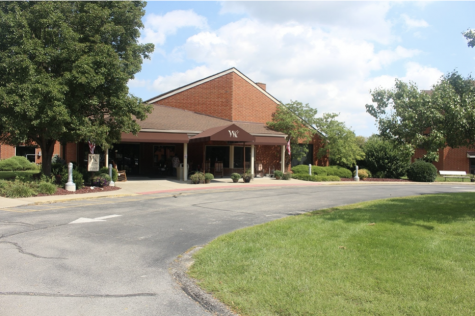 Stotts said that Fike goes out of her way for the retirement home residents. She said Fike uses her own car to get the residents to where they need to be if Stotts cannot attend to the residents in time.
"She'll do it all," Stotts said.
Fike said she does not have a lot of time to connect with her family because of her work and her schoolwork. She said she works so hard so that her family can have at least one day out of the week to spend time together. 
She also said this kind of schedule is definitely not for everyone. 
For her, though, she said she needs a busy schedule to stay focused. 
Fike has attention deficit hyperactivity disorder. She said that her busy schedule helps her from losing her focus.
"On the days that I don't have to study, I am cooking, cleaning, taking care of the household stuff," Fike said. "That's what works, it has to."
Taking it one step at a time
Fike said if students are willing to set reasonable and achievable goals for themselves, any working student can graduate.
She left advice for older students: "They need to make sure they are committed." 
"It's easy to start school, I've done that a couple of times," she said. "It's hard to complete it."
Though her college journey has been one of ups and downs, Fike said she has found exactly what she wants to do. She said she wants to get her master's degree in business communications, which she started at IUS this fall, and ultimately her consultancy license for administrative work in the healthcare industry. 
"If I can do it, anybody can do it," Fike said.