Craving coffee? Starbucks opens in University Grounds Coffee Shop
IU Southeast's campus is excited to begin serving Starbucks favorites
For some students, coffee is an essential part of surviving classes, work, homework and a social life. Recognizing this need, IU Southeast now serves Starbucks in the University Grounds Coffee Shop. 
Traveling across town to grab a "good" coffee is no longer the case. Whether studying or simply grabbing coffee on the way to class, students now have a warm and relaxing environment on campus.
"They don't need to spend their time going to Coffee Crossing, they can come here," said University Grounds barista Kati Curry, a sophomore studying elementary education. 
Located in University Center South, the cafe offers most original Starbucks drinks including hot, iced and blended coffees, as well as tea, refreshers, matcha and more.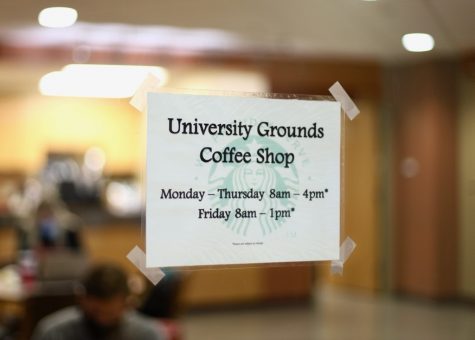 "Pretty much all the fan favorites," said University Grounds barista Parker Saylor, a freshman studying sociology. 
IUS staff not only made Starbucks drinks available during the first week of classes, but have dairy-free milks optional as well. 
Starbucks' fan favorites can also be made with oat, soy, almond and coconut. They also offer skim milk and fat free milk. 
"They are doing a really good job. It's really cool to have that on campus," said Audrey Boyd, a freshman studying criminal justice. 
While food options on campus are currently limited, Boyd thinks it would be interesting if Starbucks added the popular food options. 
Selling items such as egg bites, paninis or breakfast sandwiches could appeal to students looking to grab a bite to eat before an early morning class, she said.
"I think once the food options are opened back up, that'll add a lot to the student life here," said Boyd. 
Starbucks will offer the University Grounds' punch cards for students. After filling the card with 10 punches, any drink off the Starbucks menu is free when the card is turned in. Starbucks is not currently taking cash, but has a touch-free payment option.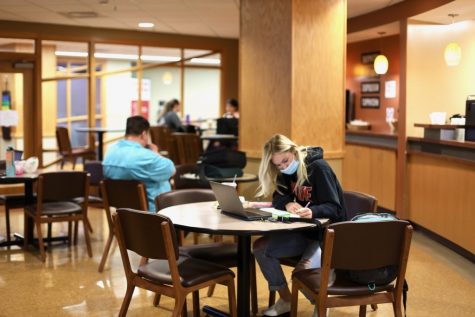 Students will also appreciate tax-free prices, whether using a credit/debit card, or the CrimsonCard. 
Starbucks is currently open Monday through Thursday from 8 a.m. to 4 p.m., and Friday from 8 a.m. to 1 p.m. These hours are subject to change throughout the year.