Theater at IUS is back, for free. 'Proof' it!
The IUS theater department will hold a free show called Proof for three weekends starting today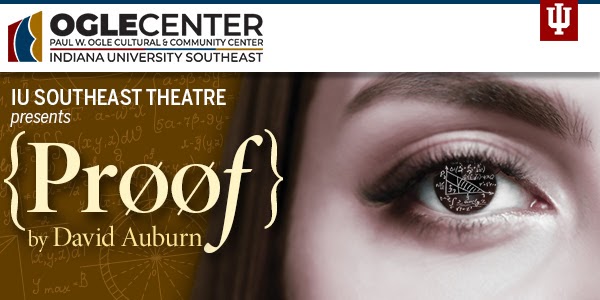 Catherine's life is rough. At 25, she is fighting to prove her father's ownership of a mathematical proof found in his office, while also battling her greatest fear of being driven to death by madness like her father. 
Catherine's story is just one of many told by the IUS Theatre Department, which is presenting a free production this month called Proof  by David Auburn. 
Though her story appears dramatic, she is like many young adults. Facing trials such as fear of the future, trust and family dynamics, while also trying to discover her place as a math genius in a male-dominated society. 
"Proof is an amazing examination of personal relationships," said Proof director Georgette Kleier, "professional and personal relationships – and the one thing they all have in common – trust."
Kleier is an adjunct faculty member at IUS and is a professional freelance director who has directed shows at Derby Dinner Playhouse, Youth Performing Arts School and Shawnee Summer Theatre. 
After costuming a past production of Proof, Lecturer of Technical Theater and Costuming Natalie Bowman says it's interesting to revisit the script with a new lens.
Boman worked on her first production of Proof  in her mid 20s. Now looking back, she appreciates the approach to mental illness the script takes. Anxiety and depression were brushed off during the early 2000s, Bowman said.
"Society has gotten a lot better at normalizing anxiety and mental illness," she said. 
Bowman hopes the audience will be able to see the show and relate to the characters, realizing they are not alone in their struggles. 
"There's been a lot of loss during this pandemic," Bowman said, "and learning how to deal with that loss can be a struggle for people."
Another area of the show students will find relatable is in the way of fashion. Inspired by 90s grunge, many pieces from that era are seen on characters in the show.
Rachel Street, a senior studying communications, is one student in the double-cast show playing Catherine. Coming back to the stage after two years, Street says she has learned a lot about herself from playing Catherine's dynamic character.
"She's super guarded, and I've seen myself in that," Street said. "It's cool to watch Catherine's walls come down."
Throughout the course of the story, Catherine slowly begins to use her intelligence as a math genius to drive herself in finding who she is as a person after spending four years of her life taking care of her dad. 
One takeaway Street wants students to have is that people can be the "master of their own fate."
"You have to take control of your own life, rather than let life happen to you," Street said. 
Street refers to Catherine's obsessive fear of becoming her father and being a victim to mental illness. 
Kleier says that the play also wrestles with the topic of love.
"It challenges us to think about what it means to love and be loved as a child, a sibling, a parent, a student, a teacher, a romantic partner, and, most importantly, what it takes to love oneself," Kleier said.  
While the performance is free, the Ogle Center will be taking any donations. 
The show will last from Nov. 5 to Nov. 21, and show on Friday, Saturday and Sunday of each week. While some matinee shows will start at 2:30 p.m., evening shows start at 7:30 p.m.
Free parking will be available in the Dogwood lot in front of the Ogle Center, and the Hickory lot behind the building.