Two college-age locals turn vintage into business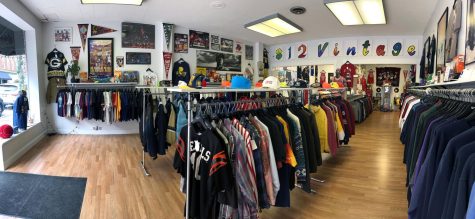 While shopping for vintage clothing can be an expensive hobby, there are affordable alternatives for students right here in New Albany. 
Run by two local college-age owners, 812 Vintage and The Odd Shop offer anything from sweatshirts and hats to decor or toys.
Local store owner Ryan Shean has made a passion out of buying and selling vintage clothing. The 22-year-old opened his store, 812 Vintage, in July 2020.
Starting as an online business, Shean quickly grew large enough to open his store in downtown New Albany. Once he opened his store, Shean was living his dream.
Shean knew that he needed to charge less for the clothes he was selling. He realized that it is hard to find affordable vintage clothing, especially for younger people.
"I want everyone to have an opportunity to have a unique piece that's one of a kind," Shean said.
812 Vintage also buys clothes from customers, as they take pride in reusing what
products people already have to make a change.
The Odd Shop, run by 23-year-old Christian Johnson, opened in 2019 just around the block from Shean's 812 Vintage. 
Johnson started collecting vintage items at the age of 13. Her grandparents also had a business that sold antique and vintage items, which inspired Johnson to collect and sell vintage items on her own.
"It never felt like a hobby," Johnson said. "This being my career has always felt right."
The Odd Shop has items ranging from the 1950s to the 1990s and includes items such as clothes, toys, furniture, and comic books.
Finding homes for vintage items is a reward that Johnson earns through her business.
"Knowing something I've found and fixed up is now in a collection makes me so happy," Johnson said.