Actors Theatre of Louisville's "Every Brilliant Thing" tackles tragedy with poise
Gracie Vanover is a junior and journalism major at Indiana University Southeast where she is editor of The Horizon newspaper. Vanover reviewed "Every Brilliant Thing" as a reporter in the Arts Bureau Edge program, in which she has been active since 2018. For the original story link on Arts Bureau Edge's website click here: https://bit.ly/3Ji1gIQ
"The list began after her first attempt. A list of everything brilliant about the world. Everything worth living for," said our narrator Jon Norman Schneider to start the show, describing what he created for his mother to feel like life was worth living. 
Schneider is our storyteller in "Every Brilliant Thing," written by Duncan Macmillan with Jonny Donahoe, opened Wednesday at Actors Theatre of Louisville. Here, he is just seven years old — a time when the good things in life are simple:
Ice cream.

Water fights.

Staying up past your bedtime and being allowed to watch TV.

The color yellow.
And it continues.
In "Every Brilliant Thing" our storyteller takes the audience through his life journey and coping with his mother's ongoing depression and attempts to take her own life.
In an effort to make his mother happy, our young narrator keeps adding to the list, leaving it time and time again for his mother to read. Through childhood, college, and even marriage, the list continues getting larger than imagined. 
This charming solo performance has so much character, especially with the audience being characters themselves. Schneider coaches audience members to perform parts of the list or even play minor characters in the life of the storyteller.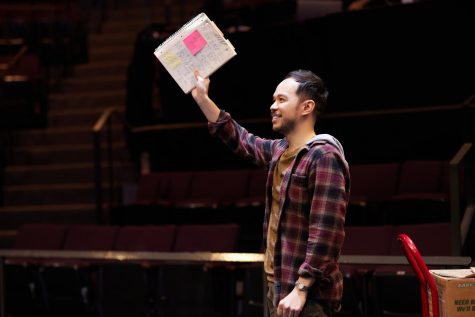 From roles like our narrator's dad to a college lecturer, audience members have to be on their toes in order to improv back and forth with our storyteller. Schneider himself was very quick on his feet when it came to reacting to his audience picks.
As an improvised character, theatergoers must also help Schneider move the story along, giving it comedic moments or even uncomfortable silence. The interactiveness of the show brought smiles that you could even see with masks on.
Throughout the show our storyteller also shows us his vulnerable side as he tries to make sense of his mother's sadness. He wonders how someone could be so sad with all of these wonderful things around.
With a central theme of mental illness, our main character faces challenges related not only to his mother's mental health but to his own. Listening to his mother's highs and lows depicted, you feel the anger from our narrator as he deals with his own internal quarrels of unhappiness. 
While the staging in this show is minimal, it fits the show perfectly. It isn't about the set or what our storyteller wears, but rather what he feels and how he copes with his mother's ongoing depression. 
Overall, this show is a heart-warming and heart-breaking take on some of the effects of depression and suicide. "Every Brilliant Thing" is directed by Amelia Acosta Powell and runs through Feb. 20 in Actors Theatre's Bingham Theatre.