ACES majors and minors fair: helping students choose a clear direction 
Trying to figure out what to do for the rest of your life can be intimidating, but the Advising Center for Exploratory Students (ACES) at IU Southeast can help. 
On Feb. 16th, IUS held the ACES majors and minors fair for IUS students and high schoolers from the GEAR UP program, which is designed to increase the number of K-12 students who are exceptionally prepared to enter and succeed in postsecondary education. 
Attendees were able to talk with faculty, advisors, and other students to learn about the different majors, minors, and certificates they could pursue.  
Shane Thomas, director of ACES at IUS, said this fair is helpful to students that are undecided on their major or minor, have chosen a major or minor but are now unsure, and for students that like their majors but now want to double major or add a minor.   
Advisors, professors, and faculty led the fair to give advice and resources for students who might be having trouble deciding on a potential major or minor.  
Thomas said students can use the "IUS Major Chart" to help students eliminate majors they don't want. He also said to use the Career Development Center's "What Can I Do With This Major?" resource for students who like their major but are worried about what kind of career they can do with it.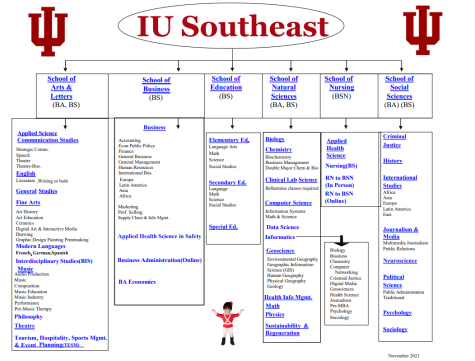 Thomas also advised students to take introductory classes because this allows students "to get first-hand experience in knowledge in a potential major that they will specialize in."  
He said to explore major options because it is very common for students to not know what they want to major in right away. 
"Continuously research and explore by talking to and conducting an informational interview of fellow students in the major they are thinking about pursuing or alumni or professionals that graduated with the major of interest." 
He encourages students to make an appointment with the ACES office as well.   
Rebecca Carlton, an IUS professor in communication studies, also recommends being open to options. 
"Be open; have open eyes for any class you take and consider job shadowing."  
It is also recommended that students get associated with their advisor for any scheduling needs for their current or potential major. 
"Get to know your advisor," Alexandra Sousa, an IUS professor in organizational communication, said. "The first year or so is an open process of exploration, so be strategic with the classes you choose."  
Faculty also encourage students to not forget that changing majors is okay and that they have many options.  
"Keep in mind that you can change. I think we put too much stress and emphasis the first year or two saying 'This is what I need to be' and 'This is all I'm ever going to be,'" J.R. Ramsey, senior lecturer of communication studies, said.  
"That prevents you from being exposed to finding what might be the best fit for you."  
Advisors and professors are ready to help and guide students to choose an academic path that is best for them.   
For more information or help in deciding on major(s) or minor(s), visit the Career Development Center or ACES in-person or virtually.