Travels of a Timid Scholar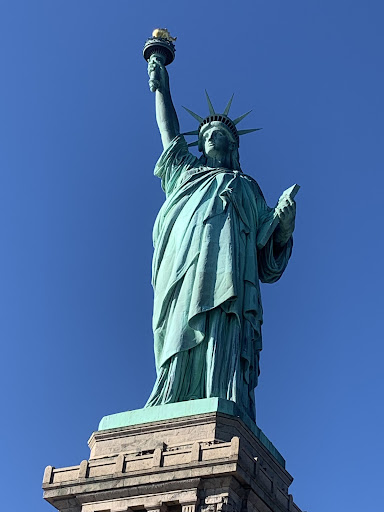 My excitement at traveling was replaced with a mix of fear and uncertainty as I left my father and brother.  
A mile-long line of people in front of me. Another line behind me. 
Worse, I was alone. 
Would I make it? 
I had the honor of representing the National Society of Leadership and Success at a summit that seemed a million miles away in Jersey City, New Jersey.  
Within twelve hours, I would socialize with peers from all over the world. The summit was convened to level up our leadership and how to improve our abilities as leaders.  
That chilly November morning in Louisville isn't a day that I will soon forget.  
My heart raced when the airlines staff announced my flight number for passengers to board. 
A realization began to set in.  
It was my first time traveling alone.  
Some people fear flying. But I was transfixed as the airplane ascended above the clouds. The scenes from my window seat – yes, this was also my first flight! – included a group of churning windmills that surely outnumbered the residents of my small hometown of Pekin, Indiana. I took more photos than I could count.  
At the New Jersey airport, everyone seemed on the go. I caught an Uber into the city and checked into my hotel room without mishap—and five hours early.  
With so much free time before the conference, I decided to board a ferry to visit the Statue of Liberty–a historic site that I had dreamed of seeing in person since childhood, when learning about it through educational TV programs. 
This was also my first boat ride!  
After plenty more pictures, I arrived at the Statue of Liberty. The pictures I took simply didn't do justice to its beauty. The balmy weather was also perfect for tourists to visit the Statue. Ironically, it wasn't as packed as I had thought it would be.  
After returning to shore, I visited the Empty Sky Memorial, which honors New Jersey residents killed in the September 11, 2001, terrorist attacks. Even though the monument was only about one-tenth the height of Lady Liberty, I still found myself drawn to it for an hour.  
The next day, I made my way towards the summit—and rode a subway train for the first time! I had discovered it the night before. Known as PATH, the subway was much cheaper than Uber. After arriving at the correct stop, I walked the rest of the way to the conference site at St. Peter's University. Initially, I was intimidated being surrounded by so many high achieving students in attendance. But I made a whole bunch of connections as the summit unfolded. Listening and participating in some of the seminars was awe inspiring and I learned a lot of leadership skills and abilities from talented leaders. I made sure to take lots of notes for the members of the IUS chapter of NSLS as I wanted to tell them all about it upon my return.  
I felt excited and confident when returning to the PATH station—only to board the wrong train! 
So much for my confidence over traveling alone. 
Luckily, I figured out quickly what I'd done wrong, got off the train and boarded the right one.  
Back at my hotel, I tried New Jersey-style pizza for the first time. It was so good! But because I have never met any slice of pizza I disliked, who knows? Less than 12 hours later, sadness would overcome me as the conference and my adventure ended. But on that night in Jersey City, I didn't have a care in the world.  
The second and final day of the conference got off to a surprising start: I was chosen as one of 12 recipients of a $1,000 scholarship!  
I was still grappling with shock while my peers showered me with praise and congratulations. Listening to the seminars for Day 2 was inspiring and I even got to take a photo with one of the speakers.  
After a flight riddled with turbulence back to Louisville, I found calm at the thought of my dad and younger brother waiting for me at the airport. I tried to keep a straight face—but couldn't help but smile.  
I had missed them so much while I was away.  
This summit trip was the experience of a lifetime, and it really pushed me outside of my comfort zone.  
I am so incredibly thankful to IUS's chapter of the NSLS for giving me the chance to experience the in-person summit!  
I am also eager to travel again.  
The question is: Where should I travel next?