Philosophy inspires professor; combats modern poverty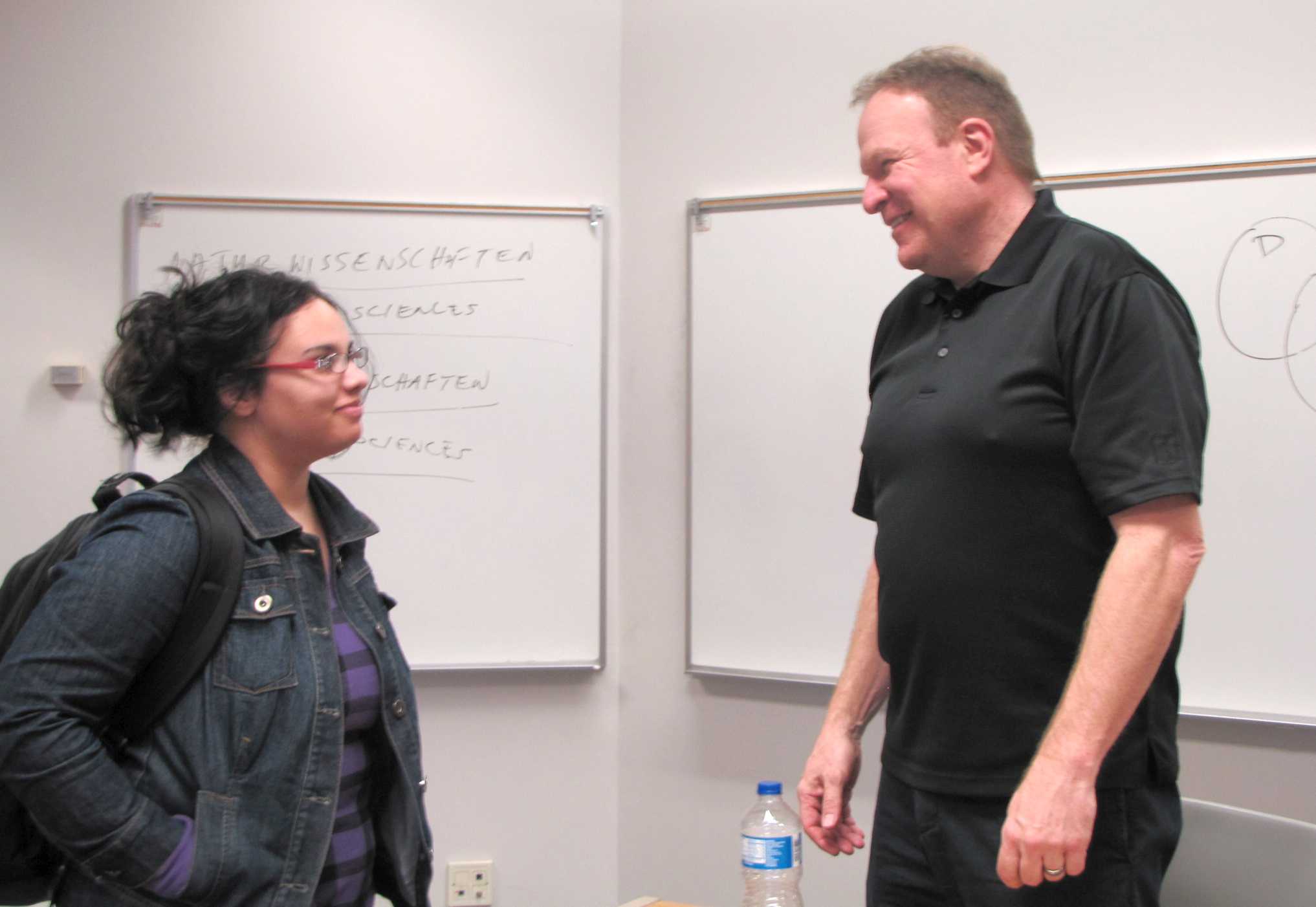 James "Jay" Barry, Jr., professor of philosophy, has more than a pleasing personality. He has an incredible passion for what he teaches, something that shows not only in his classroom but also in his writings.
Growing up, no specific philosopher inspired Barry to choose philosophy. As a child, he was interested in animals and was accepted to a veterinarian school at the University of Florida.
"I was one of those kids who liked to grab snakes, put my hand down a hole," he said.
Having worked in a veterinarian clinic, he decided against going when he realized he didn't necessarily want to be retired in his early '60s.
"I wanted to be stronger as I got older," he said. "Philosophers get stronger with age."
Barry said he envisions himself being vital in his continual study of philosophy and will still have projects to work on, even after retiring from teaching.
He received his undergraduate and master's degree from the University of West Florida in Pensacola, Fla., and went on to get his doctorate from State University of New York at Stony Brook. His areas of specialization include continental philosophy, history and philosophy of science.
At IU Southeast, he teaches a few core introductory-level courses, including ethics, Intro to Philosophy and logic. However, he said his favorite is the 300-level Phenomenology and Existentialism course, which studies the works of Sartre, Kierkegaard, Marcel and Nietzsche.
Since 1995, Barry has been a coordinator for the Philosophy Department. He has also been a coordinator for the Humanities Division Coordinators' Committee since 1995.
More recently, Barry took a sabbatical, in which he said he "traveled to his basement" to focus on an issue every government deals with.
"I'm working on a project — a study in the rise of modern poverty," he said.
This is an issue one of his favorite philosophers, Hannah Arendt, studied early in the 20th century. Arendt believed poverty was not something that occurred under specific societal conditions.
Poverty cannot simply be described and evaluated. She said she believed whoever sees poverty without being filled with moral outrage or indignation doesn't actually see it.
Barry's project, stemming from Ardent's studies, started out as a study in human and political implications of the Industrial Revolution.
"In order to understand that, I had to go back further," Barry said. "Poverty existed as far back as the 16th century. The rise of the new poor class that didn't have their own [governments] had to harness it and put it to work."
Barry's study researches countries other than the United States. This is because of how far back he needs to look for the first evidences of poverty and how the government handled it. However, the implications are everywhere.
"Poverty influences all state decisions," he said. "I just looked at historical roots, mostly in England."
He also talked about what the government offers as a solution.
"Now what do we do with these miserably poor people?" Barry said. "We put them to work. That's how the poor class becomes the working class."
When it comes to equality, someone or some group will always have less. As one group rises from the poor to the working, others will be left behind without the education or skills needed to push them above the poverty line.
"It's not a story with an obvious ending," he said.
In addition to teaching and doing research, Barry has authored several books, including "Measures of Science: Theological and Technological Impulses in Early Modern Thought" and "Texts and Dialogues," co-edited by Hugh Silverman.
He has also written several philosophical articles, most recently an article on "Intelligence Failure in the Iraq War."
With so much to keep him busy, Barry said he knows that he will take another leave again to focus on the philosophical issues important to him.
"I have one more sabbatical before I retire here," he said. "[Then] I'll just teach what I want, when I want and how I want. I still have about 10 years left before I retire here."
Before retirement, Barry said he will continue to meet with an informal reading group he started two years ago. The group gets together every Thursday to discuss philosophy.
It is not made up of lectures but conversations about a particular essay someone in the group proposes. Everyone reads the article and a discussion follows.
George Harvey, assistant professor of philosophy, has known Barry since he started at IU Southeast six years ago and knows the informal reading group is important to him.
"This is an illustration of the kinds of things Jay is passionate about," Harvey said.
Barry said he enjoys this group because it involves the things that interest him most — continued learning, philosophy and intellectual discussions.
"Frankly, it's more fun than work," Barry said. "We read all sorts of stuff. We just finished Plutarch's 'On Listening,' and we will discuss an article entitled 'When Descartes Met the Fitness Babe.'"
Barry's other interests include cycling and ballroom dancing.
"I started studying ballroom dancing about eight years ago," he said. "I studied with Jane Blum, who also teaches ballroom classes at IU Southeast."
Ashley Groves, theatre freshman and student in Barry's philosophy class, said she's learned a lot from him.
"He made [philosophy] fun," Groves said.
By JENNIFER
SCHONSCHACK
Staff
jschonsc@ius.edu