International studies senior experiences travel
IUS Horizon
October 2, 2011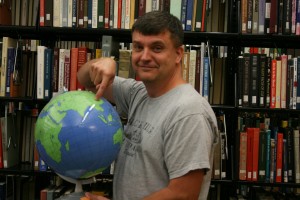 John Heimer, international studies senior, has seen every single continent except Antarctica.
Heimer said due to his career as an engine mechanic in the military for 21 years, he has set foot in about 50 countries.
Growing up, his father was in the Air Force.
"Pretty much I was born a military brat," Heimer said. "That's what you call the kids of military parents."
Heimer's younger sister, Lisa Keith, traveled around Europe with her brother when they were younger.
"Since my dad was in the Air Force, my brother and I grew up overseas, mainly in Italy," Keith said. "We would travel around Europe every summer, usually in a tent, and visit France, Germany, et cetera and end in Spain to visit our grandparents."
Seeing the same things every summer, Keith said she and Heimer would come up with little games to play to keep from getting bored.
"We got in trouble a lot," Keith said. "We'd run around places like the Vatican playing hide and seek."
After graduating from high school in Colorado Springs, Heimer joined the military so he could go see the world.
Heimer said the most beautiful thing he has ever seen is the sunrise at Mt. Fuji.
"I've hiked to the top of Mt. Fuji a couple times," Heimer said.
Of all the places Heimer has visited, he said the most bizarre experience for him was seeing the Great Pyramids of Giza in Cairo, Egypt.
"When you're standing there, you've got the Great Pyramid and the other two pyramids in front of you, but when you turn around, what you don't see in all those pictures and postcards, is this massive city dump that goes on for miles," Heimer said. "So, yeah, that was pretty weird to me."
However, Heimer said he wasn't too fond of Bangladesh because of the country's poverty.
"There was an instance where we were walking down the streets, and there are all these old ladies sitting out there with their babies crying, laying out in front of you," Heimer said. "People are trying to give them money as we walk by, so, here I am, going to toss them a few bills, and my friend comes over and says, 'No don't,' and he reaches over and grabs the lady's shawl and reveals that she's sitting there jabbing her baby with a knife to make the baby cry. That's how poor they are."
Heimer said if he had to choose one dish that really stood out to him through all his travels, it would be at a restaurant called "Pizza a Metro," which is off the Amalfi coast in Vico Equense, Italy.
"Instead of having the big round pizzas, they had these skinny long pizzas that they sold by the meter," Heimer said. "My dad would always make eating one of these a big game."
Heimer lived in Tokyo, Japan from 1996-2001. When remembering Japan, Heimer said the one thing he'll never forget is the bumper-to-bumper traffic.
The distance between where he was stationed at Yokota Air Base and Yokosuka, the naval base, is about 46 km.
"It once took me eight hours to travel from one to the other," Heimer said. "The best time I made was 45 minutes — average time was usually two and a half hours."
Even though Heimer said he has seen more of the world than the average person, his favorite place resides in Tucson, Ariz.
"It's great there that in the winter you can spend the morning swimming in a pool and later that evening you can head up to Mt. Lemon and go skiing," Heimer said.
Heimer has said if he's in one location for more than three to four years, he's itching to move some place new.
"Pretty much my whole career, I've always been on the road," Heimer said. "That's the main reason I got out."
Heimer eventually retired from the Air Force in 2004.
"I woke up one morning in 2003 and realized I'd been married for 16 years at this point and 11 of them had been on the road," Heimer said. "I thought, 'Yeah I'm getting tired of this, it's time to get out.' Of course, that made the wife really happy."
Heimer, has two sons with his wife Brenda — Zachary, 16, and Brandon, 19.
Upon retiring from the Air Force, Heimer has been attending IU Southeast as a full-time student since August 2009. Heimer said he plans on graduating in May 2012.
When asked what the future holds for him, Heimer leaned back and let out a sigh.
"I don't know," he said. "I haven't figured out what I'm going to do when I grow up."
By TAYLOR FERGUSON
Staff
tayfergu@ius.edu