Student veteran takes pride in involvement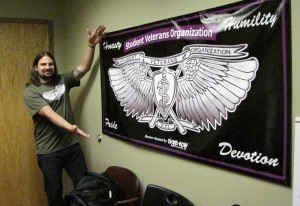 Members of the Student Veterans Organization said they have an incredible asset in the form of ex-Marine, Richard Madley, geosciences junior.
Madley suffered a head injury while training in the Marines, which left him disabled with severe headaches and potential seizures.
"I've learned so much since I started school," Madley said, "but, if I had a second chance, I'd join right back up."
Madley said he spends as much time as he can in the SVO office, located in the Student Involvement Center.
"Since I don't have a regular job, I can spend time here, answering e-mails from other student veterans who have questions or just want to make contact with someone who has a similar background," Madley said.
Madley said he thinks most student veterans are older than the average student at IU Southeast and have jobs and families, so they may not relate to other students.
The SVO is responsible for hosting events on campus that pertain to a veteran interests, regardless of the branch in which they served.
"We try to bring speakers to the campus that deal with issues facing student veterans," Madley said, "issues like [Post Traumatic Stress Disorder], [Traumatic Brain Injury], depression and thoughts of suicide."
Madley said IU Southeast is definitely a veteran-friendly campus and offers special services specific to veterans through the Registrar's Office. The Veterans Resource Center Web page is available to veterans and their family, as well.
Madley said he and other experienced members of the SVO are happy to meet with student veterans and get them through any kind of paperwork.  SVO members are often available outside regular business hours, which can be helpful to accommodate class or work schedules.
Madley said the SVO is meant to be a safe haven, and a home-base from which to transition back to civilian life. Some events allow the veterans to interact with young people and be role models.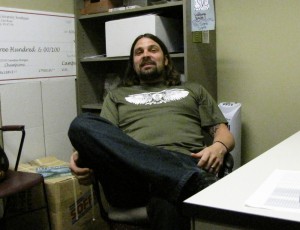 "We get involved in the community," Madley said. "Coming up, we're having an event at the Floyd County Youth Shelter as a joint effort with Phi Sigma Sigma just to hang out and spend time with the kids."
On Nov. 10, the SVO hosted the Memorial Bell Ringing Ceremony in McCullough Plaza to celebrate Veterans Day. Other SVO members were on hand, including Tristan Williams, philosophy senior, and Katrina Ortensie, international studies sophomore, as well as Christopher Weathers, graduate and former Sergeant of Arms for the SVO.
"There's a bond between military people like no other, regardless of the branch of service, and I'm very proud to be at this event," Weathers said.
One student veteran at the event, Jon Douglass, business management senior, came to the Memorial Bell Ringing Ceremony to honor several members of his family and met Richard Madley by chance.
"After talking to Madley, I'm going to check out the SVO and get more involved," Douglass said.
Nov. 10 was also the U.S. Marine Corps birthday, and there was a cake cutting ceremony in The Commons in which Madley participated in as the youngest Marine present.
Thomas Wolf, professor emeritus of the Department of Political Science, participated as the oldest Marine present.
Madley also went to the Veterans Day Luncheon that followed, where the keynote speaker was Kathy Quinkert, graduate and special assistant to vice chief of the Army.
By SONDRA MORRIS
Staff
sobmorri@ius.edu