Professor tells tales through novels, ghost tours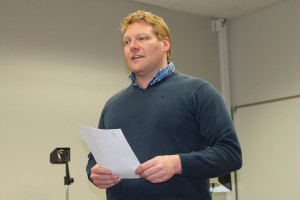 David Domine, adjunct professor of Germanic studies, has travelled to several countries including Austria, Germany, the Philippines, Spain, Mexico and Italy seeking cultural experiences. However, his biggest interests are the ghost hauntings in Old Louisville.
Domine lived in an 1895 Chateauesque home in Old Louisville.
He said living in this old house gave him inspiration for his ghost novels and tours he gives around Old Louisville.
"I would hear noises, footsteps, things would move, my animals would see things I didn't," Domine said.
After those weird occurrences at his house, Domine started investigating his neighborhood, and wrote books out of what he discovered.
"I don't know if I even believe in ghosts, but something unexplained happened," Domine said.
He wrote "Ghosts of Old Louisville" which was published in 2005.
"Ghosts of Old Louisville" tells the tales of supposedly true ghost hauntings.
Domine has written a series of novels on these haunting tales, and the series was released in a four-year period.
The novels include "Phantoms of Old Louisville," "Spectators of Old Louisville" and "Hauntings of Old Louisville."
He has written a total of 10 books, including genres varying from cooking to travel.
He writes travel pieces and food reviews for local and national publications.
"I have also co-authored two books," Domine said.
The tours began out of the books Domine wrote.
"I love ghost stories, learning history and architecture," Domine said. "I started the tours to teach people history."
The ghost tours began in 2005. The tours gain popularity every year as more people become interested in learning about Old Louisville's ghosts hauntings.
The tours are held at the Visitors Center in Historic Old Louisville.
"I used to do the tours alone, but, now, I have tour guides," Domine said.
They do 20 tours a week. All of the tours last around two hours.
There are seven different tours people can go through.
"My favorite tour to give is the Ghosts of Old Louisville Tour," Domine said.
During this tour, he takes visitors to the First Church of Christ, courts and Widmer House. Domine said this tour is the most popular.
"There have been 15,000 people to take the tours," Domine said.
There are walking tours and bus tours. Some tours occur during the day and some at night to give people a variety to choose from.
When Domine is not teaching or giving ghost tours, he likes to work on cooking recipes.
When he has time, Domine said he wants to travel the Scandinavian countries, Japan and Portugal.
"I plan to, little by little, cross them off my list," Domine said.
By TIFFANY ADAMS
Staff
adamstif@ius.edu