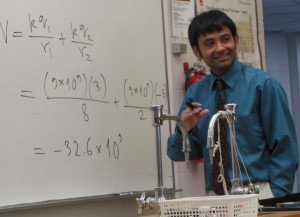 Subhranil De, assistant professor of physics, has had many stops in his life's travels. He has inhabited places such as Berlin, Germany, Denmark, India and France.
De was born in Calcutta, India.  His native tongue is Bengali, although English has always been a close second.
"My father is a physicist, too, and, when I was 1 year old, [my parents and I] moved to Berlin, West Germany," De said. "Long story short — from age 1 to 6 — I lived with my parents in Germany, the U.S. and Denmark, and then we moved back to India and settled there. Later on, we lived in Normandy in France for a year, as well."
However, the travels did not stop after childhood and living with his parents.
De went to college in Calcutta, India, and then came back to the U.S. as a graduate student at the University of Rochester.
"Rochester is a pleasant city and upstate New York is beautiful, and I reminisce about my boisterous graduate student days often," he said.
His various travels and experiences have impacted him greatly because each place left different impressions and gave him different views on life.
"As you can see, since a young age I lived in several places, and the fact that much of my formative period was spent in different countries in the west left a deep impression in me," he said.
De said he is very passionate about the impression his travels have left on him and how spending time away from his parents can be difficult.
"The Christmas snow and the oak trees are as close to my heart as the bamboo groves and the monsoon rain," he said. "I like to say that no matter which home I am at. I still feel homesick for all my other homes. This probably explains the wanderlust that is in me."
De said he does not have immediate family in the U.S., and his parents are settled in India, although they occasionally make brief travels abroad.  His father conducts lectures and tours.
"I am very close to my parents and usually get to spend time with them during my winter breaks home," De said.
Since his father was a physicist, his exposure to science began at a very young age.  He said it is hard to pinpoint when exactly his interest in physics started to grow.
Due to his father's influence at home, his love for physics and science started budding at a time that he said is beyond his memory.
"One of the many endearing memories pertaining to science from childhood is about a solar eclipse that occurred in Calcutta when I was in third grade," De said. "My father explained how an eclipse happens, and then he captured the crescent sun on a piece of paper with a simple pinhole camera and talked more about light. The whole thing was beautiful."
De said his particular interest in physics grew larger as he grew older.
"My interest in physics grew serious during my early high school days when I started picking up the tools, namely mathematics," he said. "I would feel this uncanny attraction toward a challenge that combines analytical or intuitive thinking with mathematics. By the time I was a physics major in college, I wanted to teach college myself one day."
Eventually, De received his master's and a doctorate from the University of Rochester.
"Before I taught at IU Southeast, I taught at University of North Dakota and University of Minnesota at Duluth — one year at each place," De said. "I enjoyed the place settings and enjoyed meeting people, but I did not enjoy teaching as much as I do here since the class sizes at those places were much larger."
De became a physics professor at IU Southeast in fall 2008.
Mike Willis, biology senior, has taken a class with De before and said he enjoyed him as a professor.
"[De is] a nice guy," Willis said. "We have a lot of fun in his class."
De said he wanted to teach at IU Southeast because the smaller classroom sizes provided more student-teacher interaction.
"In addition, IUS offers other facilities and opportunities that make it an endearing place to work at," De said. "I very much enjoy the interactions with my students and colleagues and enjoy my position here in general."
Before he begins class, De said he speaks and laughs with students, taking a genuine interest in them and how they are doing.
De also describes himself as a "chocoholic," his workspace topped with a basket filled with chocolate treats.
Apart from physics and teaching, he said he also enjoys several other activities.
"I enjoy lyrical poetry and writing," he said. "I enjoy listening to music and occasional dancing. I love to travel and enjoy good food.  I also love soccer and love to throw a Frisbee on a pleasant, sunny day."
By SUSAN GREENWELL
Staff
susdgree@ius.edu