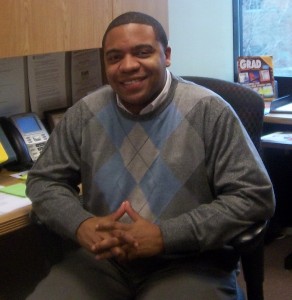 Trey Lewis, director of Career Services, joined IU Southeast from James Madison University in Virginia, where he has been for the past six years.
Lewis said IU Southeast is a place that is very special to him.
"I have a special tie to this university," Lewis said. "My wife was an extremely involved student leader. She's actually among the class of 2007. This campus will always hold a special place in my heart because I proposed to my wife on this campus."
The opportunity presented itself to Lewis to become a part of the university and take the next step in his professional career.
Lewis proposed to his wife at IU Southeast five years ago on Valentine's Day. Lewis lives with his wife and 1-year-old daughter and said he hopes to visit his family in Virginia as soon as he can. He is happy to be close to his wife's family.
Lewis also admires IU Southeast for its core values.
He said he believes IU Southeast is be a special campus with core values that connect the student environment.
"Everyone from faculty, to the staff, to the students, on up to the administration, all try to provide those values," Lewis said. "That comes through with our work with students and what students are doing to better themselves and where they are taking their higher education. All of that mixed together is what makes this campus very special."
Lewis said he loves the fact IU Southeast is just the right size.
"It allows opportunities to further interact with students," Lewis said. "If a student meets with me in my office, it is more likely later that I will run into them someplace else on campus whether it be in the cafeteria or elsewhere, and I can catch up with them and see how they are doing."
Lewis's position involves coming up with some mechanisms and interventions to help undecided or exploratory students.
"There is an old adage that a family member always told me," he said. "To fail to plan is to plan to fail. I would venture to say that, that adage would certainly be true when it comes to developing a career plan.
"Data has shown that those students with an undecided major tend to not come back the next year at a rate that those to do declare a major do," Lewis said. "We are coming up with some strategies with the Academic Success Center to address student retention and new strategies to address first year students to help them find a major they would like to pursue. This is a new change for the institution, and I am honored and privileged to be a part of that."
Lewis said he believes these changes will benefit students by helping them decide what their interests are and what career paths they want to pursue.
Lewis said one of his goals is to get students to engage with the Career Development Center much earlier so their professional understanding of their chosen career paths are much clearer by the time they graduate.
"We are in a down economy, so employers now, more than ever, have the ability to be more selective in their hiring process," he said.
By SUSAN GREENWELL
Staff
susdgree@ius.edu