Naval firefighter heats kitchen
IUS Horizon
February 26, 2012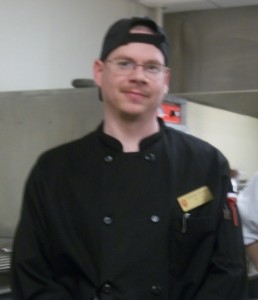 Richard Calarco, sous chef for Dining and Conference Services, joined IU Southeast after traveling the world while serving in the Navy.
"I basically wanted to be a diver for the Navy, but I didn't meet the qualifications for that, so I became a naval firefighter," Calarco said.
However, Calarco said he had dreams of becoming a chef since he was very little.
Calarco received his culinary training from Sullivan University and began his employment at IU Southeast after working in a local restaurant, Porcinis, and spending four years in the Navy. He joined the military in 1998, just out of high school.
Calarco said he used to call and talk to his grandmother and ask if he could get recipes from her.
"I always helped out in the kitchen when I was growing up," Calarco said. "My mom would always get home kind of late, and I didn't really want to have to wait for her to get home and change and cook and everything, so I took it upon myself to cook dinner so that when she came home all she had to do was kick her shoes off and eat dinner."
Calarco said travel is too often a large part of being in the military.
Calarco visited many places while spending his years in the Navy. He went to the Mediterranean twice and visited Spain, Italy, France, Turkey, Israel, Malta and Crete. He has been through the Suez Canal twice.
He said the food on the boat was mediocre at best because there was a small supply.
"If you are out in the middle of the ocean, it may be two months before you ever touch port," Calarco said. "You have to have stuff that is going to be shelf stable or can last for a really long time in a deep freeze or refrigerator. You aren't going to have the same quality of food that you would get on land."
Although Calarco never actually lived overseas, Calarco said he would not mind living in Italy, close to a vineyard somewhere. His favorite ports he visited were Spain, Venice and Italy.
Calarco has worked at IU Southeast for two semesters, and he said he enjoys the work and really likes the people.
"With students coming in, being able to teach them about the culinary field and teaching them how not to hurt themselves in the kitchen is rewarding," Calarco said. "Just teaching them just a little bit of this and a little bit of that is kind of an exciting thing."
As of now, Calarco's future plans are ambiguous.
"I just kind of try to take it day by day the best I can," Calarco said. "It seems like some of the best laid plans go to waste."
Calarco said he is the chef in his home. He said his wife cooks every now and then, but, for the most part, he is the one who does the cooking.
Calarco is also a big fan of Chef Gordon Ramsay, head chef on Hell's Kitchen.
"He's pretty straightforward," Calarco said. "I understand why he does what he does. He's probably one of my favorites and one of my idols."
Although Calarco enjoys competitive TV cooking shows, he is not thinking about joining one anytime soon.
"Maybe later down the line I'll think about doing that, but I don't think I have enough experience as of right now for that kind of intense competition," Calarco said. "I've seen what they go through and it looks pretty insane."
Calarco's favorite local restaurants include Porcinis, a place he used to work, and Nom Nom Café, a place where he enjoys the Vietnamese noodles.
"I don't really go out to eat a lot," Calarco said. "I prefer to sit at home and make something for my wife and me."
His favorite type of food to cook is Asian cuisine. However, he likes European-style food best.
Calarco has not completely left the Navy behind him. Outside of his work at IU Southeast, he serves in the National Guard as a heavy construction equipment operator. He uses bulldozers, scoop loaders, dump trucks and basically takes care of the home front in case of a natural disaster such as a flood.
"We had the flood last year, and I went to Western Kentucky to help out down there with my unit," Calarco said. "We prevented people from getting flooded out by throwing sandbags. The sandbags stopped two levees from breaking and flooding two towns."
Calarco said he likes catching up with friends and spending time with his family in his down time.
"I have friends from the Navy that I've known going on 13 years now who live in Louisville within 10 minutes from me," Calarco said. "My brother lives in Georgia, my mother lives in Florida, and my father lives in Connecticut."
By SUSAN GREENWELL
Staff
susdgree@ius.edu