Shyness expert guides through life example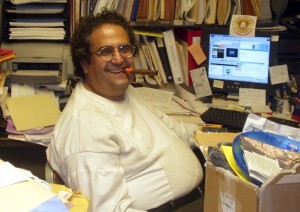 Bernardo Carducci, professor of psychology and director of the Shyness Research Institute, has been studying shyness for 32 years. He has also published several non-fiction books and textbooks about shyness.
Some of the books Carducci has written include:
•    "The Pocket Guide to Making Successful Small Talk: How to Talk to Anyone Anytime Anywhere About Anything"
•    "Shyness: A Bold New Approach"
•    "The Shyness Breakthrough: A No-Stress Plan to Help Your Shy Child Warm Up, Open Up, and Join the Fun"
•    "The Shyness Workbook: 30 Days to Dealing Effectively with Shyness"
•    "The Shyness Workbook for Teens"
•    "The Psychology of Personality: Viewpoints, Research and Applications"
Carducci said he was originally interested in studying shyness because he was a shy kid growing up.
"Let me start by saying I got into shyness because I was shy as a kid," Carducci said. "Eventually, when I went to college and started reading about shyness, I felt like it was an accurate depiction of me."
Carducci started integrating shyness from his personal life into his academic career more than 30 years ago.
He said his primary focus is to conduct research that will help other people deal with their shyness on campus. He also uses his research to help people in the community.
Carducci said his research affects him because he treats all of the people he helps as if they are shy. He also said because shy people need time to warm up, they  need encouragement.
Some ideas that can assist shy people with being more outgoing is volunteering, doing community service or getting involved with a group of people.
Carducci said this helps shy people focus on their strengths rather than weaknesses. They also need to be surrounded by people that are patient and listen and attempt to understand them.
Carducci said the biggest part of how to help people deal with their shyness more effectively is by listening to what they have to say and giving them strategies, such as hope and direction.
The Shyness Research Institute at IU Southeast allows Carducci to provide a resource of information and advice for shy people all over the world. Carducci said he receives several phone calls and e-mails from magazines and newspapers, such as Cosmo, Vogue, Essence, Jet and The Wall Street Journal.
Carducci also works on shyness projects with graduate students to help them with their doctoral theses in order to become professionals in the psychology field. These professions include physiologists, school counselors and therapists.
Another project Carducci is working on is with professors who are working with shyness with the Middle Eastern Muslim students and shy people in Italy.
Carducci said he has received positive feedback from the people he has helped and interacted with. He also said most of the time people respond by saying "thanks for listening."
While some people do not realize they are shy, Carducci said 40 percent of individuals are shy and do not realize there are people like themselves.
"The solution to shyness is in the heart," Carducci said. "Think about others instead of yourself."
By LYNN BAILEY
Staff
lfbailey@ius.edu