Graphic design lecturer aims to capture memories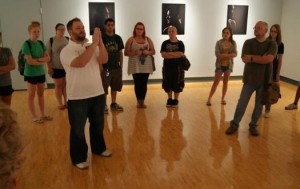 Jonathan Ruth, visiting lecturer in graphic design, said, when capturing a photo, he is "simply looking, filtering and creating."
"When I'm really involved in the process, I'm not completely conscious of thinking in that moment," Ruth said. "That's not to say I'm not aware, rather I'm not second guessing myself."
Ruth has been practicing the art of photography for 14 years.
"I've been taking pictures since I was a kid," Ruth said, "but I've been doing it professionally since 1999."
A fine arts graduate of IU Southeast, Ruth went on to teach part time in the School of Arts and Letters in spring 2005.
Marilyn Whitesell, associate professor of fine arts, said she hired Ruth because of his experience in the field.
"His enthusiasm, professionalism and curiosity about this digital age make him an outstanding asset to the Graphic Design Program," Whitesell said. "Since 2005, he has helped to grow the area of digital photography at IU Southeast and has had many students who have gone on to do very well in the profession."
Ruth said he had taught non-credit classes before on a regular basis and loved it.
"I was very excited," Ruth said. "I knew this opportunity would be just as rewarding."
Ruth currently teaches graphic design, photography and computer art.
"I try to make my classes fun and engaging," Ruth said. "I do my best to try and make the material approachable."
Ruth also owns and operates his own business — Image Solutions — which he started in 2001.
"Image Solutions concentrates on commercial product photography, as well as composite photography," Ruth said.
Ruth recently earned his Masters in Liberal Studies from IU Southeast in 2012.
"I'm always trying to refine my work and stay up-to-date in my field," Ruth said. "Photography and design is always evolving."
Ruth was recently able to showcase some of his work in IU Southeast's Ronald Barr Gallery.
"The turnout was great," Ruth said. "It kicked off the Fall 2011 Gallery Calendar."
Ruth's "Articulating the Intangible: Squaring the Circle of Confusion" exhibit was up and running for four weeks, holding a total of 12 pieces.
"It was an exhibit that explored how I and the viewer see," Ruth said.
Ruth said photography is an art form based on the moment, in both consumption of the image and capturing it.
"I wanted to slow that process down," Ruth said.
Ruth's work was both spatial and temporal by design.
"The work was very difficult to make out when a viewer first looked at it, but, over time, the images would begin to reveal themselves," Ruth said. "It was very important that the viewers not only took their time with the pieces but also moved around them, as well."
Ruth said the best advice he can give to amateur photographers is to not substitute a photo of the moment for your memory of a moment.
Ruth said he believes photographs help us remember, but they themselves are rarely the memory.
"Too many of us, myself included, spend too much time looking through the camera when taking a picture," Ruth said. "Take stock in your other senses while taking pictures."
Ruth said this advice will make for better photos and better memories down the line.
One photo Ruth said he would like to capture is the invisible.
"I'd love to be able to capture that which is not visible," Ruth said. "This is something I strive for in my work."
Ruth said his interests, experiences and passions are what make him a unique person.
"My work is an expression of how I understand my own perspective," Ruth said. "That's what makes it unique."
By TAYLOR FERGUSON

Staff
tayfergu@umail.iu.edu