Student captures small moments with paint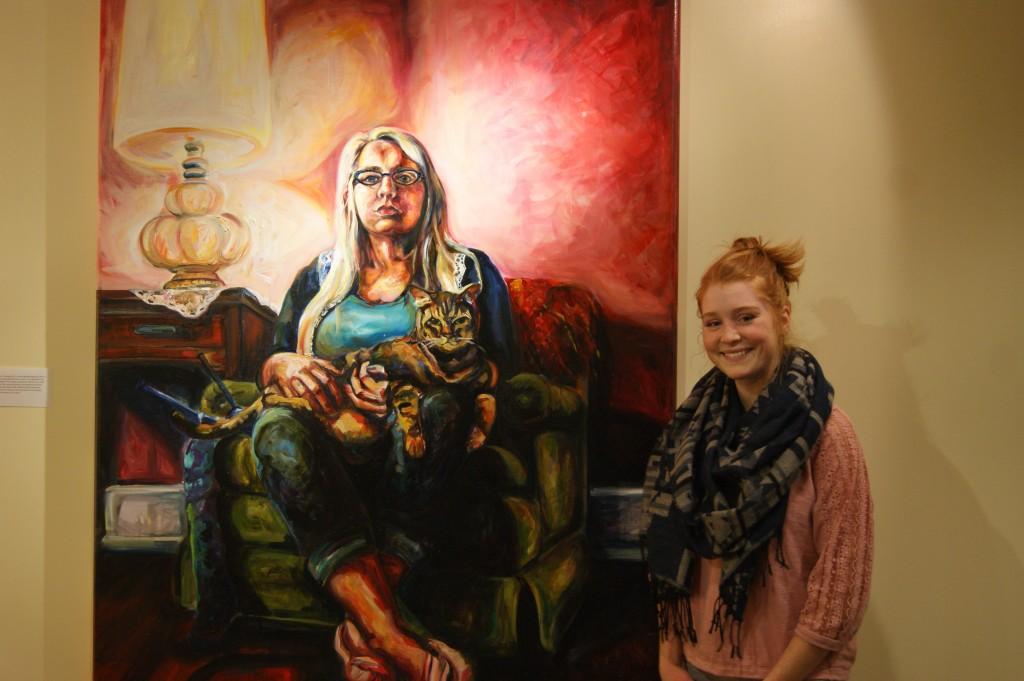 A woman sitting in her favorite green chair with her very fat brown cat, stare directly at students as they walked down into the lower level of the IUS Library.
This painting, called "Ambrose," was just one of the six paintings featured in the "Artist Among Us Gallery," on Nov. 9.
Most of the paintings featured captured moments in bright, eye-catching colors on huge canvases, such as the woman sitting in her favorite chair.
One of the artists, Rebeka Anastasia Trapp, fine arts senior, met with students during the event to talk about her pieces and what inspires her as an artist.
Trapp said she was not originally going to school for art. Instead, she started off attending veterinary school.
"I always thought that I could just do music and art on the side, and being a vet would be my main career," Trapp said. "So much pressure was lifted off my shoulders when I decided to go to art school."
Now that she is nearly done with her degree and graduating in 2013, she said people pester her about her degree.
"People always ask me, 'now that you're graduating, what do you plan on doing with your degree?' in that sort of snotty tone," Trapp said.  "People are so driven by dollar signs that they quit doing things that they love, but I've done something that I'm proud of — I chased my dreams."
Trapp said she knew she had a passion for art, beginning when she was very young.
"For grade school, I was homeschooled, which really gave me the freedom to sort of branch out and pursue my own interests, and I really enjoyed art," Trapp said.
Trapp said she waited awhile before even considering attending an art school.
"I didn't think that I had what it took for art school," Trapp said,  "but, once I quit letting fear motivate me, I finally realized I knew what I wanted to do."
Originally, Trapp said she was apprehensive about attending IU Southeast, though she said once she got here, she knew she had made the right decision.
"I was really ill-informed about IU Southeast," Trapp said. "I didn't think they had the programs I wanted to go into, but now I see it much differently. My instructors have been a key role in my success as an artist, and they are constantly finding ways to better my work."
Trapp had three pieces hanging in the exhibit, and students said they were drawn to them.
In the painting of the woman sitting in her chair with her cat, Trapp said the woman was someone she recently graduated with.
"When you graduate, everyone expects you to go out and start making a name for yourself," Trapp said. "However, this woman remains sedentary in the moment, sort of staying with the things that are a big part of her — her house and her cat."
Bradley Cooper, advertising junior, said he enjoyed Trapp's piece entitled "Intranssient (first trimester)."
"There are a lot of different elements in this piece," Cooper said. "The woman looks rather tired, but there are also some sexual undertones to the piece. I also really enjoy the color choices she made for this piece, the dark and the light colors really contrast each other nicely."
Another student, Fadiyla Mance, psychology major, enjoyed a piece by Trapp titled "Separation Diptych."
This painting was displayed on two canvases, featuring two girls looking at each other on a bright orange background.
"I can see my sister and me in this piece," Mance said. "You can tell that one of the girls is an older, more serious soul, and the other is a younger soul."
Mance said she also really enjoyed the color scheme in the piece.
"In all of her pieces she uses great vibrant colors and creates excellent backgrounds that really make the painting sort of jump out at you," Mance said.
Mance said she was able to ask Trapp a few questions about her favorite piece and explain how she saw herself and her sister in that painting.
"That's very interesting, and I hadn't really thought of it that way," Trapp said. "That is one of the reasons I like to paint things that are part of day-to-day life — anyone can relate to it."
Melanie Hughes, associate librarian, said she enjoyed all of the works on display, and it was hard for her to choose a favorite.
Trapp said in her art she likes to capture day-to-day life.
"I want to capture the moments that seem insignificant and freeze them so people see just how special they actually are," Trapp said.
By GAIL FAUSTYN
Staff
gfaustyn@ius.edu