Open Mic: English Club hosts Lit at Lunch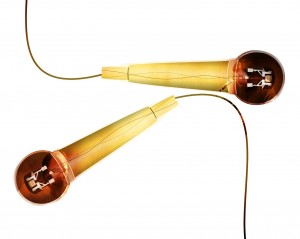 The event, which happens once a month, is an open mic event. Anyone who wants to read or recite pieces of literature can participate. The material can be prose, poetry, fiction, nonfiction or academic—either original works written by the readers or their favorite authors.
"As a writer it's really hard sometimes to get outside of yourself, but the community is the most important part," Karyl Anne Geary, English senior and English Club president, said. "That's why we have them here, it's a way to bring people into that community," she said.
Steve Bowman, adjunct lecturer of English, kicked off the event with a reading from T.S. Eliot's "The Wasteland."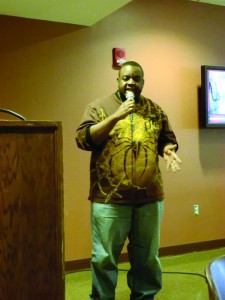 Steph Ford, English senior, read an original essay on "Imposter Syndrome."
"It's an experience a lot of people deal with where they think they're an imposter in their own field," Ford said. "It's something I've dealt with."
Kenneth Woods, biology senior, stood away from the podium and delivered two original poems with a confidence that suggested he had done this before.
"He does every open mic event for the Kentucky Center for the Performing Arts' ArtsReach program," Woods' girlfriend, Marlesha Cooper, said, who came out for support.
Cooper said that she thinks the opportunity to speak to an audience at open mic events can be beneficial to any student.
"You have to have public speaking. Everyone on this campus will take that," Cooper said. "For anyone that's interested in just getting out there and learning how to be comfortable, this would be the place."
Woods said that he enjoyed hearing the other readers.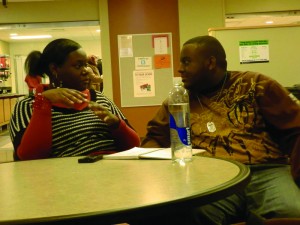 "It's really cool to have them read some of their favorite stuff and just to get a different sample of what other people like," Woods said.
Stacy Lintz, English senior, and Geary announced the other readers and read between them.
The event closed with Jonathan Carson reading from his essay "Here in the Smoking Earth," which took second place in the flash fiction category of the 2012 IU Southeast Writing Contest.
Carson Geary, and Andy Hainline, English junior, all placed in multiple categories in the contest.
The Lit at Lunch event is held every month school is in session, and each month has a different theme. It is open to all students, faculty, staff and outside community members, and the only requirement is to use a sign-up sheet that is provided at each event.
Geary said he hopes events such as Lit at Lunch will help spread literature on campus.
"We have a really core, strong group of writers at IUS," Geary said. "What we're pushing for right now is enriching the literary life on campus—it's been our big mission. This group of club members has really been pushing for faculty involvement and just getting more people out."
English Club meetings are held the first Monday of every month at 12:30 and 6 p.m. and are open to anyone who attends classes or works at IU Southeast and wants to get involved.
The club also sponsors a weekly writer's group, which is open to the public. Participants can bring excerpts of their work, of any genre, for critique and support by fellow writers.
The next Lit at Lunch will be held Feb. 20 in the Commons from 12:30 to 1:30 p.m.
"February should be very interesting," Lintz said. "I'm pushing for the theme of erotica and sex and such, so it might be a good one to come to."


By APRILE RICKERT
Staff
apmricke@ius.edu