Grenadiers take down Eagles
The Activities Building was filled with anxious fans as they awaited the men's Grenadiers basketball team on Sat. Jan. 19.
Asbury took possession of the first half leading the Grenadiers by as much as 13 points.
The Grenadier's entered the second half trailing the Eagles by eight points, 36 to 28 after being behind for most of the half.
Wiley Brown, IUS men's basketball head coach, said he knows the team has to play better.
"We're not playing real well," Brown said. "Asbury's got a really good team. We've got to come back out in the second half."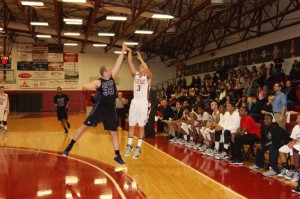 Brown said that he knew that the team was lacking in a couple of aspects causing their deficit to the Eagles.
"We shot the ball, I'm not real worried about that,"Brown said. "We've got to play defense. Defense is where they win the game."
Prior to the second half, Brown said that they would retake the court and play better in the second half.
The Grenadiers held the Eagles as they tied the game ten times with ten lead shifts between the teams in the game.
After a missed 3-point at the end of regulation by Terrence Billups, sophomore forward, the teams went in to the first of two overtimes.
The Grenadiers added another win to their 11-game winning streak after double-overtime grounding the Eagles at 97-92.
Cameron Mitchell, junior guard, led the Grenadiers with 24 points and eight rebounds.
Kevin Mitchell, junior guard, scored 22 points with six rebounds.
Matt Trimnell, junior guard, scored 20 points with three rebounds.
Jake Simpson, sophomore guard, scored 18 points with eight rebounds.
Cameron Mitchell said the win did not come easy.
"We came out a little sluggish," he said. "But you know we pulled it off. Coach Brown got on us at halftime, and we knew what we had to do. We just had to play the game."
Kevin Mitchell described what he thought they had to do to win.
"We had to max their intensity and go above it," Kevin Mitchell said. "We do this every day in practice. Coach Brown gives us mental-toughness practice. We have mental-toughness."
While the scoreboard showed a Grenadier victory, Cameron Mitchell, 4 four-time KIAC Player of the Week, said there will always be room for improvement.
"Even if we win by 20 we can always play better," Cameron Mitchell said. "There's always another day to get better. We can always work on something. That's what we need to do."
Brown said what they do as a team has a lot to do with the outcome of the game.
"That's team ball," Brown said. "It's not an individual team, we play team ball."
The Grenadiers have advanced three spots in the NAIA Coaches' Poll and rest at No. 11.
By TINA REED
Staff
tinkreed@ius.edu