Double teamed
Mitchell twins bring 'super powers' to IUS basketball lineup
IU Southeast has been double teamed by the self-proclaimed twin super powers Kevin Mitchell and Cameron Mitchell, junior guards. The twins were added to the IUS men's basketball lineup this summer.
Cameron and Kevin have been playing basketball together since they were three years old and playing competitively together since high school.
That changed once they entered college.
"We were separated for the first time, ever," Cameron said. "Neither one of us were happy where we were. I was at Walsh University and Kevin was at Cincinnati Christian playing basketball."
Cameron said he decided to attend IU Southeast, because he wanted to find a school where he could play basketball with Kevin again.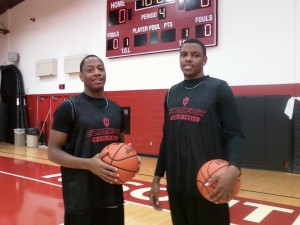 "I was actually going to go to Cincinnati Christian," Cameron said. "But then their coach got fired, so we both started looking for a different school where we both could attend."
Wiley Brown, IUS men's head basketball coach, said he got a chance to see Kevin play when Kevin played for Cincinnati Christian, and then the brothers came down to visit IU Southeast this summer. Brown said the rest is history.
"I didn't know anything about Kevin's brother, Cameron at the time, so that was a total surprise," Brown said. "They have family in Memphis, Tenn., and they stopped in to visit the school. We had an open gym and they got to play and they've been here ever since. They are a coach's dream."
IU Southeast has been successful in winning the National Association of Intercollegiate Athletics five years in a row, and Brown said the Mitchell brothers fit right in with a winning team.
"It's been a blessing having all of them, including their parents and grandparents," Brown said. "They all support them."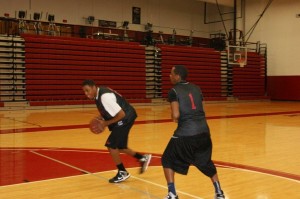 Kevin said it is a win- win for everyone involved playing for IU Southeast.
"It actually works out best for both of us and the coach, because the thing Cameron has, I may not have, and the things I have, he may not have," Kevin said. "Like Cameron's tall and athletic enough to get rebounds and be a big man, and for me, on the other hand, I'm point-and-shoot guard."
Kevin said he knows how to run the team and put players in just the right spots.
"I can run a team a little bit better than he can,    because his role on the team is to just play and for me. I got to think, not necessarily for the whole team, but I got to put people in spots for us to win the game," Kevin said.
Kevin acts as a second coach on the court, helping vocalize how the team can improve.
"He knows how to control his self and tell players everything's going to be just fine," Cameron said. "He's like another coach on the court, and at the same time, he has my back and I have his."
Cameron and Kevin have even developed a name for this phenomenon.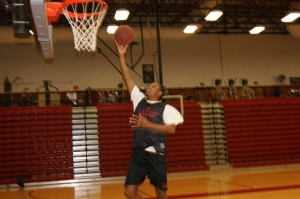 "I call it super powers or twin powers," Kevin said. "Coach Brown talks about it, because when Cameron messes up, I mess up and when I do well, he does well. It's just like having super powers. We know how each other think."
Bradley Zellner, IUS men's associate head coach, has seen this "super power" in action.
"The first time I watched them play I could tell they had grown up playing together," Zellner said. "They both seemed to know where each one is going to be on the floor."
Both twins said they pull their playing inspiration from each other as well as, famous basketball players.
Kevin said he looks up to short guard players as role models because, he too, is a short guard and he can relate.
"On the famous side, it would have to be NBA player Allen Iverson," Kevin said. "I looked up to Iverson, because he was a short guard like me. I don't take a whole lot of stuff. I play with a chip on my shoulder. It's the short mentality of me. Iverson did his job and he knew how to win games."
Kevin said he has other role models outside of the NBA realm.
"My father, on the other hand, put me in situations—the right situations for me to end up here," Kevin said. "If it wasn't for him, I would have ended up in prison or even might be dead, because of the environment of Cincinnati."
"We lived in nice neighborhoods, but if we didn't have our dad, mom would have been a single parent," Kevin said. "She'd have enough money, but I would have been in the wrong things. He knew how to teach his sons. He taught us character and how to do the right thing when nobody was there."
Cameron said he has always found a role model in his father, his cousin, Freddie, and his grandparents.
"I looked up to them every day," Cameron said about his grandparents. "They worked hard. Dad made sure everything was OK with the family. He did everything possible. He would make sure everyone was happy at the end of the day.
Grandparents took care of us after school— fed, clothed and bathed us until parents got home from work. We owe them a lot."
Their father, Mark Mitchell, head coach at Taft High School in Cincinnati, said he and his wife, Cheryl, tried to raise Kevin and Cameron right.
"Being an educator and teacher we knew we had to bring them up right," Mark said. "Kevin and Cameron were the first grandchildren and everybody just threw their arms around them. Everyone was there for them. I was coaching basketball, football and I would carry them along with me. The academics were there. They were always learning. They got it at such an early age. They were like sponges and would soak it all up," Mark said.
By TINA REED
Staff
tinkreed@ius.edu