Homecoming Pre-show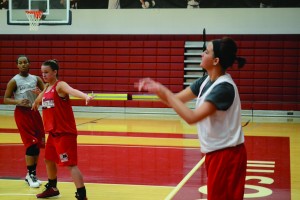 Week long celebrations kick off homecoming
As the sounds of the players dribbling, running, and jumping echo off the walls of the Athletics Building, the IUS basketball teams are readying themselves for the upcoming Homecoming games.
The women's team will tip-off at 2 p.m. on Saturday Feb. 9, and then directly after at 4 p.m. the men take the court to face St. Louis College of Pharmacy.
Fans are asked to wear white during the games for the Homecoming "White-Out."
Both teams are bringing winning records into Saturday's games, with the women at 12-9 and the men at 18-3.
Robin Farris, head women's basketball coach, thinks the excitement of Homecoming will have a positive effect on the morale of the players.
"I don't feel like we've had a real great home court advantage," Farris said.
He said support has not been as great this year as it has in previous years, but Homecoming should bring out the fans.
"We've always had wonderful crowds for Homecoming," Farris said. "It's a fun atmosphere."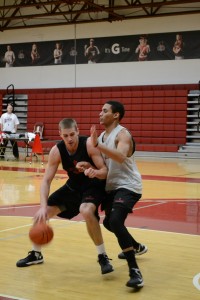 Farris said he would like to see bigger crowds with only two home games left and that every win counts toward getting a good seed in the Kentucky Intercollegiate Athletics Conference.
"I know the girls would appreciate it," Farris said. "We've got a fun team to watch, we've got a team that can score and has a good speed."
Wiley Brown, IUS men's basketball head coach, said that for the men, defense is going to be key for the win on Saturday. He said the team must communicate on the court to play a better defensive game.
"These guys off the court, they talk all day long, then when we get on the court they don't wanna talk," Brown said. "We need to be on the same page whether it's offensively or defensively."
Brown also said Homecoming will be a chance for fans to get involved and see a different side of the team, and also a chance for the team to see a different side of the fans.
He said Homecoming will be a time where players who normally do not play as much will get to play, and fans that do not always come out are more likely to show up during Homecoming.
"It's a very, very special time of the season for us," Brown said. "We get the chance to play a lot of the guys that haven't been playing as much, and the guys that have been playing, we get to rest them. It's a win-win situation for us."
While the games are not until Feb. 9, the events of Homecoming week begin on Feb. 4.
During lunchtime there will be events to celebrate Homecoming week in The Commons. The events include a corn-hole tournament, a tricycle race, Spirit Week, which is a competition between different student organizations to win spirit points, a Surprise Day and a pep rally.
Outside of the commons other events include a student vs. staff basketball game, a graffiti party, hosted by the Multicultural Student Union, a separate men's basketball game on Feb. 8 vs. IU East and free pizza.
Chancellor Sandra Patterson-Randles will award the spirit stick to the winner of Spirit Week, during halftime of the men's game.
Megan Cureton, sophomore guard, said that Homecoming is a good atmosphere for the teams and students and that it is fun to show support.
"We really like making the posters for the seniors and everything that goes along with Homecoming," she said.
After playing she said she is going to stay and cheer on the men's team and that everyone should stay and cheer.
Brown said he wants fans to enjoy their Homecoming day.
"Come out, wear white and be as loud as you possibly can," Brown said.
By ETHAN FLEMING
Staff
ethflemi@umail.iu.edu
For more information check out our homecoming page at: www.iushorizon.com/homecoming