Student sheds new light on feminism
Lyndsey Cooper, advertising senior, is not afraid to stand up for her beliefs.
"I came from a family of very strong women," Cooper said. "My aunt Terry was probably the strongest person I've ever known in my life. She really pushed doing whatever it is that you want to do. And my mom has always been the same way—I guess it's a matter of having great influences in my life."
Cooper said she is lucky to have grown up with the support she had, and she thinks this has contributed to her belief system.
Sandy Veltman, Cooper's grandmother, said she believes Cooper has a strength she has carried since childhood.
"When she was growing up, Lyndsey still had that personality where what you see is what you get," Veltman said. "Through the years, that has manifested into her strong will of being a fighter of rights."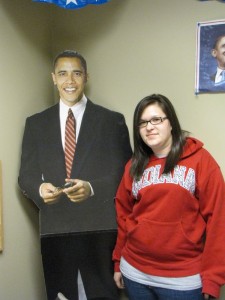 Veltman said she has no doubts that Cooper will be successful in life. She said she would love to see Cooper continue her interest in politics, but she said she is supportive of whatever path Lyndsey chooses.
"Where I see her five years from now is wherever she wants to be, doing whatever she wants to do," Veltman said. "The world is wide open to her."
For now, Cooper has taken the position of vice president of the College Democrats and is the president and founder of the newly reinstated Feminist Alliance.
"With everything that was going on with the election," she said, "I felt like I needed to get involved somehow."
At the Indiana senatorial debate between Joe Donnelly and Richard E. Mourdock, held at IU Southeast last fall, Cooper said she submitted a question through the debate website to be able to ask it at the debate.
"It was about abortion and the Equal Pay Act," Cooper said. "I wanted to ask them what their stance was."
Cooper said the committee had to discuss it and when they called her back, she said she was told that only the abortion issue would be addressed.
Cooper said she declined to go forward with her question, since she would not be allowed to ask both.
"We pretty much already know their stances on abortion," Cooper said. "The equal pay act needs more attention."
After the debate, Cooper said she made plans to reinstate the Feminist Alliance.
"We had it on campus a year or two ago, but after the president graduated it just sort of died off and nobody took over," said Cooper. "It wasn't really pushed all that much."
Cooper said the previous group focused on health issues. She said while that is important, there are bigger issues women face today, such as being able to make decisions regarding how their bodies are treated, and how to close the pay gap between women and men.
She said there are still a lot of people who are in the dark about what it means to be a feminist.
"If you believe in equal pay and that you should be able to make your own decisions about your body, you're a feminist," Cooper said.
Cooper said even in 2013, there are sometimes negative feelings that go along with the word feminism.
"We're really going to try to break down those negative connotations, so that it's not such a bad word," Cooper said. We need to break those barriers and the stereotypes and prove that we're not just a bunch of man-hating, bra-burning, psychopath bitches."
Megan Staten, elementary education sophomore, has been the Feminist Alliance secretary for about a month.
She said Cooper has been really supportive in helping her fulfill her role in that office.
"She really took me under her wing and helped me know how to help her," Staten said.
Staten said she is also involved with planning some of the Feminist Alliance events. Most recently, she said she organized the screening of "The Help," which will show on Feb. 27 from 7 to 10 p.m. in UC 121. Staten said a discussion will follow the screening.
She said she hopes events like this one will help spread the word about the organization, which she said is important on the IUS campus.
"A feminist is someone who believes that men and women should have the same opportunities, if they put in the same effort." Staten said.
Cooper said after graduation, she would like to get involved with something that combines her advertising degree with her political beliefs.
"I could easily see myself working in political advertisement," Cooper said. "I just saw online that there's a very good chance that Hillary [Clinton] is going to run for president in 2016—if that happens I'll probably throw myself into that campaign as much as I possibly can."
She said she also would like to be involved in helping to foster positive self-images in women.
"I would really like to do something in advertising that would change all of the media advertisements that put such negative spins on what a woman is supposed to look like," Cooper said.
"Nobody has a perfect body," Cooper said. "There are 13-year old girls who are anorexic because they don't look like what they see on television."
Cooper said she recently saw pictures of what a Barbie doll would look like if she was a real person.
"It was completely disproportional," she said. "She couldn't even hold herself up on her feet, they were so small—and boobs bigger than her head. If that's the sort of things girls are looking at, it's definitely going to influence how they feel about themselves."
Cooper said these issues are some that feminism is concerned with, and some that the Feminist Alliance will address. The group is working on setting up some events that Cooper said will be helpful to the IUS community.
She said there are plans to have a representative from the Center for Women and Families come in and give a talk on increasing abuse awareness, and representative from Planned Parenthood give educational talks on sexual health—something Cooper said is necessary on a college campus.
"If you're in high school taking a health class, nobody pays attention," Cooper said. "But at this point in your life when you're in college, you need to know."
By APRILE RICKERT
Staff
apmricke@umail.iu.edu