Former IUS baseball player signs to pro team
When Drew Evans, the left-handed pitcher with a mean change-up, graduated from IU Southeast in December 2012, he thought he was done playing baseball.
An unexpected call in January changed that.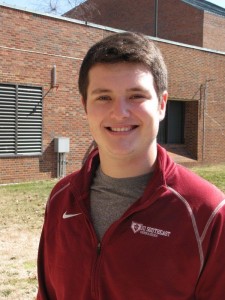 The 23-year-old, who was named Pitcher of the Year in 2012 and helped lead the Grenadiers to the Kentucky Intercollegiate Athletic Conference championship twice, recently signed with the Taos Blizzard, an independent pro team in the Pecos League of New Mexico.
"I'm pretty excited," Evans said.  "A lot of players from small schools don't get opportunities like this."
The Blizzard kicks off its inaugural season this May in Taos, a town in the Sangre de Cristo Mountains, with a population just less that 6,000 people.
"I heard it's beautiful in summer," Evans said.  "I'm pumped.  There will be a lot of kids in the area that are excited because it's something to go watch in summer in a small town."
Earlier this year, Evans also accepted a position as assistant coach of varsity and as head coach of junior varsity baseball at Jeffersonville High School.  Since the Blizzard's season starts just as Jeffersonville finishes, he said he will be able to do both.
Joe Nattermann, assistant baseball coach at Spalding University, spent the last six years coaching and recruiting at IU Southeast.  He said although he would like to see Evans tap out his playing career before coaching full-time, he knows he will have a lot to bring to the table.
"He understands how to manage people and get them to listen and do things together," Nattermann said.  "The players he coaches will get great baseball insight and even better life lessons to become better people just being around him."
Evans said Jeffersonville's current pitching coach has been at the school for several years, working with this class of varsity players since they were freshmen.  He said they are already on their way to a good season.
"The varsity team at Jeffersonville is going to be one of the best teams in the state this year," Evans said.  "They're really stacked for a high school team."
As the only junior varsity coach, Evans said he will focus on helping develop the incoming players.
"I want to work with these younger guys and give them as much knowledge as I can," he said.
Last summer, Evans got a taste of what is yet to come when he played for the Moose Jaw Miller Express, a WMLB Collegiate League in a small town in Canada.  His father, Phil Evans, made a surprise trip to Moose Jaw to watch his son play.  He said he was amazed at how high the talent level was.
"That's when I realized he can compete against anybody," Phil said.
Lindsay Spiegal, Evans' girlfriend, visited him while he was in Canada.  She said the whole town seemed to come out for the games.
"They really take pride in the baseball and hockey there," she said.
Spiegel said although she never thought they would spend another summer apart, she supports Evans doing what he loves, and hopes she can go visit him in Taos.
"I'm happy for him, and I hope his baseball career goes as far as it can," she said. "I hope he gets the most he can out of it."
Evans started out his college baseball career in Georgetown, Ky., before transferring to Calhoun Junior College in Alabama.  He played his last two years at IU Southeast, and while he finished strong, Evans said the road has not been without struggles.
"My worst year of baseball was my year in junior college at Calhoun—it humbled me so much," Evans said. "I was mentally all over the place.  I had a really good fall and got a big head, and as soon as the season came, I had no idea.  I couldn't throw a strike – I was getting hit all over the place."
Evans said that while he struggled to regain his focus, he talked to his dad about it and prayed.
"I just basically had to retool my psyche and my mentality, because baseball is so mental.  It's unbelievable how mental baseball is," Evans said.
Evans said this glitch, however frustrating, was what he needed to spark his career.
"As soon as I got to IUS, I was just mentally a different player," Evans said. "And it worked out for me. I ended up with two great seasons here—last year I was Pitcher of the Year, first team on the conference. It was awesome."
Nattermann said when Evans got to IU Southeast, he thought he would be a great fit.
"He has what pro scouts would call a projectable body, and he is left-handed which helps a lot. He had a very flexible arm that could develop into more velocity at the next level.," Natterman said.
He said Evans' "baby face" is something that scouts look for.
"That tells scouts there could be more to come," he said.
Evans said his father has not merely been a source of parental moral support for him.  Phil, the former catcher for the Salt Lake Trappers, knows his stuff.  Evans said he thinks of him as a life coach.
"Just about everything my dad tells me is good advice, just because he knows what I'm going through," Evans said. "With baseball, he always knows what to say so I turn to him."
Evans said his father helped foster in him a lifelong love of baseball, and he has always looked up to him.
"My whole life I've been like, 'I'm gonna be like my dad,'" Evans said.  "That's always been an inspiration for me—but we're different players.  He was a short and stocky catcher and I'm a tall and lanky pitcher, so we're opposites."
When he was growing up, Evans played not only baseball, but also football and basketball.
"It doesn't matter what size or shape the ball was—he liked it," said Phil.  "As a father I think you just throw everything in front of them, and if it sticks, it sticks.  Size and speed dictate what you will get into later."
Phil said he is happy that his son gets a chance to play baseball post-college.
"It's a great opportunity," Phil said.  "I felt like he was getting better when his [baseball] career came to an end.  I don't think he had reached his full potential."
While Evans is very excited to go play in Taos, he is taking the pro deal in stride.
"I think in the fall it helped me realize that baseball's gonna end at some point so I'm gonna go with the attitude of just having fun," Evans said.  "I mean it's a pro team so I can get cut at any time."
By APRILE RICKERT
Staff
apmricke@ius.edu