Legos for Leukemia: Legos help build hope
Eight-year-old Aiden Johnson has dreams — dreams of being able to go to school, play basketball and invite his friends over, his aunt, Shelly Baugher, said.
At his young age, Aiden is fighting his second battle with high risk acute lymphoblastic leukemia. The treatment leaves his immune system vulnerable, and he cannot go to school or even invite friends over, his mother, Gena Johnson, said.
While Aiden cannot play basketball or spend time with his friends, he finds joy in playing with Legos. Baugher said that Legos are more than just toys for Aiden. They allow him to have a sense of accomplishment in creating something.
"By building Legos, he gets enlightened," Johnson said.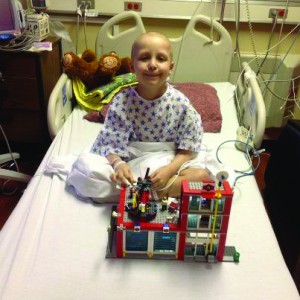 Aiden first began playing with Legos when the toy cart at Kosair Children's Hospital brought them to Aiden's room, Johnson said. During Aiden's first struggle with cancer, his father would help him build with Legos. Ever since then she said Legos have been an important part of Aiden's life.
To help children like Aiden, the IUS chapter of the Tau Kappa Epsilon fraternity is hosting a Legos for Leukemia drive. Students interested in donating can put Legos in the big yellow box marked "Legos for Leukemia" in University Center North.
Ruben Borrego, IUS police officer, approached TKE with a possible fundraising idea, Daniel Matthews, TKE president, said. Borrego is Aiden's neighbor and thought TKE might be interested in helping.
"Of course we wanted to help," Matthews said. "We feel strongly that helping children that are suffering is an important cause."
Spencer Korcz, TKE member and theater sophomore, said TKE wants  to support cancer patients by helping.
"We try to do everything we can to help children that are dealing with cancer," he said.
Matthews said TKE is involved in supporting St. Jude's Children's Hospital and thought Legos for Leukemia went along well with TKE's other philanthropy projects.
Johnson said Legos help keep children distracted while they receive cancer treatment and help children feel like children.
"We wanted to take kids' minds off of treatment," Johnson said.
Legos for Leukemia is a community service project that originally began in Colorado. While Johnson praised the work and mission of Legos for Leukemia, she said her family has recently established Aiden's Lego Legacy, a non-profit organization. Johnson said there are several benefits to having a non-profit rather than a community-based service project.
For instance, Johnson said community service projects cannot take monetary donations.
She said Legos for Leukemia can only accept Legos or gift cards to purchase Legos.
A non-profit organization can accept monetary and corporate donations allowing people to receive tax write-offs for their donation.
Baugher said since Aiden does not get to experience social interaction that could help mold his personality, the family wants to make sure he still has meaningful life experiences.
Aiden's Lego Legacy will help Aiden understand the importance of giving and help him grow into a person of integrity, she said.
"There are 35-to 40- extra kids on the same hospital floor as Aiden, and it's important to bring them joy, too," Baugher said.
Aiden cannot go to school and will not be able to attend public school again until he is in the 4th grade.
His first grade teacher, Leah Timmons, who teaches at Silver Creek Elementary, tutors Aiden so he can stay at grade level, Johnson said.
Johnson said having a child with leukemia is taxing on the entire family, but faith and a strong support system can make all the difference.
She said she calls her support system her "cancer family."
"Our cancer family has been such an important part of our journey," she said. "Without their support, the rough days would be so much harder to handle."
Johnson said that Aiden understands what he is going through. She said he understands he is sick, and he knows why he cannot go to school or have friends over.
Baugher said the entire family has become more secluded because of Aiden's leukemia.
In order to protect his immune system, family members have to be careful about who they allow into their homes and how much time they spend in public.
"We have learned to live minute to minute," Baugher said.
By HANNAH ASH
Staff
hash@ius.edu