Grenadiers take first trip to Final Four
Men's basketball honored, reflects on historic season
The IU Southeast men's basketball team made its first National Association of Intercollegiate Athletics Final Four appearance in school history.
The IUS men's basketball team finished with a record of 30-5, and did not lose a game at home this season.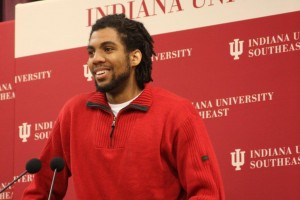 The team clinched their sixth straight Kentucky Intercollegiate Athletic Conference Championship, and made a trip to the NAIA Elite Eight, marking the second time that IU Southeast advanced to the Elite Eight in the school's history.
This season, the team also tied the school record with wins in a season with 30.
In recognition of their NAIA Final Four run, the university hosted a celebration on Wednesday March 20th in Hoosier Room East, congratulating the coaches and players on a historic season.
Chancellor Sandra Patterson-Randles, took the podium first at the celebration and said she was proud of what the team accomplished. She then gave the podium to an emotional Head Coach Wiley Brown.
Fighting back tears, Brown said he really loved his team and thanked the chancellor for giving him the opportunity, the rest of the administration and thanked the fans.
"Fan support has been great," Brown said.
This season marked the highest fan attendance in the Activities Building. The Grenadiers maintained a perfect home record with 13 games won.
Kegan Clark, junior forward, took the podium next and said he had not been sure in the beginning the team would advance as far in the tournament  until after the Conference Championship.
"I feel like we can win a National Championship next year," Clark said.
The men's basketball team will lose only one senior after this year, and next year they will have six seniors along with underclassmen who all played many minutes this season.
Cameron Mitchell, junior guard, was the team's leading scorer averaging 16.8 points per game. He was also named to NAIA Division II All-American Second Team and ranked 23rd in NAIA Division II for total points scored with 587.
"It's remarkable that we are the first ones to make history, and it really is a blessing," Mitchell said "It's a great feeling,"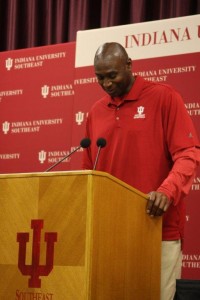 Mitchell said he was also excited for the team that is coming back next year.
"Just because we have so many coming back, we really think it is our time, and we have a shot at a National Championship," he said. "That is our whole goal. You know, we went to a Final Four, and it feels great, but next year is when we take it to the next level."
Mitchell said his improvement as a player is a testament to Brown.
"He believed in me," Mitchell said.  "He is a real father figure to us.  He is on us every day, but it is out of love.  On the court it is business, and off the court we're having a good time.  He improved my game by making sure I am doing the right things on and off the court.  It is truly amazing, and I am really happy for him to be my coach, and couldn't ask for nothing better."
Of the team's five losses, two of them were against the eventual National Champions.
Georgetown College beat IU Southeast earlier in the year, and went on to win the NAIA Division I championship.
Cardinal Stritch University beat the Grenadiers in the NAIA Final Four semifinals, and they would go on to win the Division II championship.
To reach the Final Four, the team beat Valley City State [N.D.], St. Xavier [Ill.] and College of the Ozarks [Mo.].
The Grenadiers finished ranked No. 3 in the final coaches' poll.
Sophomore Guard Jake Simpson was named Honorable Mention for NAIA Division II All-American Team, and he ranked first in 3-point percentage shooting 50 percent from 3-point range.
Brown said when he first got the head coaching position at IU Southeast, he did not know what a Grenadier was, but six years later he is the happiest one of them all.
"They'll be back," Brown said, talking about next year's team.
By RAYMOND SHUTT
Staff
rshutt@ius.edu