Athletics advances technologically
A new way of following IU Southeast athletics has been released via the iTunes App Store for the iPhone or iPad.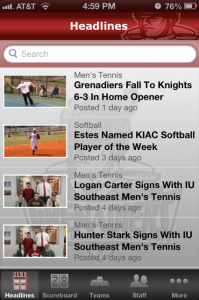 In late February the web-design group eSolution Architects, which was fundamental in the overhaul of the IU Southeast athletics Web page, lent its expertise in the creation of the university's first sports app: IU Southeast Athletics.
According to the app's details, fans will be able to read game summaries, check schedules and add games to their calendars. Users will also be able to review rosters, learn about student-athletes and review maps of athletic department facilities.  Features also include live scoring, event statistics, audio and video links, photo galleries and social media integration.
"We are always looking for new ways to improve our fan experience," Joe Glover, athletic director, said.  "We have some amazing fans and we want to make sure we are doing everything possible to enhance their interaction with Grenadier athletics."
Also involved in the implementation of the app was Stephen Utz, sports information director. He said the app did not require university funding.
"The new app is part of the athletic website re-design process we did last summer," Utz said.  "SIDHelp asked if we could help test the app.  We are only the second school they have created an app for so they waived any costs on that basis.  It is a new product, and we are lucky to have a tremendous relationship with them and their founder, Greg Black."
SIDHelp is a part of eSolutions Architects, which, according to their website, is a customizable web application that will assist anyone that is responsible for entering and updating information for their conference, league or school website.  It also includes features for entering-in schedules, rosters or updating pages on the website.
Utz said he and Glover provided a list of features they would like to see included in the app and made a few additional suggestions during the test phase.
"We weren't involved with any of the technical aspects of creating the app," Utz said.  "There were several times we had to alert the team at SIDHelp of certain bugs throughout the testing process, but in the end we liked what we saw and decided to go along with it."
Black said he thinks of SIDHelp as a content management and web development system built specifically for college athletic departments.  The SIDHelp network currently includes more than 25 conference or league sites and more than 100 institutional sites, he said.
"We generally work with small-college athletics," Black said. "We do have some other apps we are in the process of building for other schools, but currently only have a finished app out for IU Southeast and Faulkner University."
"When it comes to the process of creating a website we have a custom CMS that we have built for specifically for athletics," Black said.  "We then work with each client specifically to build what the fan side will look like."
CMS stands for content management system, which is a computer program that allows publishing, editing and modifying content as well as maintenance from a central interface.  The first was announced at the end of the 1990's and was designed to simplify the complex task of writing numerous versions of code and to make the website development process more flexible.
According to SIDHelp's website, services are offered at a cost of $2,000 a year.  The results are an easy-to-use interface with a look designed specifically for each university's website, which can be up and running in as little as a month.
Currently, the app is only available through iTunes, but they are working on releasing an Android version.
By BRETT HANCOCK
Staff
brjhanco@ius.edu