STRIKE: Students rally to protest rise in tuition
Since Dec. 2012, students at IU Bloomington and several other IU campuses —including IU Southeast— have been gearing up for a student strike that will come to a head in just a few days.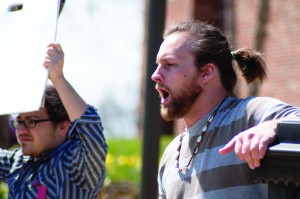 The strike, which is based out of the Bloomington campus, was born largely out of some students' frustrations with rising tuition costs, while programs continue to lose funding.  It is set to happen April 11 and 12, when the IU Board of Trustees will meet in Bloomington.
The chief concerns of the strikers are to stop the privatization and outsourcing of student services, such as the bookstore, the lack of diversity on IU campuses and a university budget that draws 51 percent of its support from rising student tuition, a number some students say is unacceptable for a public university.
"I feel like the system is turning away from one that was originally set up to serve the people to educate," Rebecca Donaldson, sociology senior said.  "Things have shifted and now it's on the backs of the students and it's not sustainable."
The main question proposed at the earliest talks of the strike in Bloomington was, "Why don't we have a voice in the university that is equal to our contribution?"
Levi Groenewold, history junior, said he has been in contact with the strike organization in Bloomington and started organizing the strike at IU Southeast.
"I've got a few enthusiastic people who are involved with the ACLU [American Civil Liberties Union]. There are a few people, but so far we don't really have an organized expression," he said.
Groenewold said he thinks there is a disconnect between the students and the administration and he hopes the strike will help usher in the formation of an independent student union.
"I'd like to organize students in some sort of democratic framework that we can collectively bargain with administration for our rights as students and for our conditions for education," he said.
Groenewold and several other students gathered at McCullough Plaza on April 3 to rally support and to educate about the strike.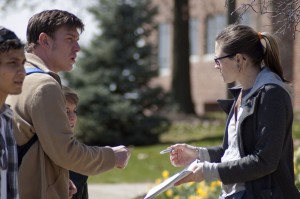 He and Dwight Rosewood, biology senior, read the IU On Strike list of demands and called out to passing students to "Come make your voices be heard!"
"Most of us come from working class families; we commute to college, work one, or two, or maybe even three jobs to get by, and still end up with crippling student-loan debt," Rosewood said to the onlookers.  "That is not the way to build a better tomorrow for our country."
Although attendance at the rally was low, Groenewold said he is not discouraged.
"It's going take events like this to get people experienced in the fact that they can come together in a collective form and affect change," Groenewold said.
Donaldson said people uniting for a cause is how change happens.
"I definitely think that people forget how powerful they are, especially as young people," Donaldson said.  "They don't get it—that doing stuff and making changes is just about doing stuff and making changes.  I think it's great that people are out there trying to talk about things.  Somebody has to start the discussion."
At the Bloomington campus, students have been involved in weekly meetings and demonstrations centered on the upcoming strike.  On April 1, 70- to 80- students participated in a campus march, "Sound the Attack: Noise Demo for the Strike at IU," to garner attention for the cause.
Those involved were invited to bring banners, signs, musical instruments and other noisemakers to the event.
During the two-day strike, participants at IU Bloomington and IU Southeast have vowed to not attend classes or patronize the university in any way.
Instead, they will be engaged in various proactive activities that will prove to make the experience more than just skipping class.
According to IU On Strike, strike participants at Bloomington will have regular demonstrations, discussions and "teach-ins" led by striking faculty members.
Groenewold said he and other IU Southeast strikers will most likely gather at McCollough Plaza.
"We will hold a Strike Picnic on the days of the strike on the lawn near the clock tower to rally support for striking students to come and discuss the demands and meaning of this strike and to come up with ideas on what can be done on campus to improve conditions for students, teachers and staff," he said.
Mark Land, associate vice president of public affairs and governmental relations, IU Communications, said the administration is aware of the strike, and has no plans to punish students for participating.
"We welcome the debate and we certainly do not have any issues with anyone wanting to express their opinions in a constructive way," Land said.  "If you can't do it on a college campus where can you do it?"
He said there has been a line of communication between the striking students and the administration, and that the concerns of the strike are things the university has been working on already.
"The strikers have spoken with campus leadership both at the student level and at the administration level," Land said.  "I think it's fair to say that the university understands what the concerns are."
He said the students' voices are not being ignored.
"I think [administration] takes into consideration everybody's viewpoints on things," Land said.  "The decisions that are made here, as you might imagine, are complex. We're trying to consider a wide a range of viewpoints as possible.  I think it's fair to say the university is listening to a whole range of folks that we would consider to be our stakeholders."
Although a change in tuition is on the horizon, it will not be voted on at the April 11 board of trustees meeting, according to the agenda.
Land said the administration is waiting to see how much the state of Indiana decides to allocate to the university.  The decision from the state will not be ready until late April.
"It's been very positive so far but what we want to see actually what the state appropriation is going to be before we make any final recommendations on tuition," Land said.
Although a rise in tuition may be inevitable, IU has implemented some financial programs that Land said are meant to help offset the cost of student tuition.
Under the new IU College Affordability Initiative, both resident students and those paying out-of-state tuition at all IU campuses are being offered summer courses at a rate of 25 percent less than what they would cost during the regular semester for the second year in a row.
This fall will also mark the start of the "Finish in Four" program, a plan designed to freeze tuition for students who are on track to graduate within the traditional four-year timeframe.  It will be available to students in good standing who have achieved sophomore status with 60 credit hours or junior status with 90 hours by fall of 2013.
"No matter what we might do with tuition and fees, if you're on track to graduate in four years after your sophomore year, your tuition is going to effectively be frozen," Land said.
Land said he thinks some students may have the idea that tuition is spiraling out of control, but that IU is doing all that it can to make the institution affordable.
"We're working very hard to keep the cost down, and we've also doubled the amount of financial aid—scholarships and loans that are available to in-state students—over the last five years," he said.
Some strike supporters have said that while they are able to attend college now, they are afraid of what rising costs could mean for future generations of potential students.
"We're just trying to get the best that we can," Donaldson said.  "I just don't think that right now, the best that they have to offer is good enough."
By APRILE RICKERT
Staff
apmricke@ius.edu