Review: Deer Tick at Headliner's
A chicken suit, a selfie and an on-stage kiss between band members; if you attended Headliners' Music Hall on Monday Nov. 4 you already know that I'm referencing: Deer Tick's performance. Known for their usually sweaty, rowdy, beer-and-brown-liquor-induced gigs, Deer Tick didn't disappoint.
The band is currently touring their fifth album, "Negativity", which was released on Sept. 24. The band is led by guitarist and sing-songwriter John McCauley III with his sleazeball appearance and voice that sounds pretty near distressing to use. "Negativity's" brazen, dejected vibe reads as a sort of memoir to McCauley's past year. In 2012, McCauley's father, a U.S. Representative from Providence, plead guilty to federal tax fraud. If that wasn't enough, McCauley's fiancé, Nikki Darlin from the band Those Darlins, broke off their engagement that same year.
Even though Deer Tick slowed it down with some of these transparent, heavy-hearted tunes such as "Big House", it seemed as though the slow ballads got just as much crowd participation as their old favorites like "Baltimore Blues No. 1".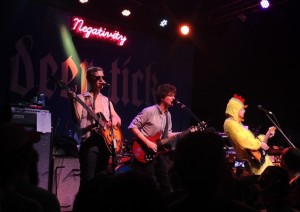 It's not hard to see how the band receives such audience support with McCauley dressed in a chicken suit for the duration of the show, an on-stage peck kiss from him to lead guitarist Ian O'Neil and plenty of shots between songs. One thing is for sure, Deer Tick sure knows how to party. At one point McCauley even bit off the cap to a new beer and spit it into the crowd. The band also took time out of their set to show some love to their fans by drawing five random questions from the audience out of a box. This ended with a fan coming on stage and consequently snapping a photo of himself and McCauley while the lead singer substituted "selfie" for "cheese."
It comes as a surprise that the show wasn't sold out- although it should've been, I'm not so sure there would've been enough room for all the head banging and raised glasses. If Monday night's audience hinted at anything it was that Deer Tick's "Negativity" is nothing but positive.