Warm up with hot drinks and live music at Kentjava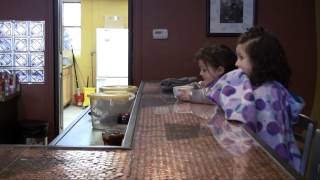 A new coffee shop called Kentjava Bar opened its doors Dec. 14 in downtown Corydon, Indiana. They offer a wide variety of coffees, as well as hot chocolate, tea, and baked pastries. Sherry Watson, the owner, toyed with the idea of opening a coffee shop for a decade, but it was her daughter who encouraged her to finally do it. Watson's daughter created a Facebook status that promised if the page got 100 likes her mother would open a coffee shop.
Within a couple years after the Facebook page received over 100 likes, Watson opened up Kentjava. She decided to name the coffee shop in memory of her late husband, whose nickname in high school was "Kentavo." Kentjava Bar also regularly hosts live musicians, from solo acoustic guitarists to full-sized rock bands. "It'd be really cool if a local artist became famous and got their start here," Watson said.
Kentjava Bar is located at 227 East Chestnut Street which is less than half an hour from IU Southeast's campus. It is open 7:00 a.m. to 3:00 p.m. Monday through Friday, and 7:00 a.m. to 5:00 p.m. on Saturday. Be sure to stop by and shake off the cold winter chill with a hot cup of Kentjava coffee.