MAKING THE GRADE: Indiana schools put to the test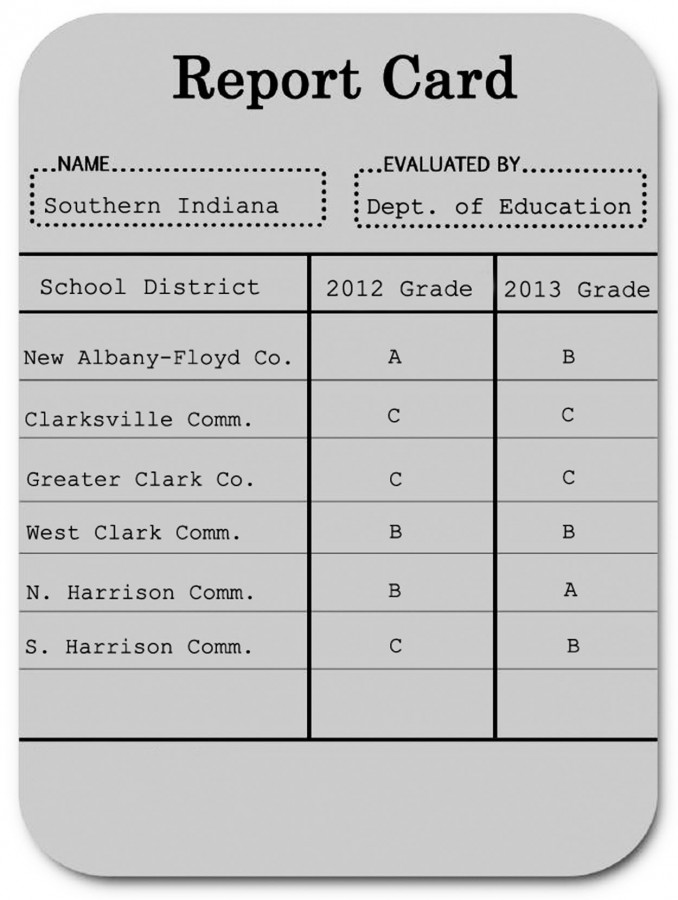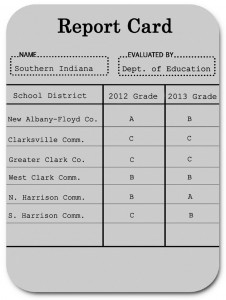 A student sits nervously at his desk, wringing his sweaty hands together. The teacher walks through the narrow rows handing out tests. He has prepared for this exam for weeks, but at this moment, he is not sure he prepared enough.
This scene is playing out more and more in classrooms across Indiana, but the fear of receiving an F is no longer limited to students. When Indiana's system for measuring school accountability, Public Law 221, changed in 2010, school corporations began receiving A-F letter grades instead of generic titles that ranged from "Exemplary Progress" to "Academic Probation (high priority)."
Every year, these letter grades are attributed to every public, private and charter school across the state of Indiana. According to the Indiana Department of Education website, these grades are primarily based off both the percentage of students who pass the state-mandated exams and the improvement of students on these exams from year to year.
The 2013 accountability letter grades were released by the Department of Education on Jan. 15. In Floyd County, New Albany Senior High received a C for 2013, and Floyd Central High School received an A.
This system may be benefiting Indiana schools, as 134 more schools received an A in 2013 than in the year before. The new A-F system, however, has received criticism from teachers, legislators and parents since its creation. In 2012, Tony Bennett, the superintendent of public instruction who implemented the system, lost his re-election to Glenda Ritz, an outspoken opponent of the A-F grades.
In her victory speech, Ritz said, "[Hoosiers] don't want their teaching and learning environments to be about teaching to the test, resulting in grading of our schools with the flawed A to F accountability model."
Lane Hewitt, an English teacher at Salem High School, said the controversy not only surrounds how the state calculates the grades but also the public perception of the results.
"Anyone who has ever been to school knows what an 'F' means, and no school wants to be labeled a failure," Hewitt said.
With Indiana schools facing more test-based evaluations, how has this system affected the teaching profession? Hewitt argues that this higher focus on tests is changing the way educators manage their classrooms.
"More testing means that teachers will have to spend more time on test prep, which is not the kind of engaging work that motivates students to come to school and try their best," Hewitt said.
Loriann Wessel, a teacher at Salem High School who specializes in various social studies subjects, said teachers in the social studies department, where there is no mandated state test, have to come up with their own ways to measure student growth.
"Assessments such as essays, simulations, projects and anything hands-on have taken a back seat to the newly required student growth assessments," Wessel said.
These changes from the statehouse not only affect current teachers, but also college students who plan on becoming teachers in the future.
"If the state is requiring more testing, I think it would affect the way I plan to run my classroom because I like to see students in action to evaluate their knowledge. Tests aren't always accurate,"Angela Hollen, elementary education junior, said.
Education majors and current teachers should not become too comfortable with the current system, however. According to a bill passed by the Indiana General Assembly in 2013, the House Enrolled Act 1427, parts of the A-F grading scale will be reviewed and rewritten.
Also in this bill, the state legislature ordered a review of the Common Core standards, which were the federal math and reading standards adopted by Indiana in 2010.
In Governor Mike Pence's State of the State address delivered on Jan. 14, he said, "When it comes to setting standards for schools, I can assure you, Indiana's will be uncommonly high. They will be written by Hoosiers, for Hoosiers and will be among the best in the nation."
Wessel said these frequent shifts coming from the state legislature are important to know and understand.
"It is very important for teachers currently in the field and for future teachers to keep up with these changes because as we are seeing with the Common Core Standards, the measuring stick is constantly moving and changing," Wessel said.
Hewitt said keeping up with the state changes is especially important for education students.
"Soon-to-be teachers need to be aware of the realities of the profession, Hewitt said. "Teachers must be willing to compromise and adapt to ever-changing state policy in order to survive."
The full list of accountability grades can be found at http://www.doe.in.gov/.